The phrase "the reality is…" is often followed by statements reinforcing the status quo. This is usually presented as a rational perspective, but I see it as justification for not rocking the boat. Those who take this approach dismiss those of us who vision something other than what we have now as merely academic exercises.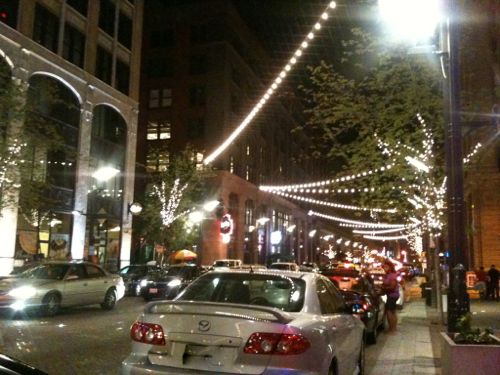 Take downtown as one example. A dozen years ago these same types said things like "the reality is…"
"downtowns are dead"
"if people wanted lofts they market would've responded"
"Sure people want lofts in NYC or Chicago, but St. Louis isn't either of those"
These naysayers are excellent at explaining why the rest of us can't reach our visions, freely giving every reason why what we want won't possibly work. They keep saying these things even when others get together and find ways to do things differently.  Smart money is in the suburbs, they'd say. But things change.
It is a terrible thing to see and have no vision. — Helen Keller
Downtown, and urban neighborhoods, are still getting investment while many suburban areas struggle:
The swift growth of suburban poverty is reshaping the sociological landscape, while leaving millions of struggling households without the support that might ameliorate their plight: Compared to cities, suburban communities lack facilities and programs to help the poor, owing to a lag in awareness that large numbers of indigent people are in their midst. Some communities are wary of providing services out of fear they will make themselves magnets for the poor.

In the suburbs, getting to county offices to apply for aid or to food banks generally requires a car or reliance on a typically minimal public transportation network. The same transportation constraints limit working opportunities, with many jobs potentially beyond reach and would-be employers reluctant to hire people who lack their own vehicles. (Soaring Suburban Poverty Catches Communities Unprepared)
And now these same folks are quick to point out why these suburbs can't be rethought. With so many people lacking vision do we really need a few trying to speak over those of that do? The reality is what we make it out to be.
— Steve Patterson