In 2010 I did several posts about St. Clair County Transit District not having bike racks on their bus fleet:
I didn't think this policy was good for a transit district.
The St. Louis Beacon followed up on the topic and quoted St. Clair County Chairwoman Delores Lysakowski as she blamed cleaning issues for the lack of bike racks:
Lysakowski said it would be impractical for workers to remove the racks each day for cleaning. "Every time that bus goes through a wash rack, which is every night, you're not going to stop and take a rack off and then put it back on again when it gets off of the rack," she said.

The five-member transit district board never has allowed bike racks on buses in St. Clair County and isn't considering changing its policy, she said. "It's been a policy that we don't have them so we don't discuss it," she said adding that the district receives few complaints about the policy. "Maybe one every five years," she said. (St. Louis Beacon: Want to bike and ride on Metro buses in St. Clair County? Forget it)
This is why I was shocked to see bike racks on bus after bus on a recent visit to East St. Louis.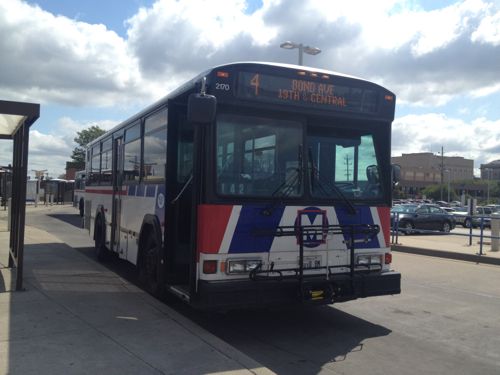 I began searching for confirmation, just to make sure I wasn't  seeing a few exceptions. I searched minutes of the district for 2012 — no mention. I emailed them last week asking for an effective date and/or a copy of the press release, they've yet to respond. Unlike Metro, they don't have a press release archive online.  Maybe they don't issue press releases…

One sentence on their homepage is the only confirmation of the change I was able to find.  I don't know when this change happened, although it's listed after the July 1, 2012 fare increase notice. I'm not sure who made the policy change, or when, but I'm very glad to see the change.
— Steve Patterson