After the success of the Downtown Trolley came the bright Forest Park Trolley. Yes, I know, It's just a standard bus that's been wrapped in a cartoon-like trolley design.  To paraphrase Al Franken on SNL, gosh darn it, people like it.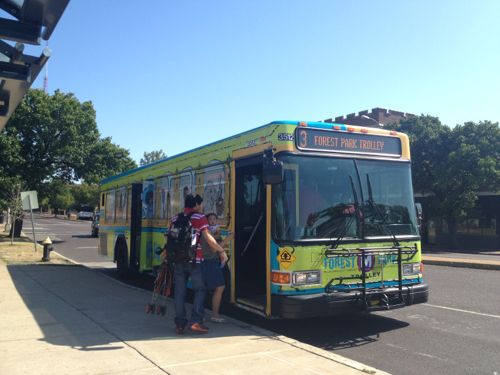 Wrap a standard bus and suddenly people that otherwise wouldn't ride a bus are boarding. It's a good thing too because so many people going to the attractions in Forest Park want to drive their car and park. Metro reroutes the #90 (Hampton) bus on the weekends because of the traffic congestion inside the park. Let me repeat that, Metro has to reroute a bus line that normally goes through the park because it's too congested inside the park.
Enjoy the beautiful weekend.
— Steve Patterson