Every city probably has a Broadway; I grew up on Broadway Ave in Oklahoma City, I've been to Broadway in NYC and I've seen traveled all of Broadway in St. Louis. Correct me if I'm wrong, but Broadway is the only road in the City of St. Louis that crosses the city limits in opposite ends, north and south.
Broadway in St. Louis varies in feel as it curves along following bends in the Mississippi River. To my eye one the mile stretch through the Marine Villa neighborhood is the most interesting. I'd driven, scootered and bicycled this mile stretch of Broadway from Keokuk St. on the south to Cherokee St on the north numerous times in my 22 years in St. Louis but recently I "walked" both sides using my power wheelchair.
Naturally my mind started thinking of ways to revitalize this corridor so this post is a look at the good, the bad, and some of what's needed. I'll share some of the 250+ pictures I took on Sunday August 19, 2012.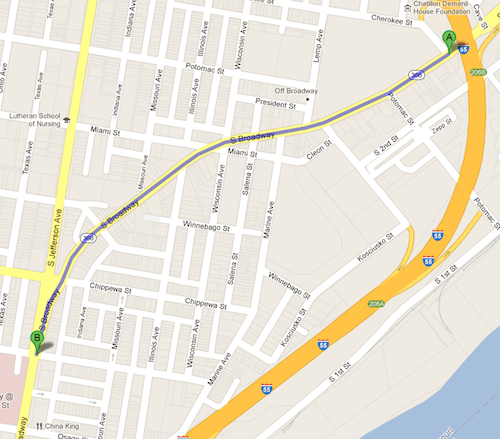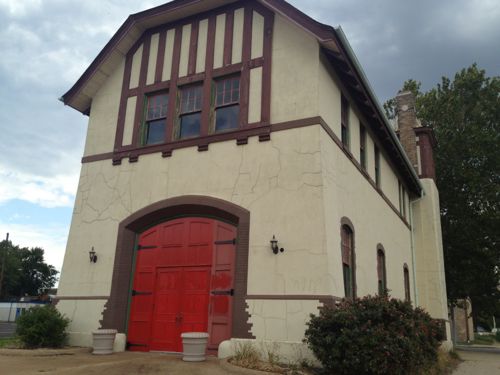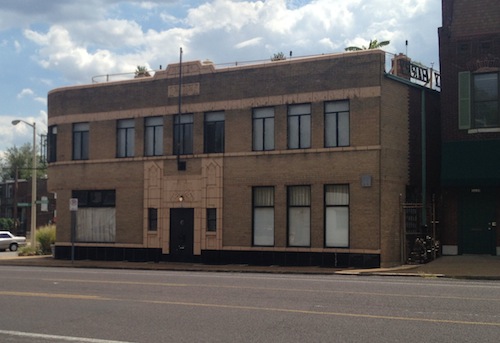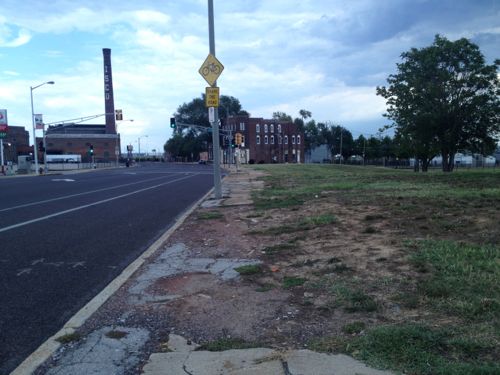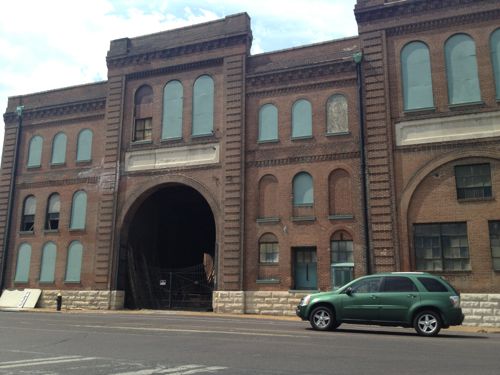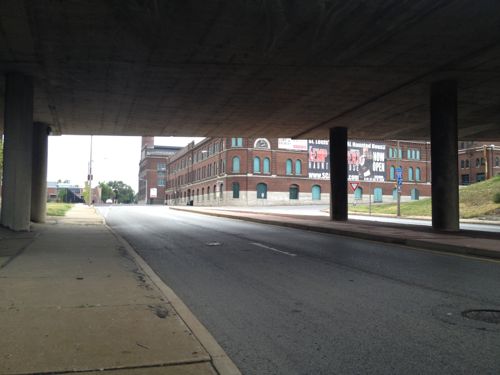 So what's my take away? Lots of potential, lots of obstacles. Here are my recommendations, in no particular order:
Undertake a corridor study to take an in-depth look to inform future policy decisions (aka zoning, infill, etc).
Issue an RFP to replace the Schmid fountain and vacant Blockbuster Hollywood Video with a 2-3 story mixed-use structure with urban form, unless #1 above says a park at the intersection of three major streets is a good idea. I can't imagine that being the case.
In the meantime remove overgrown plantings around the fountain and islands in the area. Replant with low maintenance plants that don't get so massive.
Create a marketing campaign (brand identity)  for the commercial area where Broadway, Jefferson & Chippewa meet.   Get the name for this area circulated so it becomes recognizable.
Look at curb bulb outs or other treatments to visually narrow the roadway. Alternatively, this might be a good area to place the bike lane between the on-street parking and curb. Perhaps literally narrowing the road is a good idea, it was likely widened in the early 20th century.
Develop a form-based code to guide infill in vacant areas, in particular Lemp & Broadway. A free-standing McDonald's with double drive-thru wouldn't be desirable at that corner. But a CVS in a new multi-strory mixed-use urban building would be a nice addition in my view.
Look at the sidewalks, fix areas where broken or missing. Clean off other areas where grass has grown over the sidewalk in other areas. Organize monthly walks up and down the street.
Find a more positive use for the firehouse. Work with the Brewers & Maltster's Union hall to the south on developing their vacant land between their hall and the firehouse.
I'm sure I'll have many more thoughts the more I think about it. What are your thoughts? Generally negative ("location, location, location") don't offer any value to the dialog, constructive ways to improve the location do.
— Steve Patterson