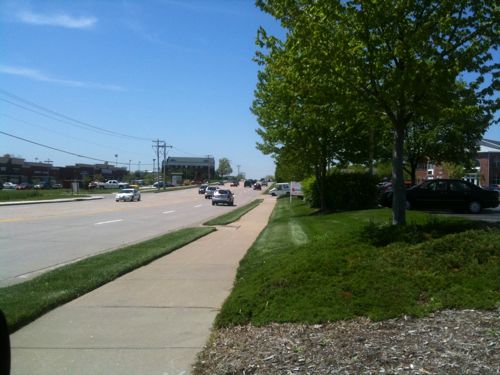 Yesterday I posted my reaction to a CBS News story on cities.  I said; "Middle class couples with school age children are still locating in new homes in edge cities but once the youngest starts college the parents seek out interesting and walkable areas. Those who can afford private schools aren't waiting, they are living where they want while junior is still in school." I reader asked for my source, which I didn't have.  Today I have sources to look at the emerging trends:
In a historic first, many young, prosperous Americans are moving from the suburbs to the city. The flip side: The communities ringing big urban areas now have the largest poor population in the country, the [Brookings] report shows. The suburban poor rose 25% over the past decade, almost five times faster than in the cities. Suburbs are developing many of the same problems that are usually associated with cities – poverty, housing problems, crime. They are also accumulating a disproportionate number of elderly people. (WSJ: Bright Flight: Affluent Leaving Suburbs, Moving to Cities, May 2010)
In St. Louis we may think the city continued losing population, business as usual right? Â But not so fast, lower income blacks are leaving cities and more affluent whites are moving into cities.
Suburbs still tilt white. But, for the first time, a majority of all racial and ethnic groups in large metro areas live outside the city. Suburban Asians and Hispanics already had topped 50 percent in 2000, and blacks joined them by 2008, rising from 43 percent in those eight years.

Suburbs are home to the vast majority of baby boomers age 55 to 64, a fast-growing group that will strain social services after the first wave of boomers turns 65 next year. (HuffPost:Â Suburbs Losing Young Whites To Cities, Brookings Institution Finds, May 2010)
Racial shifts are certainly happening:
The decline in major cities' black populations is "one of the most important trends out of the 2010 Census, and I do think it's a long-term trend," says Mike Alexander, research division chief for the Atlanta Regional Commission, a planning agency.

From 2000 to 2010, the city of Atlanta's black population fell by 29,746 people. During that period, the black population in the broader Atlanta metro area rose by 40%, an addition of 490,982. Those numbers tell Alexander that blacks are relocating in suburbs, not in other cities. "This black migration to the suburbs" mirrors what whites have been doing for decades, he says. (USA Today:Â Blacks' exodus reshapes cities, May 2011)
Just like the white flight half a century ago, the blacks leaving cities are the stable middle class and up. Â This has huge implications:
The problem with the changing demographics of urban areas is that many of the African-Americans fleeing places like Chicago and Detroit are wealthier and more educated than the ones staying behind. That means that Blacks with more money are taking that cash to less diverse suburbs, and buying homes in white communities. The Black communities left behind in the cities are then more shutoff from the world of money and political power, meaning whole Black neighborhoods have less of a chance of being revitalized. (BET: The Danger of Fleeing to the Suburbs, May 2011)
The Brookings' State of Metropolitan America report from 2010 is a168 page PDF with a detailed analysis of the changes happening in America's metro areas. Â The report was finished last year so it wasn't based on 2010 census figures released this year.
The report defined the various types of metropolitan areas listing St. Louis in the "skilled anchors" group:
Skilled Anchors are slow-growing, less diverse metro areas that boast higher-than-average levels of educational attainment. of the 19 nationwide, 17 lie in the northeast and Midwest, including large regions such as boston and philadelphia, and smaller regions such as Akron and Worcester. Many boast significant medical and educational institutions. (p9)
That is St. Louis! In the body of the report Brookings goes into more detail, comparing Skilled Anchor to Industrial areas:
Skilled Anchor and industrial core areas are more similar than distinct. They experienced rapid decentralization amidst only modest growth in the 2000s, and an above-average share of their commuting occurs by car (the highest rate in industrial cores). immigration to these metro areas—with a couple of notable exceptions—is quite low, though most retain significant African American populations as a consequence of their former manufacturing might. They have among the oldest age profiles of the metropolitan types, the result of low in-migration and a significant aging-in-place boomer and senior population. (p164)
So the black exodus isn't as pronounced in St. Louis as in other regions.
Brookings did offer some suggestions for these regions:
Finally, new demographic realities must be met with new governance arrangements. More than ever, the lines between cities and suburbs—and the long, fruitless history of battles and mistrust between them—must be transcended. cities and suburbs increasingly share challenges like poverty, growing elderly populations, and influxes of new Americans. At the same time, the fiscal crisis has dramatically undermined the capacity of individual jurisdictions to address familiar existing needs, and has compromised their ability to react to new realities. States are facing their own intense fiscal stresses, which will get worse before they get better, and thus they can- not be counted on to support the local government status quo. (p165)
Once again this is a huge fit for the St. Louis region!  None of this is new, for several years now people such as author Christopher B. Leinberger have been writing about these shifts in population:
Perhaps most important, the shift to walkable urban environments will give more people what they seem to want. I doubt the swing toward urban living will ever proceed as far as the swing toward the suburbs did in the 20th century; many people will still prefer the bigger houses and car-based lifestyles of conventional suburbs. But there will almost certainly be more of a balance between walkable and drivable communities—allowing people in most areas a wider variety of choices. (Atlantic Magazine: The Next Slum? March 2008)
– Steve Patterson