Today is the annual holiday to honor the civil rights activist Dr. Martin Luther King Jr., who was assassinated in Memphis in 1968.
Martin Luther King Jr. (January 15, 1929 – April 4, 1968) was an American Christian minister and activist who became the most visible spokesperson and leader in the Civil Rights Movement from 1955 until his assassination in 1968. Born in Atlanta, Georgia, King is best known for advancing civil rights through nonviolence and civil disobedience, inspired by his Christian beliefs and the nonviolent activism of Mahatma Gandhi.

King led the 1955 Montgomery bus boycott and in 1957 became the first president of the Southern Christian Leadership Conference (SCLC). With the SCLC, he led an unsuccessful 1962 struggle against segregation in Albany, Georgia, and helped organize the nonviolent 1963 protests in Birmingham, Alabama. He helped organize the 1963 March on Washington, where he delivered his famous "I Have a Dream" speech.

On October 14, 1964, King won the Nobel Peace Prize for combating racial inequality through nonviolent resistance. In 1965, he helped organize the Selma to Montgomery marches. The following year, he and the SCLC took the movement north to Chicago to work on segregated housing. In his final years, he expanded his focus to include opposition towards poverty and the Vietnam War. He alienated many of his liberal allies with a 1967 speech titled "Beyond Vietnam". J. Edgar Hoover considered him a radical and made him an object of the FBI's COINTELPRO from 1963 on. FBI agents investigated him for possible communist ties, recorded his extramarital liaisons and reported on them to government officials, and on one occasion mailed King a threatening anonymous letter, which he interpreted as an attempt to make him commit suicide.

In 1968, King was planning a national occupation of Washington, D.C., to be called the Poor People's Campaign, when he was assassinated on April 4 in Memphis, Tennessee. His death was followed by riots in many U.S. cities. Allegations that James Earl Ray, the man convicted of killing King, had been framed or acted in concert with government agents persisted for decades after the shooting. (Wikipedia)
Following King's death many cities began renaming streets in his honor. In 1968 the Veterans Bridge, opened in 1951 over the Mississippi River, was renamed to honor King.   Four years later, after much debate, St. Louis joined other cities by renaming two streets through the city after King — beginning at the Missouri end of the Martin Luther King Bridge.
Dr. Martin Luther King Drive starts down by the Mississippi River's edge, and follows what was Franklin Avenue, making fits and starts in the convention center. King Drive continues westward, following old Franklin until just west of Jefferson Avenue. There, it abandons Franklin and gives King's name to Easton, which, for generations, was an important shopping and socializing avenue for the blacks and whites in the northern part of the city and the inner ring suburbs of St. Louis County. (St. Louis Public Radio)
By 1972 the Wellston Loop shopping district, once second only to downtown, on Easton at the city/Wellston city limits, was already in decline. In 1965 Northwest Plaza had opened a short 15 minute drive further into St. Louis County.
In 1972 some wanted a more prominent street renamed after King — Lindell, for example. These days streets are not renamed, an honorary designation is added but addresses aren't changed.
Let's start today's look at Martin Luther King Jr. Drive at the west end at the Wellston Loop.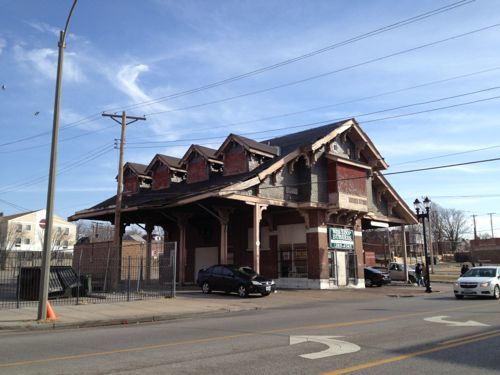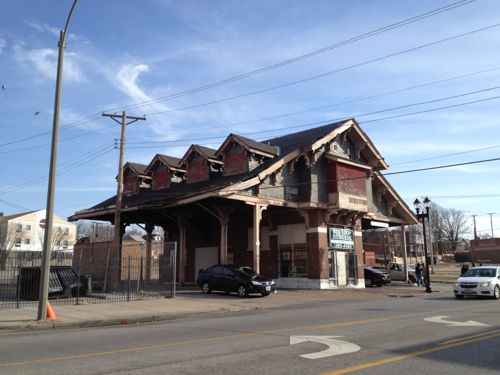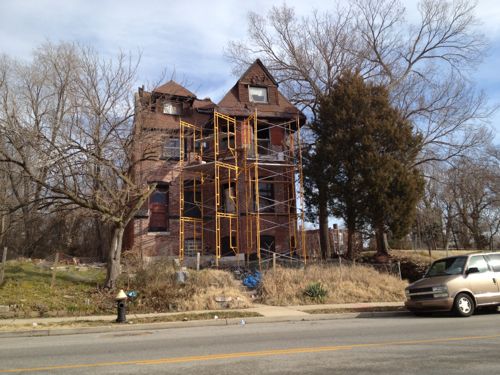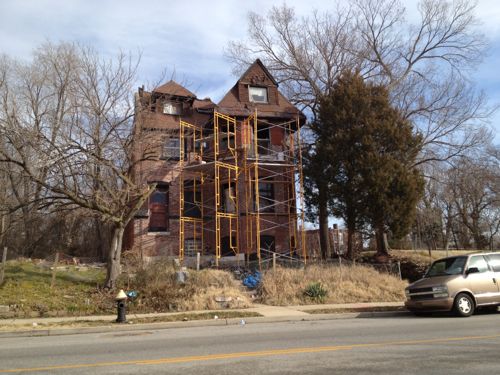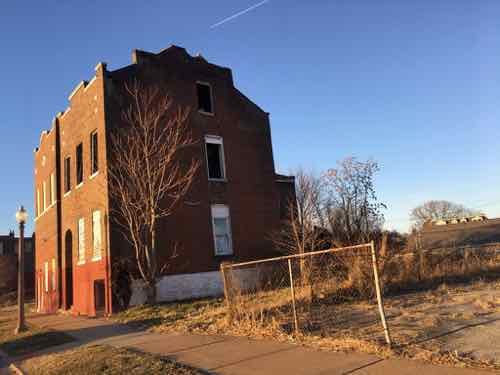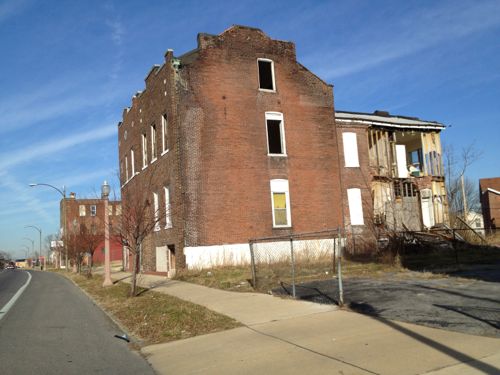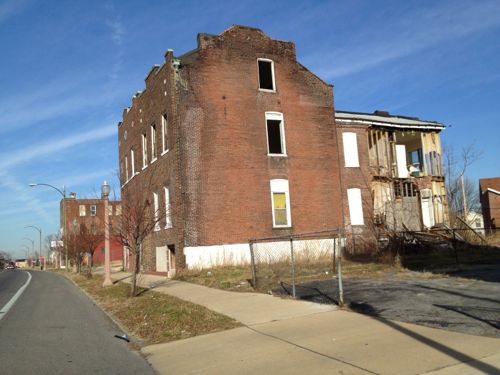 In some of the years past long vacant buildings were getting renovated, new housing being built. Those positives remain, but otherwise the deterioration  continues.
— Steve Patterson