Later this week we're taking the train to Chicago, our annual trip to the media preview of the Chicago Auto Show. So I have vehicles on my mind right now.
One aspect I find interesting is the various size classifications of passenger cars, trucks, and SUVs.
The size class for cars is based on interior passenger and cargo volumes as described below. The size class for trucks is defined by the gross vehicle weight rating (GVWR), which is the weight of the vehicle and its carrying capacity. Fuel economy regulations do not apply to heavy-duty vehicles, so they are not tested.  (FuelEconomy.gov)
Below is how cars & trucks are classified: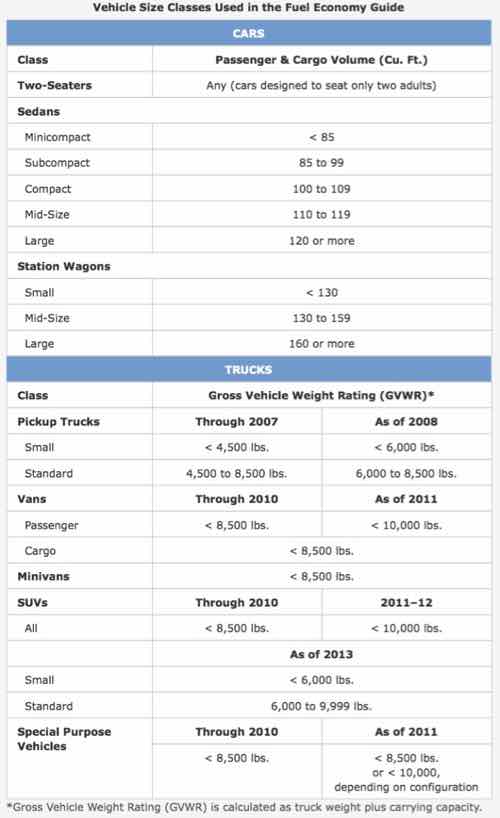 The 2015 Hyundai Sonata we bought last year competes in the mid-size class with vehicles such as the Toyota Camry, Honda Accord, and Nissan Altima. Chevy & Ford are getting out of the midsize sedan market, each to cease production of the Malibu & Fusion, respectively.
Our car, however, it's not a mid-size — it's a large (full) size!
Prior to this car I'd owned subcompacts, compacts, and one mid-size (87 Volvo). I'd never even driven a full-size (large) car until January 2013 when Enterprise upgraded the rental I needed to attend an uncle's funeral in Amarillo, TX. It seemed huge, as did our car last year. I'm used to it now, the extra interior room makes it easier for me to get in/out of the car.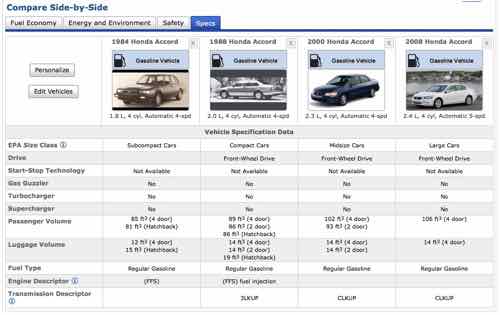 Trucks are different. Back in the 70s pickups were either regular or a tiny compact (think Mazda-based Ford Courier). Today's mid-sized pickups are bigger than the full-size pickups of my childhood.
Many SUVs on the road today are car-based crossovers, like the Honda CR-V. It is based on the compact Honda Civic platform. True SUVs have body-on-frame construction, not unibody like passenger cars. Even still, you get SUVs based off different sizes of truck chassis.
Used to be every car maker trying to compete would have at least one passenger car per size classification.  Now, that's optional — but they must have an SUV/CUV in every possible size & price point.
— Steve Patterson