A year ago St. Louis County voters approved a small sales tax increase to fund transit, Proposition A. Wednesday I attended a panel discussion on why this measure  passed where previous attempts had failed.  Professors Todd Swanstrom & David Kimball introduced their new study:  From Checkbook Campaigns to Civic Coalitions: Lessons from the Passage of Prop A (PDF).  From the introduction:
On April 6, 2010 the voters of St. Louis County approved a tax increase for transit with a surprising 63 percent majority. The 1⁄2 cent sales tax now raises about $75 million a year to maintain the bus system and expand light rail. Seventeen months earlier a similar initiative had lost with 48 percent of the vote. With the economy in a recession in 2010, unemployment high, and the anti- tax Tea Party movement rising around the nation, the huge majority for Prop A was startling. In this paper we try to explain the success of Prop A and tease out the lessons for future tax initiative campaigns and civic coalitions.

Compared to the defeat of Prop M in 2008 two characteristics of the 2010 Prop A election make the victory especially surprising and help to frame our analysis: 1) Prop A succeeded in an off-year election when the composition of the electorate is less inclined to support tax increases and public transit; 2) Prop A, at least initially, did not enjoy unified business support – usually the kiss of death for transit tax initiatives.
The report details how the campaign differed from prior campaigns. Â One difference was the campaign targeted some voters, as outlined by the dark line below.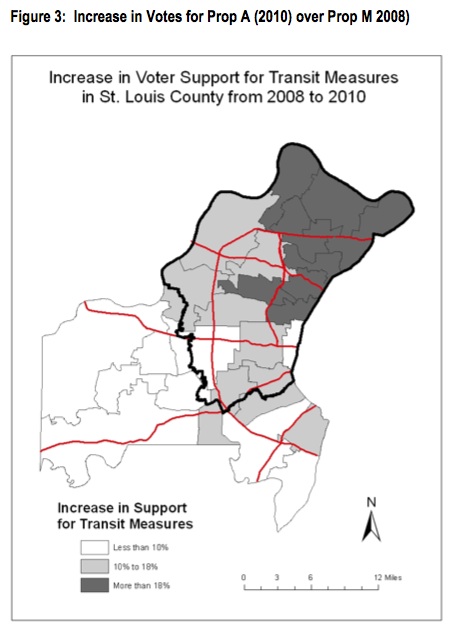 Basically efforts were concentrated on West & North County and ignoring far SW and South parts of the County. Â Voters who had voted in the prior 12 elections were targeted rather than all registered voters. Â Citizens for Modern Transit (CMT) funded an educational component that never mentioned Prop A. Â The pro-transit slogan was: Some of us ride it. All of us need it. Here is the TV spot that ran in the months leading up to the vote:
httpv://www.youtube.com/watch?v=4aR9rzybjuU
Notice Metro isn't mentioned at all, the focus is on transit.
At the panel an audience member asked about a more regional approach and including St. Charles County. All agreed that more of the region should be served by transit but it was noted those areas need to step up with a funding source. In Illinois both Madison & St. Clair Counties fund transit. Â  Â While the 2010 passage of Prop A was important, we still have more work to do.
– Steve Patterson