For years it was just a controversial highway proposal, but a decade ago phase one of the Page Ave. Extension (aka I- Route 364) opened, connecting the Westport area of St. Louis County to St. Charles County.  Years before the opening I participated in efforts to derail the project, including attempting to pursuede St. Louis County voters to reject a land swap allowing the road project to cut through Creve Coeur Lake Memorial Park. Originally planned in 1969, construction began in 1997.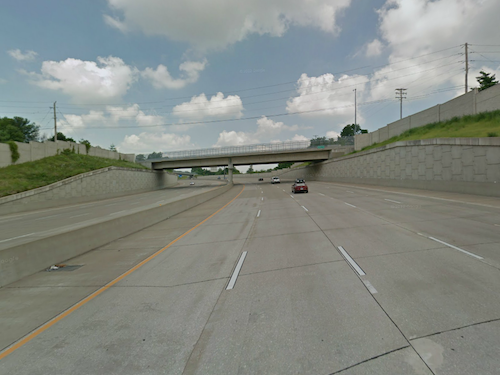 Before construction could begin a land swap had to take place to permit the selected route through the south edge of the park:
Opponents say the extension not only will destroy the park but also will add a fourth bridge to hasten the exodus of the middle class from St. Louis and aging St. Louis County suburbs to the greener pastures of St. Charles, Lincoln and Warren counties.

"If it goes through, it's the turning point for the downslide of St. Louis County," said state Rep. Joan Bray, D-University City, who helped a group called Taxpayers Against Page Freeway gather more than 40,000 signatures to put the referendum before voters.

Bray said the money slated for the project would be better spent to upgrade existing roads and to expand MetroLink. (source)
Voters, unfortunately, 60% approved the measure in November 1998. Highway advocates spent $800,000 vs $160,00 from the opposition (source).

Many factors are at play in the population decline of St. Louis County and increase in St. Charles County but I have no doubt I-Route 364 played a role.  Ground was broken on the third and final phase on May 22, 2013.
— Steve Patterson