St. Louis has some positive things going on lately, Square announcing they're moving/expanding from Cortex to downtown, Major League Soccer awarded a St  Louis ownership group an expansion team, etc.  These will bring new needed investments and jobs.
Will any benefit reach those north & south of the "central corridor?" The central corridor runs from the central business district west to the burbs.
A friend on Facebook said Square's move downtown will cause more gentrification.  Not sure he's correct, but the challenge of attracting investment and jobs without leaving out large segments of the region is real.
This is a good opportunity to talk about how we bring new investments without negative consequences. It'll help me get these thoughts out of my brain.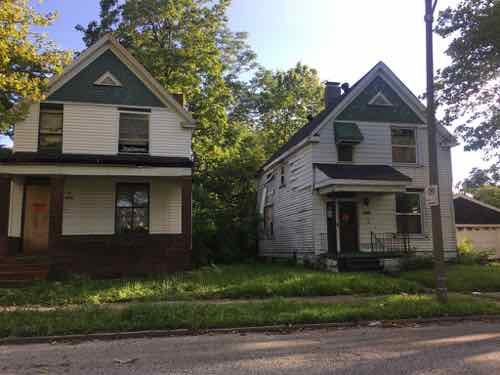 Merriam-Webster defines gentrification as follows:
The process of repairing and rebuilding homes and businesses in a deteriorating area (such as an urban neighborhood) accompanied by an influx of middle-class or affluent people and that often results in the displacement of earlier, usually poorer residents.
Gentrification is a major problem in many regions, but here we still have so many highly vacant neighborhoods. Sure, the average worker can't afford a downtown loft, but that's not gentrification.
First we need to look at how we got here.
By the 1920s the white middle class began leaving the City of St. Louis for life in the suburbs. With new people moving to the city from rural areas looking for work the census didn't show what was happening.
In 1948 the Supreme Court ruled on a St. Louis case, saying racial restrictive covenants couldn't be enforced through the courts (Shelley v Kraemer).  This prompted more white middle class residents to flee. Upwardly mobile black middle class residents were now able to purchase nicer housing than where they'd been limited to previously.
Post WWII brought many to the region looking for work, others just trying to escape oppressive Jim Crow laws in the South. Basements and attics were crudely converted into living spaces. Large homes were subdivided. The population was too high, our housing stock just couldn't handle all the people resulting in overcrowding. In 1950 St. Louis recorded its highest population — 856,796.
It didn't help that entire neighborhoods were being razed for "urban renewal" projects and others being divided as highway construction cut wide paths through densely-populated neighborhoods.
Neighborhoods like Fountain Park remained respectable middle class, just now black instead of white. Eventually the black middle class got older, while some would stay but others began buying housing in North County as the white middle class there began moving to St. Charles County.
Some north city neighborhoods have been without the black middle class for decades now. In these neighborhoods the working poor have also been leaving, seeking affordable housing in other neighborhoods or in older north county areas where the black middle class have left more recently. An example is Wells Goodfellow — more vacant lots than residents.
Here is what I struggle with. We need money in the city — we need middle class and more affluent people so jobs will be created. This doesn't mean white, though that's often what happens.
How do we change long-disinvested neighborhoods so they're attractive to all people with more money — without pricing out those who still call the neighborhood home?
In the ideal world we'd invest in neighborhoods in a way that attracts & accommodates all races & economic classes. This means housing at a variety of price points — from low-income to high end with everything in between.  Retail & restaurants should appeal to all segments and pocketbooks.
This may not be possible, I know it won't happen without regulation. Free-market capitalism has demonstrated it is ok with excluding many.  The trick is learning from other regions so we can reduce unintended negative consequences from regulations.
Unfortunately I think our city/region is too laissez-faire to enact regulations to transform vacant neighborhoods so they'll become great neighborhoods.
— Steve Patterson