Before the Americans with Disabilities Act of 1990 there was Section 504 of the Rehabilitation Act of 1973:
Section 504 of the 1973 Rehabilitation Act was the first disability civil rights law to be enacted in the United States. It prohibits discrimination against people with disabilities in programs that receive federal financial assistance, and set the stage for enactment of the Americans with Disabilities Act. Section 504 works together with the ADA and IDEA to protect children and adults with disabilities from exclusion, and unequal treatment in schools, jobs and the community. (Disability Rights Education & Defense Fund)
Section 504 was added to the Rehabilitation Act of 1973 four years later, in 1977.  It has been over four decades since we first began to construct buildings accessible to the disabled, and more than three decades prior to my becoming disabled due to a stroke in February 2008.  Though significantly better than they were decades ago, things still aren't quite right.
Today a few of minor examples: public restroom soap dispensers & trash receptacles.
After using a public restroom the ability of me to use soap to wash my hand depends on access to the soap dispenser. At the Culinaria grocery store downtown the two soap dispensers are wall-mounted very high in corners. When I'm in my wheelchair it takes a lot of stretching to reach the one on the right. Not everyone who uses a wheelchair can stretch that far.
At Solae (now DuPont) at CORTEX, the soap dispenser is on the side of the sink — much easier to reach — but I still can't get any soap from it.
I have two hands, but use of my left remains very limited. Shorter dispensers of this type I can use one-handed, pressing down at the back while getting soap on part. Long dispensers like the one at Solae/DuPont is completely useless to me.
Soap dispensers are, generally speaking, specified when buildings are designed/constructed.  My other issue is with trash receptacles, this is either because a good location wasn't part of the original design or the occupants moved them to be in the way.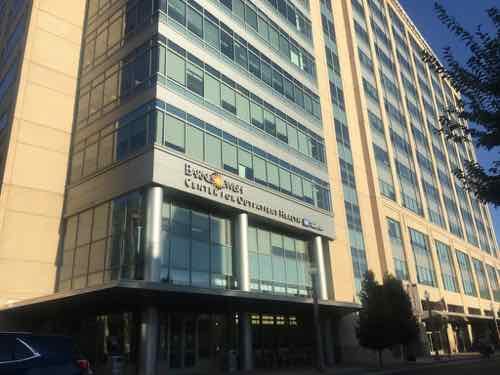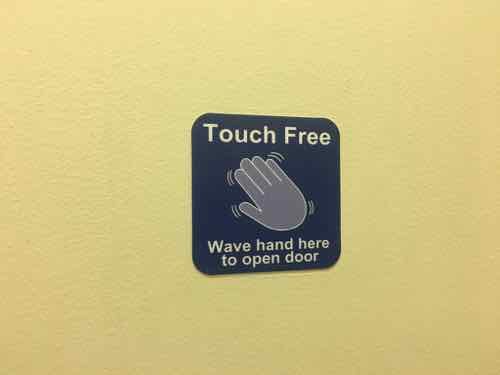 In the restroom above there really is no other spot where a trash can could be located. This might have been a good candidate for one under the vanity with the hole in the center, or a wall-mounted paper towel/trash unit.
To make matters worse, what doesn't work for me may work great for another disabled person. And vice versa.
The take away from this post is details matter. Architects, designers, facilities managers, occupants, and owners of public buildings need to think about the little things. Hiring a disability expert  to review projects during design can reduce user issues.
Still, I'm grateful for the ADA, building codes, etc. that have made public restrooms significantly better than they were decades ago.
— Steve Patterson