In 2006/07 I attended many public meetings on a proposed Northside-Southside light rail line, it was finalized in 2008. In writing about these plans in the last year, people have asked if I'd seen the new study that was done, it's not the same as it was in 2008. The study they're referring to, Transit Oriented Development Study for the PROPOSED NORTHSIDE-SOUTHSIDE ALIGNMENT, isn't anything new on the actual transportation side. It was completed in July 2013. At first, it wasn't online. I pushed to get it online…downloading it on April 18 2014.
Today's post is about this study — dispelling myths about what it is — and isn't.  My criticism of running high-speed light rail down streets like Natural Bridge & Cherokee is the street grid will be severed to achieve desired speeds.  I'm an advocate of rail transit, and the preferred route. If it were up to me, I'd build it immediately — as modern streetcar/tram instead of light rail. This greatly simplifies construction by eliminating the need to reduce conflicts with a train speeding down the center of the street.
STUDY OBJECTIVE: To assist the City of St. Louis, its neighborhoods, and developers with preparing for and taking advantage of transit investment along the proposed Northside-Southside Alignment.
As the study title & objective indicate — it is about development related to proposed stations.  The study is a detailed look at two stations on the proposed alignment: Kingshighway & Cherokee.
This study builds upon the goals set forth in previous plans, while giving a strong framework for decision-making regarding Transit Oriented Development, which ,as defined by HUD, is compact, mixed-use development in close proximity to transit facilities. Transit Oriented Development promotes sustainable communities by providing people of all ages and incomes with improved access to transportation and housing choices and reduced transportation costs that reduce the negative impacts of automobile travel on the environment and the economy. This report aspires to meet these goals and study the Alignment at this higher level of detail, with a comprehensive analysis of each of the proposed stations, a set of Station Area Plans that describe detailed development programs, building form and distribution, street improvements, and environmental analysis for the proposed Cherokee and Kingshighway Stations. These two stations were selected because they embody a similar range of challenges and opportunities to the other station areas along the Alignment. In future studies of the other station areas, lessons from Kingshighway and Cherokee can be readily applied.
The study makes no mention of what happens between stations.
Depending upon how the Arsenal & Cherokee stations would be designed — both Wyoming & Utah could be cut off — no more crossing at either. Most likely the Northbound platforms would be located north of Arsenal & Cherokee, respectively. The Southbound platforms would be located South of each. This, rather than a shared platform, requires the least amount of width.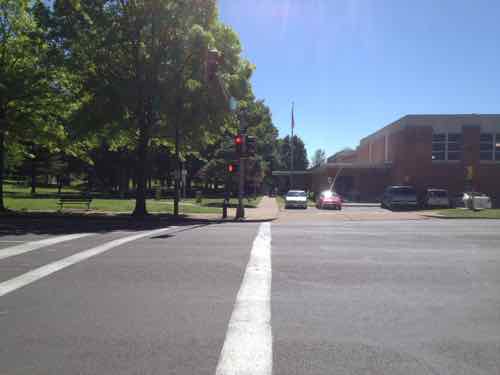 The distance between the two proposed stations is 4/10ths of a mile. Another 4/10ths North would be a Gravois station. The streets of Crittenden, Pestalozi, & Lynch would become no-crossing points. Another 4/10ths of a mile North to a station/crossing at Russell, with no-crossing allowed in between.
We should build North-South rail connection, but not at the expense of the street grid and the access it currently affords. Build modern streetcar on the Northside-Southside route. Keep the grid fully intact.
The study showed the current Siemens high-floor light rail vehicles in the new proposed street-runing lines. Not going to happen. In-street platforms and high-floor vehicles don't work together.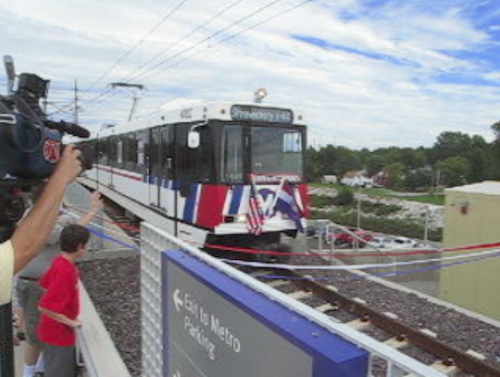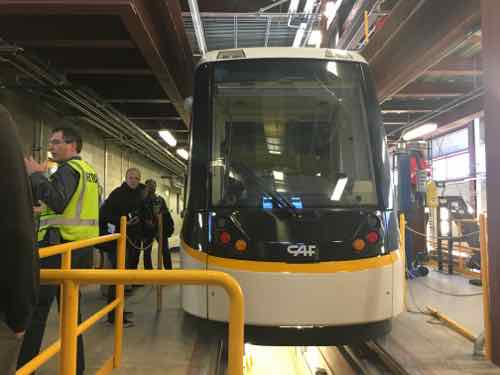 The best solution to simplify platforms and make ADA-compliance easier is 21st Century 100% low-floor vehicles.
From Wikipedia — a list of cities with Urbos 70 and Urbos 100 vehicles:
Cuiabá, Brazil (40 ordered)
Salvador, Brazil
Belgrade, Serbia (30)
Seville, Spain
Granada, Spain
Cádiz, Spain
Debrecen, Hungary (18)
Edinburgh, Scotland (27)
Málaga, Spain
Besançon, France (19)
Nantes, France (8)
Zaragoza, Spain (21)
West Midlands, England (£40 million order for 20, with options for five)
Kaohsiung, Taiwan (9 ordered; ACR system built in; no need for catenary)
Cincinnati, Ohio, USA ($25 million for 5 trams)
Sydney, Australia. ($20m order for 6 trams; order subsequently expanded to 12 trams)
Freiburg im Breisgau, Germany (12 ordered)
Kansas City, Missouri, USA
Budapest, Hungary (47; €90m order for the 47 trams)
Utrecht, Netherlands (27 ordered; to be operational in 2018)
See videos of the Urbos in Belgrade (Serbia), Kansas City, and Cincinatti.
The beauty of modern streetcar vehicles is they can be used for light rail as well. So if the lines were to continue into North & South St. Louis County the same vehicles could travel at higher speeds on closed right-of-way.
When it comes to the actual transit design of Northside-Southside, the final 2008 study still remains. The 2013 was a look at development options — a good thing considering how we've failed to capitalize on existing light rail stations since the first line opened in 1993.
— Steve Patterson