One hundred years ago today St. Louis experienced deadly flooding. The problem wasn't the Mississippi, it was the River Des Peres!
On the afternoon of Aug. 19, 1915, remnants of a hurricane reached St. Louis from Texas. Heavy and steady rainfall fell through the next day, dumping a total of 7.4 inches across the area. (6.85 inches on Aug. 20 remains the one-day record in St. Louis.)

The River Des Peres rushed from its banks, swamping long stretches of Delmar and Lindell boulevards, Manchester Avenue and other streets. People were stranded on the Wabash Railroad platform at Delmar (now a Metrolink station) by a seven-foot-deep current 200 yards wide. Firefighters reached them with ladders and used boats to rescue residents of Maple and Hodiamont avenues. (St. Louis Post-Dispatch — includes vintage photos)
In August 1915, St. Louis was flooded. All roads leading to the suburbs were cut off, and in Maplewood, the waters reached the second floor of some homes. The water was a mile-wide in Forest Park. Three bridges in the park were washed away, the Zoo's Bird Cage and Bear Pits were flooded. The platforms at the old Delmar Station were destroyed. Passengers at the Wabash Station were surrounded by seven feet of water and had to be rescued by firefighters. Other people were trapped in their homes, and some even drowned. By the time the disaster was over, 11 people had died and more than 1,000 homes were lost.

The cause of the disaster was not the Mississippi River but the smaller River Des Peres, which ran along the City's western edge.

River Des Peres, or "River of the Fathers," was named after two Jesuit priests who founded a mission on its banks around 1700. Problems associated with flood and sewage control became obvious as St. Louis grew. In 1887, city officials planned to drain River Des Peres and Mill Creek. This plan was not completed, though, and River Des Peres had become an open sewer by the early 1900s.
Parts of the river were covered or diverted in preparation for the World's Fair in 1904, and monitoring of flooding conditions began in 1905. However, no steps had been taken by 1915 that could have prevented the devastating flood that same year. (St. Louis Public Library)
Perhaps the first sewage the River des Peres received was from St. Louis' Central West End chamberpots. In response to the volume of waste, the city wrote an ordinance in 1887 "to prevent discharge of sewerage or offensive matter of any kind into the River des Peres." If the city had funded the ordinance, then a separate sewer system would have been built and the River des Peres' history might have taken a different course. Instead, the government of St. Louis began a trend that has plagued the river for more than a century: St. Louis would support ideas to protect the River des Peres as a sewer more than as a river.

As St. Louis grew westward, so did the expanses of pavement. With less open ground to soak up the rains, the River swelled with runoff. The River des Peres flooded in 1897, 1905, 1912, and 1913. The flood of 1915 killed 11 people and forced 1025 families from their homes. Flooding – not sewage – prompted St. Louisans to action. Mayor Henry W. Kiel called for a hydrologic study, which was completed by W.W. Horner and presented to the St. Louis Board of Public Service in 1916. St. Louis voters chose to implement Horner's recommendations, which cost $11 million.

The project was called the River des Peres Sewerage and Drainage Works, and it took nine years to complete (from 1924 to 1933). Workers re-graded and paved the River's banks and straightened its bends. Elsewhere the River was directed below ground to join with the sewer. The engineering innovations brought national recognition for Horner (who was also the project engineer). Scientific American and Engineering News-Record featured the marvelous new River des Peres. In 1988, the American Society of Civil Engineers recognized the project as a National Historic Civil Engineering Landmark. (River Des Peres Watershed Coalition)
The bond issue vote was in 1923 — 7 years after the plan was presented.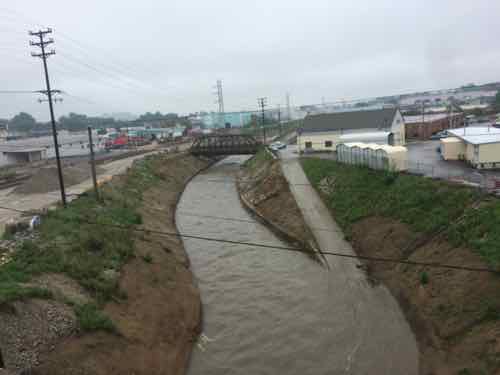 Problem solved? Wrong.
Explore any city enough, and at some point you're likely to walk on water, so to speak. San Francisco is full of ghost rivers. So are Washington, D.C. and Los Angeles. In the urban core of Baltimore, up to 98 percent of streams are underground. 

Early city planners may have hoped for healthier cities when they covered up these streams, but it turns out they created new problems. Paving over and piping waterways often worsens flooding. And as new research by scientists at the Environmental Protection Agency indicates, buried streams can also exacerbate pollution. 

In a paper published in PLOS ONE, lead authors and EPA research scientists Jake Beaulieu and Heather Golden found that nitrates—nutrients that can become pollutants—travel on average 18 times further in buried urban streams than they do in open streams, before they are taken out of the water column. (City Lab)
From February 2014:
Starting in a few days, MSD will begin construction of a 3,028 foot-long tunnel under the River Des Peres, just south of Carondelet.

The tunnel will hold a pressurized pipe that will carry sewage to the Lemay Wastewater Treatment Plant.

MSD spokesperson Lance LeComb said the new pipe will increase the plant's capacity to take in sewage, and also serve as a back-up in case the existing "force main" ? which dates back to the 1960s ? has a problem.

The project is the first of about a dozen tunnels, totaling nearly 33 miles in length, that the MSD will be digging under St. Louis in the next couple decades. Most of the tunnels will hold a mix of stormwater and sewage. "The longest one will be nine miles long, running underneath the River Des Peres, almost 200 feet below ground," LeComb said. "And 30 feet in diameter." (St, Louis Public Radio)
Hopefully this will keep our sewage out of the waterways and not create more problems! The River Des Peres starts in St. Louis County, flash flooding remains an issue.
— Steve Patterson