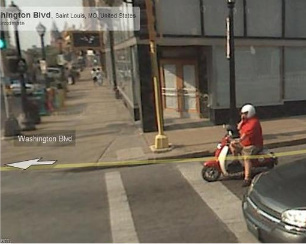 There are very few things I've done consistently for a full decade. Who knew when I started blogging on Halloween Day in 2004 I'd still be doing so a decade later? I would've laughed then if you'd said I'd be celebrating the 10th anniversary. I almost didn't make it to the 4th.
I can tell you nothing else I've done in my nearly 50 years comes close to the joy & clarity this blog gives me.  I've learned you can plan all you want but life throws things at you that weren't anticipated, you've got to continually reevaluate and change. St. Louis hasn't learned this yet, our 1947 Comprehensive Master Plan still guides much of our development patterns nearly seven decades later.
Am I celebrating? Yes, meeting my husband today for lunch, photographing updates for a prior post. If you see me out and about please be sure to say hello!
Thank you for reading,
— Steve Patterson