I February 2010 I posted I would live at 4005 Delmar, then a vacant & boarded building, I was dreaming of it being renovated.
The building at 4005-4011 Delmar has since attracted the attention of a developer, who also dreams:
We believe being a dreamer is every bit as important as being a do'er. In our personal and our professional lives, the members of The Vecino Group are dedicated to imagining a better world and then working to make it happen. 
I too agree it is important to dream, I've shared mine here for over 9 years.
Last year:
A housing developer from Springfield, Mo., has embarked on a $12.7 million project to renovate the building as 68 affordable apartments for homeless vets. The five-story building, at 4011 Delmar Boulevard, is in the city's Vandeventer neighborhood, about three blocks from the John Cochran VA Medical Center.

Plans call for the building, named Freedom Place by the developer, to be redone as 20 studio apartments, 24 one-bedroom units, 16 two-bedroom units and eight three-bedroom units. Monthly rents are scheduled to range from $369 to $640. (stltoday)
According to city records, the building had 100 one-bedroom apartments and three "other" units. Hopefully the new mix of units will work well.
I pass by this project on the #97 MetroBus, but recently I was in the area photographing for my post on the North Sarah Apartments so I got a closer look at the progress.
I'm curious to see how the ground-level will be used. Will a neighborhood coffeehouse be able to open?  A small local market perhaps? The area desperately needs economic activity to create jobs for the veterans that will live here, as well as others.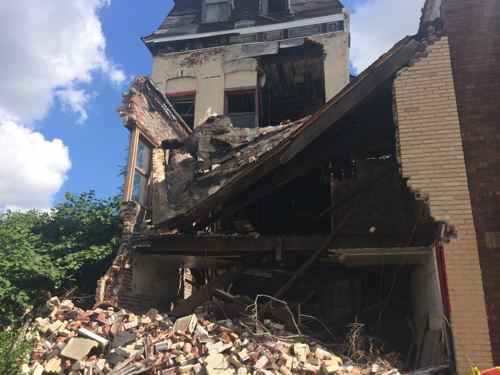 Housing for these vets is huge, but we must also finds ways to rebuild the local economic base to create jobs. One local effort is Bridge Bread:
Bridge Bread is a social entrepreneurship initiative designed to provide job opportunities for guests of The Bridge. The goal of the initiative is to help disadvantaged guests engage in a financially rewarding effort that enhances self-worth, promotes dignity and enables the guests to help themselves.
It takes much more than a shelter cot to rebuild the lives of the homeless. Kudos to the people behind The Vecino Group!
— Steve Patterson