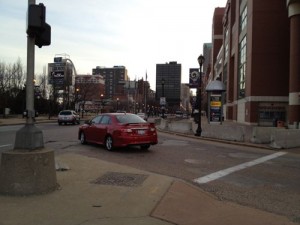 This past weekend you no doubt saw video of the Minnesota Vikings' 1982 Metrodome roof being deflated to make way for a replacement stadium. This got me thinking about our own St. Louis Rams and the Edward Jones Dome. The St. Louis Convention and Visitors Commission (CVC) rejected the last Rams proposal, then lost in arbitration:
By declining to carry out that proposal, the commission granted the Rams stadium free agency starting in 2015.

Owner Stan Kroenke has the leverage to start negotiating a new stadium deal here or elsewhere. The Rams could operate amid uncertainty for years to come. (stltoday)
I have no doubt in my mind that Kroenke will opt out of the lease and begin trying to fund a build a new home for the team. He'll extend his hand locally to see if it gets filled with money, or gets slapped down. He'll threaten to relocate if we don't help fund the new stadium, standard operating procedure in the NFL:
In Minnesota, the Vikings wanted a new stadium, and were vaguely threatening to decamp to another state if they didn't get it. The Minnesota legislature, facing a $1.1 billion budget deficit, extracted $506 million from taxpayers as a gift to the team, covering roughly half the cost of the new facility. Some legislators argued that the Vikings should reveal their finances: privately held, the team is not required to disclose operating data, despite the public subsidies it receives. In the end, the Minnesota legislature folded, giving away public money without the Vikings' disclosing information in return. The team's principal owner, Zygmunt Wilf, had a 2011 net worth estimated at $322 million; with the new stadium deal, the Vikings' value rose about $200 million, by Forbes's estimate, further enriching Wilf and his family. They will make a token annual payment of $13 million to use the stadium, keeping the lion's share of all NFL ticket, concession, parking, and, most important, television revenues. (How the NFL Fleeces Taxpayers)
I've said it before, but it's worth repeating: if we continue to have an NFL team, a new stadium should be in a more spacious area.  One site continues to come to mind:
In fact, a new stadium would only need part of the site.
The biggest thing after funding any project is where you are going to place your new giant building. Every city has ideal sites for these over-65-acre—or three million square feet—stadiums.

There is no correct answer for the best place to put one of these bad boys. Honestly, it's easiest to work with the city and figure out the most cost-effective site. Using Dallas as an example, they went through three different municipalities before they finally decided on a site in Arlington.

The idea behind picking a site is making sure it will be big enough for a new stadium. That means over 80 acres of undisturbed and non-requisitioned land—meaning no wetlands, no rivers, no easements, and no eminent domain issues.

The Cowboys decided on a site that is in that 80-acre range, and they finally got their stadium finished after over a decade of issues. They likely had to fight easements and eminent domain issues while they created the site.

Sometimes roads even have to be moved in the middle of a city and, in some cases, historic landmarks may be threatened. It's definitely an issue the Falcons are facing with their site selection, as they may have to buy out a pair of churches that have been in Atlanta for years. (Designing the Perfect NFL Stadium)
With 280 acres available there'd be plenty of room for hotels, restaurants, retail, etc to be constructed. Being adjacent to I-44 these other businesses could hopefully survive off-season. I think local taxpayers will end up paying part of the cost of a new stadium, I just hope our leaders don't get taken to the cleaners.
I see the Rams playing at the Edward Jones Dome through at least the 2018 season.
— Steve Patterson