The Cupples Station complex is historic:
Name: Cupples Station Complex

Address: 7th to llth, Clark Avenue to Poplar Street

Architectural Firm/Architect: Eames and Young

Alterations: Several of the original buildings were razed for construction of Busch Stadium and Highway 40.

Designation: City Landmark, National Register of Historic Places,

History:

After the completion of Eads Bridge and the tunnel which connected the bridge with the Union Depot railway yards, Samuel Cupples and Robert S. Brookings saw an opportunity to locate warehouses with ready rail access to the yards. Their new warehousing idea saved considerable time in freight handling and was enthusiastically adopted by the local shipping interests. The resulting large group of multi-story buildings transformed a previously useless part of the city into a highly productive area. Since all of the warehouses were not accessible by rail, they were connected by a system of tunnels and bridges. A system of hydraulic elevators was provided for vertical access. The buildings were massively constructed and made as fire resistant as was possible.

Cupples Station played a major role in maintaining the preeminence of St. Louis as a railroad center in the first half of the twentieth century.

Architecturally, the Cupples Station buildings are of national importance. Although treated in the Richardsonian Romanesque style, the buildings are strikingly modern in feeling. Rounded brick cornices and soaring arches are common features of all of the buildings and serve to unify them. Each building, however, is different from the others in detail. Originally, there were 20 buildings in the complex. (source)
More important than being historic, the remaining buildings have a nice urban feel to them.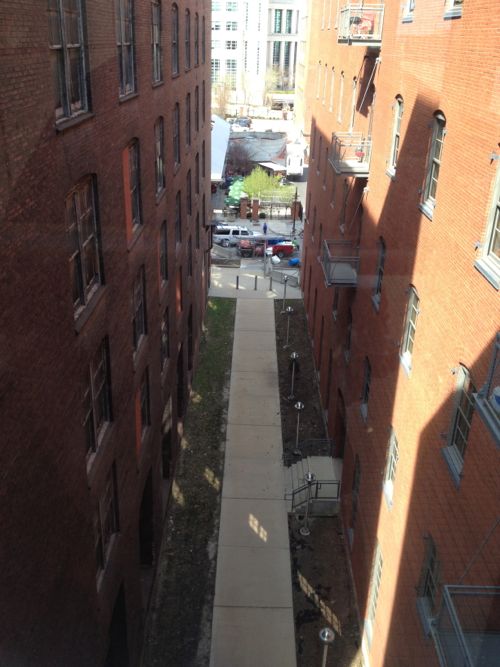 From my post Thoughts on Cupples #7 from December 2011:
In 2000 when Bank of America owned several of the Cupples buildings a tank collapsed causing a hole in the roof of #7. The hole was known five years later when McGowan & Walsh bought three of the warehouses, including #7. They attempted to tarp over the roof, right?

Wrong, they did nothing! Water poured in a small hole in the roof for five years prior to their ownership causing structural damage to get to the point where it is today — which is mostly in the basement. They've been irresponsible owners for years and now they are maneuvering to blame the city if this historic structure collapses.

The city certainly has failed, I've had to resolve issues like peeling paint or end up in court! Where has the city been? They condemned the structure in 2008 and that then did…nothing. Everyone has been covering their own ass, but nobody has been trying to stabilize the building.
If this building collapses or is razed it will be a huge loss to the area. Walking east on Spruce St it helps from the street when you cross 11th Street (map)
— Steve Patterson