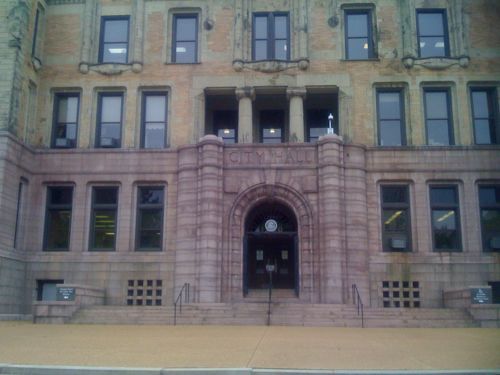 On Fridays I usually post new board bills introduced at the St. Louis Board of Aldermen, but as I mentioned last week, they're on their winter break now. Full board meetings will resume on January 6, 2017. That's also the day filing closes for candidates seeking to be on a partisan ballot on the March 7, 2017 primary. Filing began last mont on the 28th.
As of yesterday, there are 32 candidates who have filed to run for various offices — all Democrats. It's asinine for St. Louis to hold a primary to select partisan candidates and a month later to hold a general election so the primary winner can run unopposed or minimally challenged by a marginal Green, Republican, or independent — welcome to St. Louis.
Anyway, though we may see a few more candidates file and/or existing candidates drop out of the race, the March primary is pretty much set.
Seven current candidates seeking the Democratic nomination for mayor, in ballet order:
Antonio French
Lewis Reed
Jeffrey L. Boyd
Tishaura O. Jones
Lyda Krewson
William (Bill) Haas
Jimmie Matthews
Once again, Darlene Green is currently unopposed for the job of Comptroller.
The odd-numbered wards are up for re-election  and it looks like there will be some changes.
Ward 1 — Only one candidate has filed so far, not incumbent Tyus.
Ward 3 — looks like an open seat, three candidates have filed and none are incumbent Freeman Bosley Sr!
Ward 5 — Incumbent Tammika Hubbard, whose parents lost recent revotes, hasn't filed to run for another term. Thankfully, she won't likely run again. There are 3 candidates so far, but more are possible.
Ward 7 — Incumbent Coatar unopposed so far.
Ward 9 — Incumbent Ortman has one challenger so far.
Ward 11 — Incumbent Villa has one challenger so far.
Ward 13 — Incumbent Murphy unopposed so far.
Ward 15 — This will be an interesting race as former Ald Florida attempts to unseat incumbent Green.
Ward 17 — Incumbent Roddy unopposed so far.
Ward 19 — Incumbent Davis has one challenger so far.
Ward 21 — Since Ald French is in the race for mayor this is an open seat, 3 candidates have filed so far.
Ward 23 — Incumbent Vaccaro unopposed so far.
Ward 25 — Incumbent Cohn unopposed so far.
Ward 27 — Only one candidate has filed so far, not incumbent Carter.
The sevens wards in bold (3,5,9,11,15, & 19) are ones I'll be watching, plus others, if more candidates file in the next two weeks.
— Steve Patterson