Today cul-de-sac subdivisions are designed exclusively for the automobile. For example, my brother's gated subdivision in Oklahoma City has internal sidewalks that don't lead you outside the gates. A major grocery store occupies one corner on the outside, but you need a car to get there.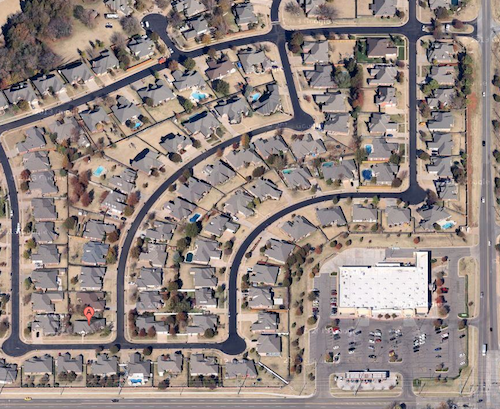 My parents built a new custom home in 1965-66, moving in just months before I was born. I was told the streets of the new subdivision in the former farm field were still getting paved as our house was being built. Unlike where my brother lives now, we could at least reach a convenience store from a street connected to our subdivision. Had more commercial been built on land set aside by the developers we would've had many more options.
However, many in the St. Louis region grew up in a 1950s subdivision that planned for walking, with sidewalks and a shopping center connected to the housing. I posted yesterday about the Carrollton subdivision decimated for runway expansion at Lambert International Airport, today is a look at the thought and planning that went into it.
The following is from page 547 of the 1970 book This is Our Saint Louis by Harry M. Hagen:
When "Johnny Came Marching Home" at the close of World War II, he found one thing to his advantage, prosperity and jobs,  and one disadvantage, a tremendous shortage of housing. For many returning GI's and their prides, their first home was a rented room or shared quarters with their in-laws.

The building industry, stopped by the priorities of war, was turned loose, and developers looked to the suburbs for the land they needed to build homes. There was land, lots of land, and many home builders built square little box-like homes marching in soldierly fashion down square little streets. These houses sold as fast as they could be completed since young marrieds and young families were desperate for adequate housing.

With the convenience of the automobile, no location in St. Louis County was too distant. Sub-division after sub-division sprung up and was quickly populated.

Out of this building frenzy, one team emerged with a visionary approach to suburbia. Ed and John Fischer, along with brother-in-law Lawrence Frichtel added a dimension to home building that won national acclaim for their firm, Fischer and Frichtel. Instead of building several blocks of homes in in regimented manner, they built a community.

The firm amassed a large tract of land in northwest St. Louis County and in 1956 opened Carrolton, a planned community with gently curving streets, cup-de-sacs and open space. Instead of one or two home models, they offered a variety so that every other home would not look the same. They did not utilize every square foot for homes –they planned areas for churches, schools and parks that were built and used as the population grew. To make the community as self-sufficient as possible, they constructed a small shopping center so that necessities of living could be purchased within walking distance. And to complete their community, they built a swimming pool and a large recreation building, bringing free-time activities practically to the front door of residents.

Carrollton had a mixture of award-winning homes–and it was a community that offered residents more than any other single housing development in the area at that time. It was planned to make living in the suburbs enjoyable for the entire family — and its departure from the conventional set the standards followed by other developers.

Fisher and Frichtel was probably the number one home-building firm of the post-war era — and the reason for its success was simply that it gave the grass-cutting, snow-shoveling, house-painting, leaf-burning, tree-pruning public a product that was both excellent in quality and different in setting. The firm has been recognized and published in every major magazine and newspaper relating to homes, neighborhoods and conventional living throughout the country. Unquestionably, these men and their organization represent and give tribute to the great spirit of St. Louis.
Self-sustaining? Walking distance to necessities? Yes, single-family homes on cul-de-sacs can be walkable. Well, at least they tried in 1956.
However, decade after decade since Carrollton was platted, subdivisions have gotten progressively more hostile to pedestrians. I'm not sure how this happened, my guess is each subsequent generation got used to their environment and eventually only grandpa remembered walking to the store for milk.
Thanks for the book Sheila!
— Steve Patterson