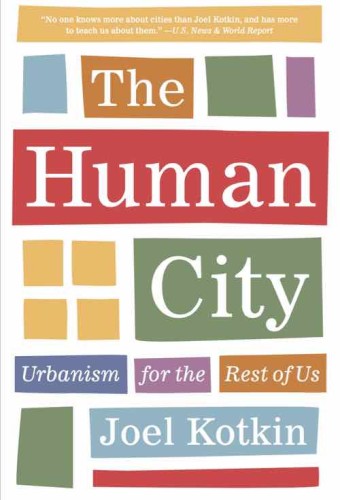 The title, The Human City: Urbanism for the Rest of Us, quickly got my attention. Here's the publisher's description:
In The Human City, internationally recognized urbanist Joel Kotkin challenges the conventional urban-planning wisdom that favors high-density, "pack-and-stack" strategies. By exploring the economic, social, and environmental benefits of decentralized, family-friendly alternatives, Kotkin concludes that while the word "suburbs" may be outdated, the concept is certainly not dead.

Aside from those wealthy enough to own spacious urban homes, people forced into high-density development must accept crowded living conditions and limited privacy, thus degrading their quality of life. Dispersion, Kotkin argues, provides a chance to build a more sustainable, "human-scale" urban environment.

After pondering the purpose of a city — and the social, political, economic, and aesthetic characteristics that are associated with urban living — Kotkin explores the problematic realities of today's megacities and the importance of families, neighborhoods, and local communities, arguing that these considerations must guide the way we shape our urban landscapes. He then makes the case for dispersion and explores communities (dynamic small cities, redeveloped urban neighborhoods, and more) that are already providing viable, decentralized alternatives to ultra-dense urban cores.

The Human City lays out a vision of urbanism that is both family friendly and flexible. It describes a future where people, aided by technology, are freed from the constraints of small spaces and impossibly high real estate prices. While Kotkin does not call for low-density development per se, he does advocate for a greater range of options for people to live the way they want at various stages of their lives.

We are building cities without thinking about the people who live in them, argues The Human City. It's time to change our approach to one that is centered on human values.
About the Author

Joel Kotkin is Presidential Fellow in Urban Futures at Chapman University, Executive Director of the Houston-based Center for Opportunity Urbanism, and Executive Editor of the widely read website, NewGeography.com. He is the author of seven previous books, and a regular contributor to the Daily Beast, Forbes.com, RealClearPolitics, and the Orange County Register. His writing has appeared in the Wall Street Journal, the New York Times, the Washington Post, City Journal, Politico, and many more outlets.
It's true, there is a lot of middle ground between expensive high-density urbanity and low-density suburban sprawl. To live in a walkable neighborhood shouldn't require a 6-figure income.
Here is the list of chapters:
What Is a City For?
The Importance of Everyday Life
The Problem with Megacities
Inside the "Glamour Zone"
Post-Familial Places
The Case for Dispersion
How Should We Live?
I got permission to reprint the introduction:
BOOKS HAVE MANY ORIGINS, and that is also the case with this one. I started thinking about a new approach to urbanism after being ex- posed to a series of views—largely in favor of cramming people into ever-denser spaces—that now dominates most thinking about cities. I had also been exposed repeatedly to analyses, including some of my own, that rated cities largely from the perspective of their eco- nomic productivity.

Economic growth, of course, is critical to urban health and the lives of urban citizens. But how growth impacts daily life, I came to realize, is also important. If we build cities, as we increasingly do, in ways that accentuate divisions among the classes and decrease the quality of life for families—even to the point of discouraging people from having children—what have we accomplished? Even if skylines rise and architects create hitherto impossible-to-imagine structures, a city still primarily needs to be, as Descartes noted, "an inventory of the possible"1 for the vast majority of its citizens.

These thoughts came together for me when I was working in Singapore. Here was arguably the best-planned dense urban area in the world, a model of modernist design and post-industrial prosperity. Yet in doing scores of interviews and reviewing survey data, it became obvious to me that high-density living, coupled with enormous career pressures, was also producing high levels of anxiety and breaking down what had been an exceptionally strong familial culture.

I articulated these thoughts in a speech called "What Is a City For?" that I gave to the Singapore University of Technology and Design in the spring of 2013. It was published later that year by the Lee Kuan Yew Centre for Innovative Cities.2 In that address, I began to search out answers to that question. My thinking was further shaped by a suggestion from one of my colleagues, geographer Ali Modarres, to look at Aristotle, first and foremost, for some basic principles.

In the ensuing two years, the book began to take shape, although I knew much of it ran very much contrary to the prevailing wisdom about cities. Yet as I went through the historical literature and ob- served cities around the world, it became clear that there was an enormous gap between what planners, politicians, and much of the business community were advocating for—ever more density—and the everyday desires of most people, particularly working- and mid- dle-class families. It seemed only proper that someone speak to these aspirations as well.

In no way do I consider this book, in its essentials, anti-urban. In- stead, the task here is to redefine the city in a way that fits with modern realities and the needs of families. In this respect, the urban experience is simply not only confined to the inner city or old neighborhoods but also to the "sprawl" that now surrounds them in virtually every vibrant urban area in the world. As Gregg Easterbrook, contributing editor of the Atlantic and the Washington Monthly, asks, "Sprawl is caused by affluence and population growth, and which of these, exactly, do we propose to inhibit?"3

Many voices influenced this book. These include the writings of Fernand Braudel, Lewis Mumford, Frank Lloyd Wright, Peter Hall, H. G. Wells, Herbert Gans, and, although I differed from her on many ideas, Jane Jacobs. These figures from the past informed my reporting on the present; their focus on how people actually live, and what they desire, gave me necessary inspiration.

No field of study—technical or in the humanities—thrives when only one side or perspective is allowed free reign and granted a dis- pensation from criticism. The question of the future of cities is too important to be hemmed in by dogma and should, instead, invite
vigorous debate and discussion. My hope is that this book sparks at least a modicum of that debate by challenging the conventional think- ing on the future of cities and the urban form. This book was written with that hope.

Orange, California, Fall 2015

(Reprinted with permission from The Human City by Joel Kotkin, Agate B2, 2016.)
We need more discussion about how to build cities that work for humans.
— Steve Pattterson