A week ago tonight the St. Louis Metropolitan Police were all over four blocks of Washington Ave  (10th-14th). This will be my fifth summer as a downtown resident and last weekend seemed very familiar based on the last few year.
It goes something like this:
Zero police presence during the busiest times (late friday & saturday nights)
Something bad happens, usually a late night shooting
Everyone gets upset
Elected officials and police develop a plan
Following weekend make a huge show of force
Next weekend police nowhere to be found
What will tonight and tomorrow night look like? My guess is nothing like last weekend.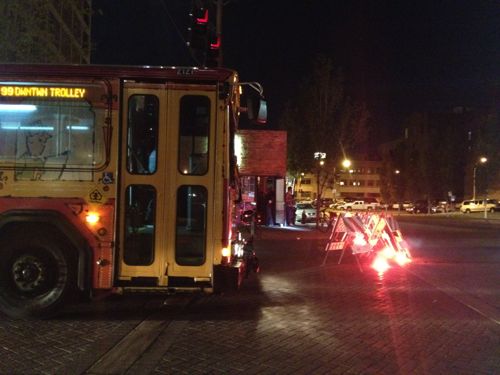 As officers began placing the barricades to block eastbound Washington at 14th the officers were wearing dark uniforms and the lighting is poor, drivers couldn't see them. One officer yelled at a couple of drivers like this was an occupied police state. Maybe the flares were necessary given the poor execution of going from open to closed road. The number of police was astonishing, blue uniforms and vehicles everywhere.
Personally I think closing the street to traffic killed the vibrancy of the street.  Will this be sustained all summer or will it be impossible to find a single cop on these four blocks tonight?
– Steve Patterson