Earlier this month I attended the 2-day media preview of the Chicago Auto Show. I've attended the show every year since 2014, except last year when the usual February show was rescheduled to the summer because of the pandemic. This year's show was smaller than previous years, but there was still a lot to see.
Some terms you'll see in this post:
BEV = battery electric vehicle
FCEV = fuel cell electric vehicle
Frunk = front trunk
HEV= hybrid electric vehicle
ICE = internal combustion engine (i.e: a gasoline engine)
MPGe = miles per gallon equivalent
PHEV = plug-in hybrid electric vehicle
Unibody = body & chassis are designed and built together, different than body on frame
In the past years you'd see a number of HEVs and the occasional BEV, but in 2022 the BEVs were everywhere. Most vehicles on display were ICE vehicles, but it was the electric vehicles that were the center of attention at most displays. Only manufacturers that have a dealership network are part of this and other big car shows; so no Telsa, Rivian, Lucid, etc.
Ford
Ford F-150 Lightening BEV:  Like the ICE F-150, the electric version is big. Other than a light bar front & rear it looks like any other new pickup. Ford intentionally kept the truck looking similar to other F-150s, a smart move considering the F-series is the best selling vehicle in America.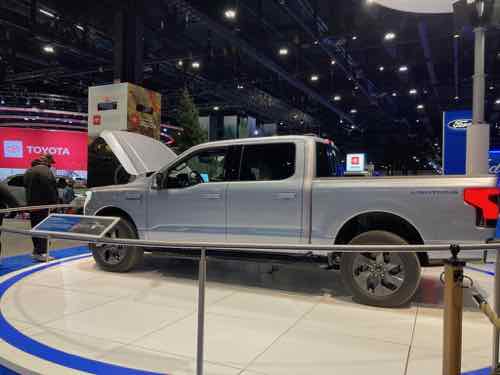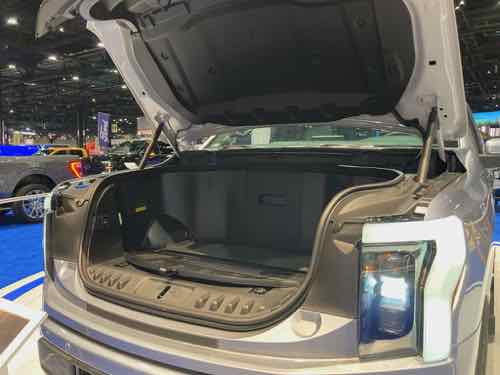 1978 Ford F-100 Eluminator BEV: I was very excited to see this truck. It was converted to a BEV using Ford's BEV crate motor, first shown at the '22 CES (Consumer Electronics Show).
Ford Mustang Mach-E BEV: I've seen a couple on the streets in St. Louis, and a friend's husband got one. I got to ride in one on the test track, which included a too fast launch control demonstration. I asked if they could demonstrate regenerative braking to stop the car but they said no.
Ford E-Transit BEV delivery van: Delivery & work vans are a big market and they're good candidates for electric vs ICE since they're not driven long distances.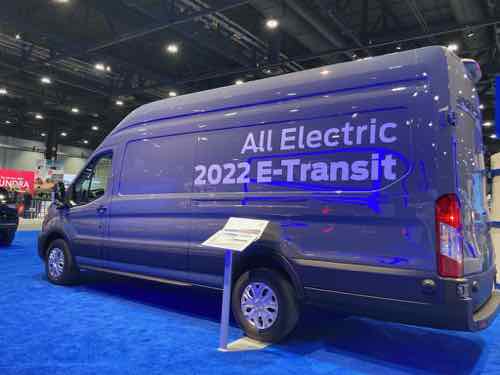 In addition to vehicles, a lot of displays talked about their electrified vehicles.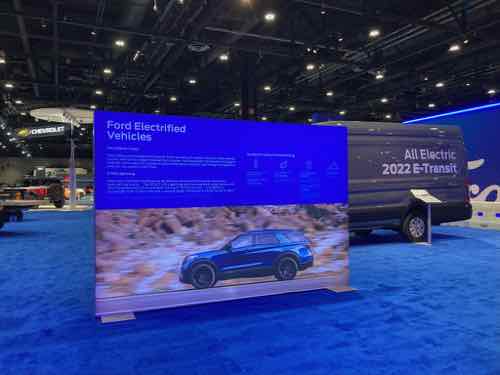 Ford Maverick HEV compact pickup: Ford's new unibody compact pickup was one of my favorite vehicles at the show, though it's still larger than the smallest pickups of the 1970s. The base powertrain is hybrid, but a larger non-hybrid ICE is optional. Truck purists aren't a fan of unibody trucks, others include the Honda Ridgeline and the new Hyundai Santa Cruz.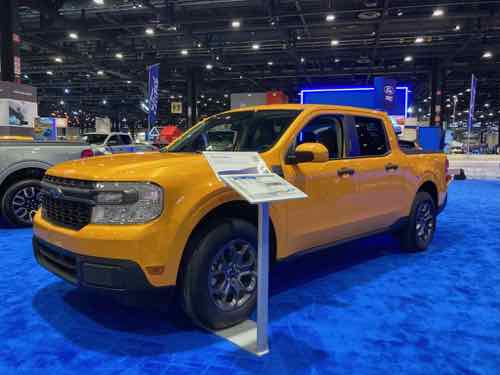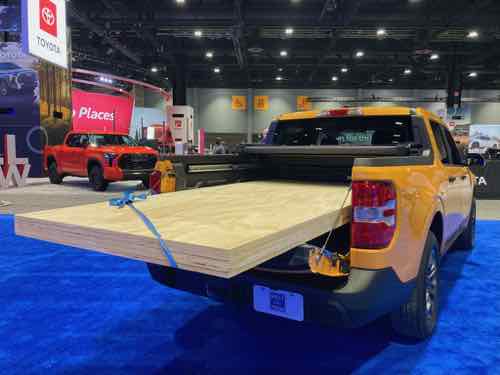 To complete Ford's electric marketing this banner was displayed on their test track.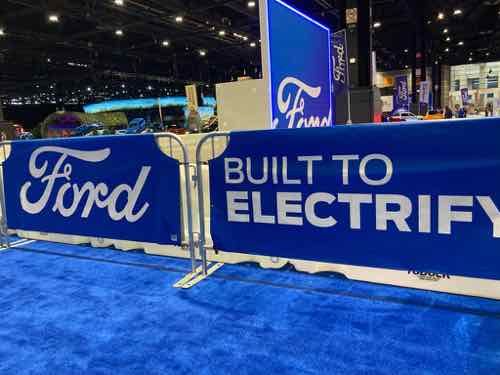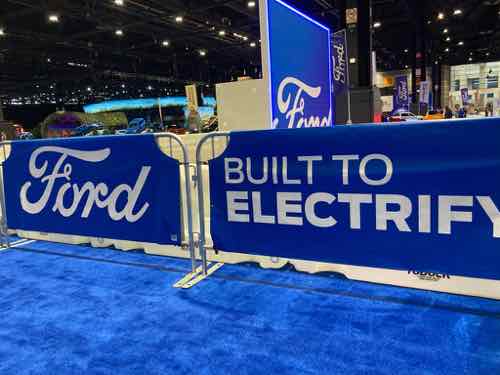 GENERAL MOTORS
General Motors is working toward being a leader in BEVs, but they had little to offer — make that nothing small, only big trucks.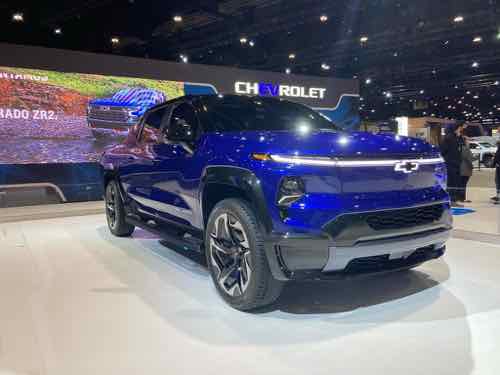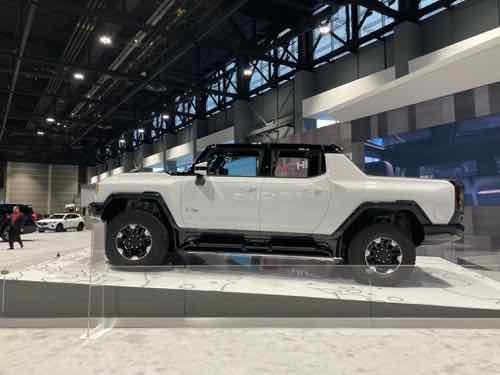 Recently the EPA numbers on the GMC Hummer became public — this is now the least efficient BEV you can buy, only 47 MPGe! Seems appropriate. We need a BEV equivalent term for a gas guzzler, electron hog?
TOYOTA
Toyota, with the Prius HEV, has been into electrified vehicles for decades. They've made some BEV versions of their RAV4 compact crossover, but they showed their first BEV on a new non-ICE platform.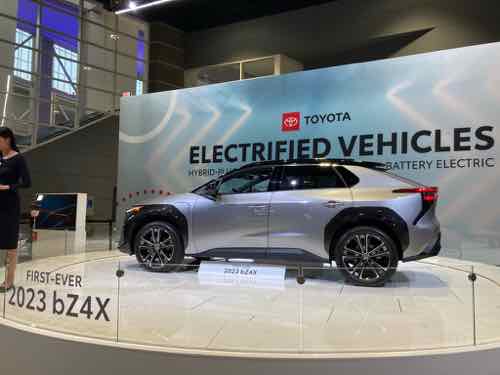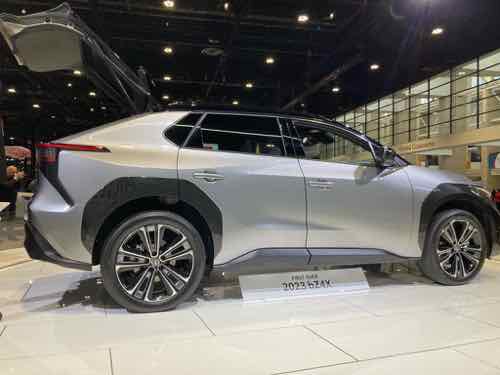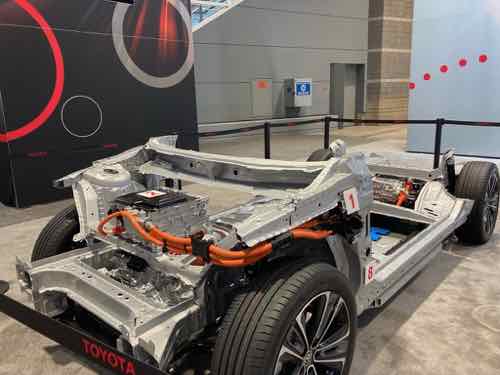 SUBARU
Subaru had a very large, interesting display. The premium spot was for their first BEV, the Solterra. Toyota and Subaru worked together to create the new BEV platform shared by the bZ4X (above) and the Solterra.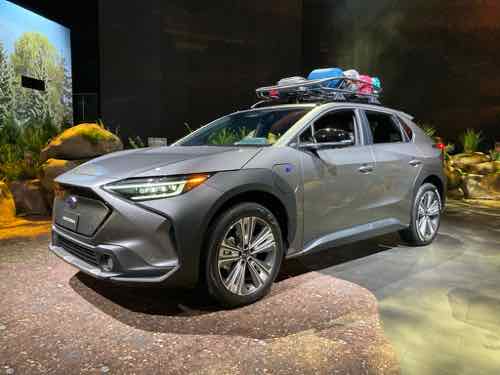 VOLKSWAGEN
Following the costly dieselgate scandal on many Volkswagen Group vehicles, they had to pivot to electric vehicles. The ID.4 is the first such VW here in the United States.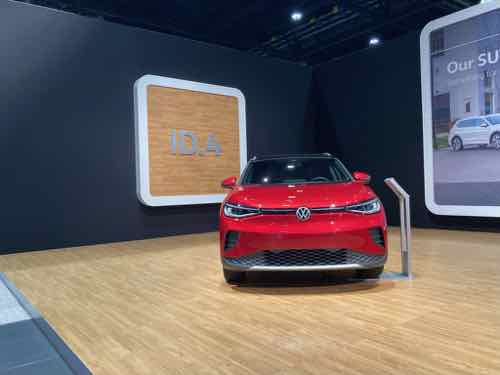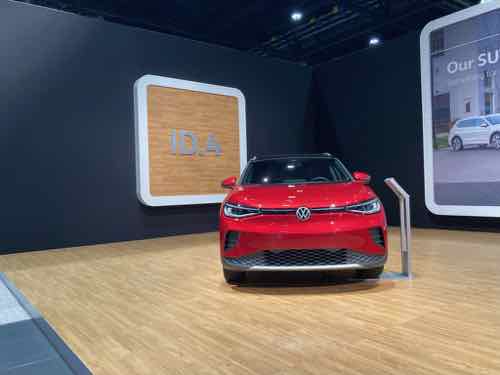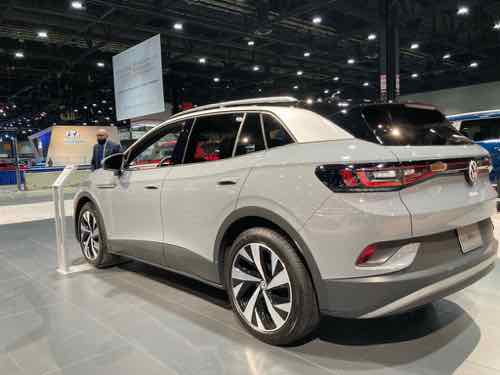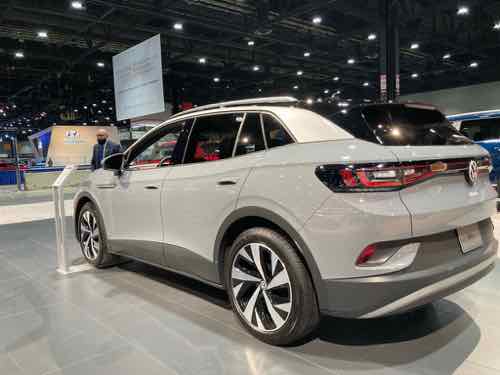 NISSAN
Nissan had a huge lead in BEVs with the Leaf, but odd looks, limited range, and price limited sales.Now they've got a new BEV platform and vehicle.
BMW
BMW no longer offers the unconventional i3 — now offering more conventional BEVs.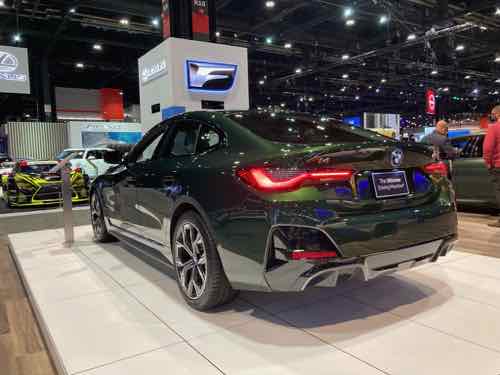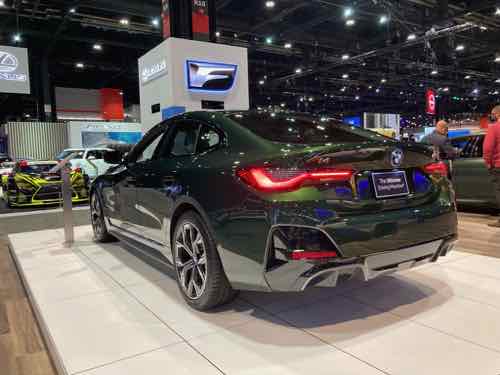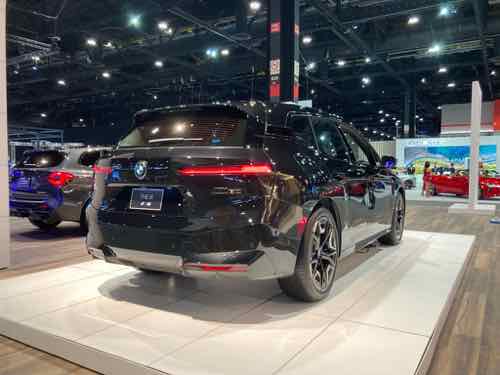 Kia
The sister brand to Hyundai has a new BEV platform, a new model, and a bulky concept.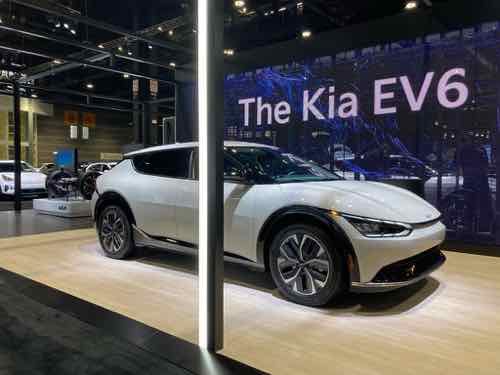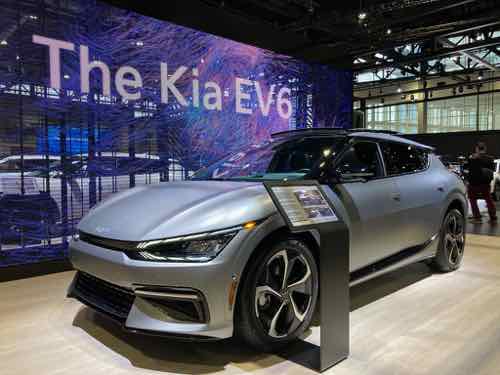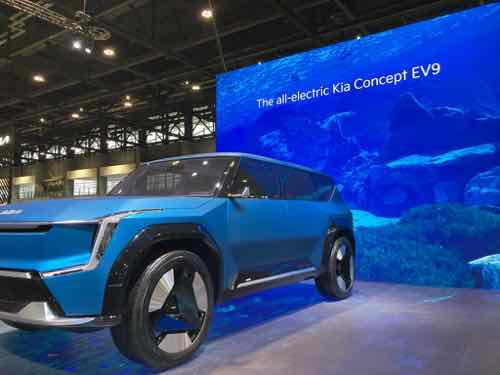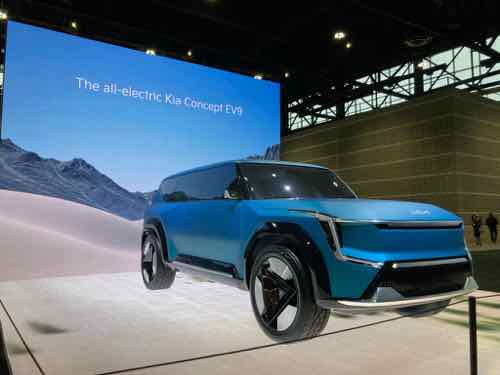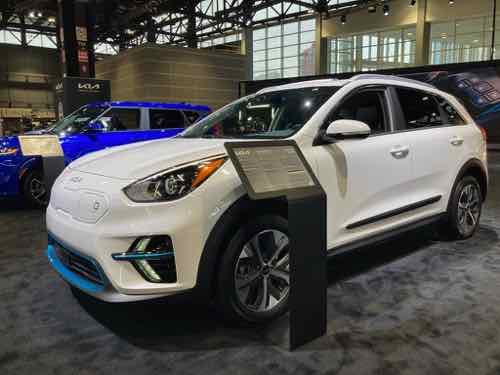 HYUNDAI
Hyundai has 3 car brands: Kia, Genesis, and Hyundai. All three have a new BEV on a new platform, shown above in the Kia section. Genesis wasn't at this show, so I didn't get to see the GV60 BEV. Hyundai has used the Ionic name for a few years, on a vehicle available as a HEV, PHEV, or BEV — depending upon market. Now the Ionic name is being used as a sub-brand. The Ionic 5 BEV crossover is the first of their trio of new BEVs to market.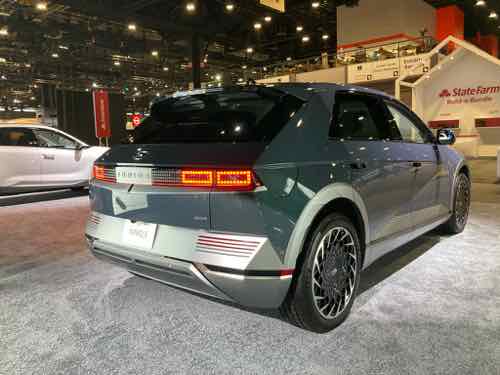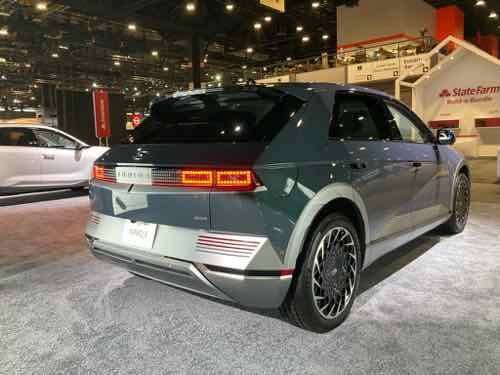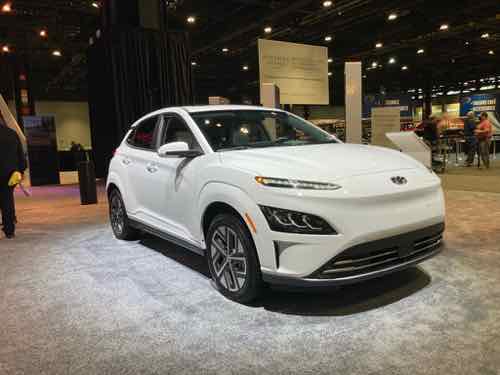 CLOSING THOUGHTS
It was great seeing so many BEVs in one place, like it or not vehicles are quickly switching from internal combustion to battery electric.
I wish more emphasis was placed on efficiency, rather than just 0-60 time or total range. In reviewing MPGe numbers on FuelEconomy.gov I can see none of the world's legacy auto manufacturers can beat the efficiency of Tesla & Lucid. Chevy & Kia do have models in the top 10 in efficiency.
Think of it like an efficient car with a small fuel tank going the same distance as a heavy inefficient vehicle with a huge fuel tank, the latter being able to travel the same distance simply because the tank is so large. It makes sense that Tesla is great at efficiency, they've been at this the longest. Lucid, however, has only begun shipping their first cars and yet they've beaten all the efficiency of BEVs from legacy manufacturers.
More on efficiency, charging, etc in a future post(s).
— Steve Patterson