Last week Mayor Krewson asked Metro to reconsider the idea of restarting the Loop Trolley by pooling unspent federal money. Metro's board recently rejected the idea.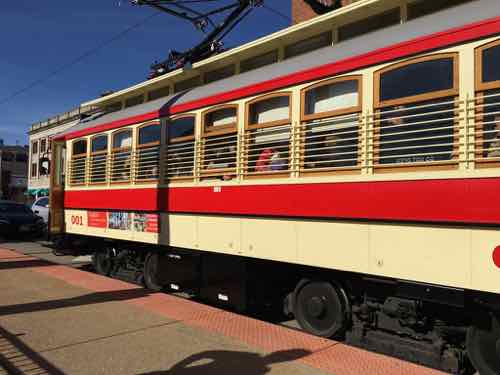 If a way isn't found to restart the short-lived trolley, St. Louis City & County might be on the hook for millions in federal funds used for the project.
That was a reference to a Federal Transit Administration official's statement Friday that if the trolley wasn't revived, his agency could file a lawsuit to recover $25 million in federal grant money that had been used to help build the trolley line and related projects.


The official, regional administrator Mokhtee Ahmad, said there would be no effort to recover $11 million in other trolley-related federal spending because those were "street projects that would be done anyway." (Post-Dispatch)
While I'm not a fan of historic trolley lines, I hate to see this huge effort & financial investment go unused. I especially hate the idea of the City & County having to come up with another $25 million to repay the feds.
Everyone, including myself, thought transit agency Metro was the only option to revive the trolley. The problem is the fares & sales tax collected collected in the transportation district aren't enough to cover operating expenses. Either the revenue needs to go up, or expenses go down — or some combination.
My thought turned to historic trolley lines I've experienced, wondering how they're financed & operated. How do they make it work? The cities I've experience vintage/heritage streetcars are: New Orleans, Little Rock, Memphis, San Francisco, and Dallas.
All of the above, except Dallas, are operated by the local transit agency. All have operated for years, some decades. All have been expanded from their original length.
At least San Francisco and Dallas use a nonprofit and volunteer labor. While I haven't examined the operating budget, I have no doubt that labor is a large portion — so reducing labor to one or two nonprofit staff might help the trolley line break even.
Dallas' McKinney Avenue Transit Authority model is worth considering:
Founded in 1983 with the intent of returning heritage streetcars to the streets of Dallas, the McKinney Avenue Transit Authority successfully accomplished that goal in July of 1989. The M-Line's air-conditioned and heated, restored vintage trolleys operate 365 days a year, providing safe, clean, and convenient public transportation, free of charge (except charters) in Dallas' vibrant Uptown Neighborhood.

Since it's beginnings, MATA's fleet has grown from its original two cars to today's beautifully restored seven car fleet, operating year-round for over half a million rides a year. The once 2.8-mile track now covers almost 5 miles from Cityplace's Uptown Station to the Downtown Arts District and back.

For 30 years, MATA has seen the city grow around it, and is an institution serving Dallasites and visitors with this unique, fun, reliable transportation. (MATA)
It wasn't always free, but they recognized asking for donations works better for them. Groups can also charter a trolley.
I fully recognize this idea might not work here, there might be unique circumstances to prevent it. We already have a taxing district working for some funding and a nonprofit that operated the trolley. From their volunteer page:
McKinney Avenue Transit Authority is looking for a few good men and women!

Ever dream of being a Motorman. . . of a restored, vintage streetcar? Like working with your hands restoring vintage trolleys? Enjoy woodworking, mechanics, problem-solving? You are in luck! McKinney Avenue Trolley needs your help.

We are seeking volunteers to be trained as Motormen or Conductors to operate and greet passengers on our 7-car fleet of trolleys. We also need skilled volunteers to help us restore trolleys – inside and out.

Like working on special events to help us raise funds or marketing campaigns or App design to help enhance the trolley experience? We can use your talents!

Interested? Complete the form below and we'll set up an interview.

This could the best volunteer position you ever had!
Every region has residents who have an interest in operating old trolleys, or an interest in the maintenance side. I could also see a connection with our local trade schools.
As part of due diligence I think it's worth considering a volunteer labor model.
—Steve Patterson