Last week Missouri announced which applicants will be awarded licenses to grow medical marijuana.
The Missouri Department of Health and Senior Services announced the winning 60 applicants for cultivation facilities sought by an estimated 500 companies hoping to cash in on the legalization of pot.
Approval of the growing operations comes just days after the state awarded licenses to companies seeking to transport cannabis products. Among those are companies in St. Louis, Festus, Eureka and Florissant. (Post-Dispatch)
Seven licensees will be located in the City of St. Louis.  Three will operate out of the same large warehouse, so there's five total locations.
I decided to look into each location.
Property Owner: 7110 North Broadway LLC  (Sauget IL)
Year Built: 3 buildings in 1941, and 1 in 1947
Neighborhood: North Riverfront
Ward: 2nd
Applicants: Kindbio LLC (7110), Certified Alternative Medicine (7140), VMO-Ops Inc. (7110)
Comments: I imagine the Broadway facade was originally a beige brick, though perhaps reddish. Located across Broadway from Bellefontaine Cemetery, this location has easy highway access. Separate licenses have been issued to companies that will transport cannabis product, so having three facilities at one location may prove advantageous from a logistical perspective.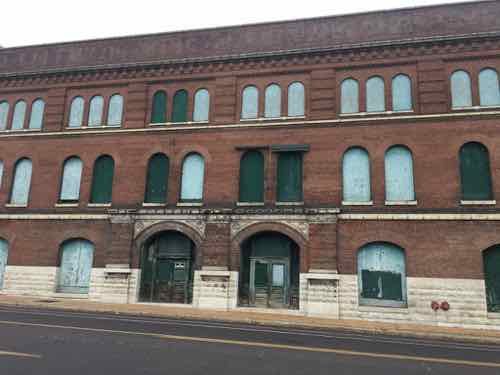 Property Owner: Historic Lemp Brewery LLC
Year Built: Early 20th century
Neighborhood: Marine Villa
Ward: 9th
Applicant: Blue Arrow Holdings LLC
Comments: This is large building, though small compared to others on the former Lemp Brewery site. My guess is this will give this cultivator room to expand as demand warrants.
Property Owner: Mound City Partners LLC
Year Built: 1966
Neighborhood: Benton Park
Ward: 9th
Applicant: BeLeaf Medical LLC
Comments: Local news reports showed cute storefronts near Jefferson when mentioning one cultivation facility would be on Cherokee Street, another showed the north side of the Lemp Brewery across the street. This is the most out of character property on Cherokee Street.
Property Owner: Northside Regeneration (Paul McKee)
Year Built: 1959
Neighborhood: Columbus Square
Ward: 5th
Applicant: TC AppliCo LLC
Comments: This is just around the corner from our apartment, so I was hoping this applicant would be approved. Will be nice seeing it occupied.
Property Owner: St. Louis' Land Reutilization Authority (LRA)
Year Built: 1923
Neighborhood: Wells-Goodfellow
Ward: 22nd
Applicant: Growing Jobs Missouri LLC
Comments: This is probably the most ambitious/challenging location of this list — but easily one of the most interesting architecturally. A 1909 Sanborn Fire Insurance map indicates the adjacent warehouses were part of A. Leschen and Sons Rope — manufacturers of wire rope and tramways, etc.  The building is very open — literally. Hopefully renovations can happen quickly, though not sure how long it will take for the applicant to secure title from the LRA. The Wells-Goodfellow neighborhood made headlines earlier this year after a concentrated effort to raze buildings deemed beyond renovation — see Options For The Wells Goodfellow Neighborhood. It would be great if, as the applicant name suggests, this location generated new jobs for local residents.
So there you have it, the five city locations for the seven applicants recently awarded cultivation licenses. All will need investment to get ready to operate as an indoor growing operation. As this is a new highly-competitive business we will have to see how each performs, it's possible not all will survive their initial first year or two in business.  Others may thrive and need to expand in place, or relocate to larger facilities.
Really looking forward to seeing where the city's dispensaries will be located.
— Steve Patterson