University City Missouri is a first-tier suburb of St. Louis. Many towns in the region are older, starting as rural villages.  More than a quarter century after the municipal boundaries of the City of St. Louis were set in stone way out in the rural countryside, U City began at those limits:
University City was founded by publisher Edward Gardner Lewis, who began developing the location in 1903 around his publishing complex for Woman's Magazine and Woman's Farm Journal. Historic buildings associated with municipal operations, including today's City Hall, were built by Lewis as facilities for his magazine enterprise. In 1906, the city incorporated and Lewis served as its first mayor.  (Wikipedia)
The streetcar from the city was extended West into the new suburb, turning around there. The urban business district is now knows as the Delmar Loop because of the streetcar loop to reverse direction.
University City has a second East-West business district: Olive Boulevard. Where the Delmar Loop was established first, in the streetcar era, Olive developed later. Initially buildings were similar to those on Delmar: 2-story with residential over a business on the ground floor. As development marched Westward the automobile became more important and residential units above retail was no longer a thing — it was all about separation of uses. Business zoning meant businesses only, residential meant single-family detached homes, with a few zones for multi-family. Mixing these was considered a formula for creating blight.
As a result, the 3.6+ miles of Olive Blvd has always been very different than the short half mile of the Delmar Loop business district located within University City's limits. On Saturday August 25 2018 I decided to explore a portion of Olive Blvd targeted for redevelopment. Today's post isn't about proposed development and all the pros & cons associated with it. No, today is about documenting what exists now. My round trip took more than four hours, including stopping for lunch to eat and recharge my wheelchair. In that time I took 181 photos.
It was quite hot on that Saturday, but I feel it's important to personally experience an area before writing about it. I'm not going to share all my images, just enough to give you a sense of the area. The #91 MetroBus starts at the Delmar Station (I arrived on the #97 MetroBus, not via MetroLink). Anyway, the #91 heads North on Skinker before turning left to head Westbound on Olive Blvd. — the start of the U City limits.
Having lived in St. Louis for over 28 years I'd driven this part of Olive many times, but this was my first time seeing it from the bus window. My interest on Saturday, however, was the far end of Olive. I got off the bus in front of Royal Banks (map).  Before I get into my photos illustrating Olive Blvd I should give you some additional background. Neither University City or St. Louis County is responsible for maintenance of the road, sidewalks, signals, etc. The State of Missouri has that responsibility because Olive Blvd is also known as state Route 340.
Route 340 is a highway in the St. Louis metropolitan area. Its western terminus is Route 100 (Manchester Road) in Ellisville, and its eastern terminus is at an intersection with Ferguson Avenue and Olive Boulevard in University City. The stretch of Route 340 between Manchester Road and the Interstate 64 / U.S. 40 / U.S. 61 interchange is known locally as Clarkson Road. The remainder of Route 340 between this intersection and its eastern terminus is variously known as Olive Boulevard (which does not connect with Olive Street in the city of St. Louis. Route 340 ends at Ferguson Avenue in University City, but Olive Boulevard continues to Skinker Boulevard on St. Louis city line. (Wikipedia)
Not a divided limited-access interstate, but an urban corridor that is supposed to move more cars than other corridors — like Delmar Blvd. The headline gives away the theme — it was a nightmare.  This comes from auto-centric development in the absence of a mandate for accommodating pedestrians.
OK, let the visual tour begin.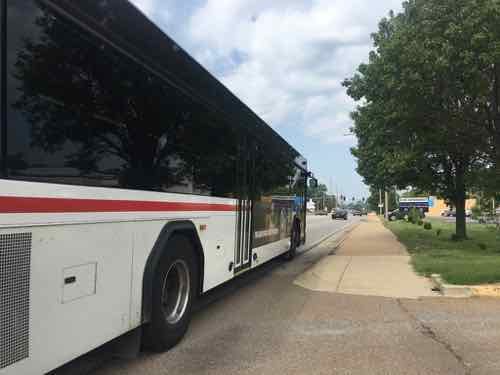 Despite the presence of a bus stop, neither provide an accessible route to their accessible building entrance. This is the case for nearly every property I encountered the next few hours.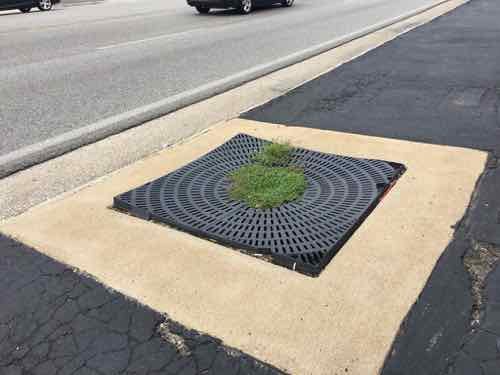 The above was written back in August, shortly after taking the trip on Olive. Rather than continue procrastinating, I'm going to post more pics with limited commentary to be able to finish this post.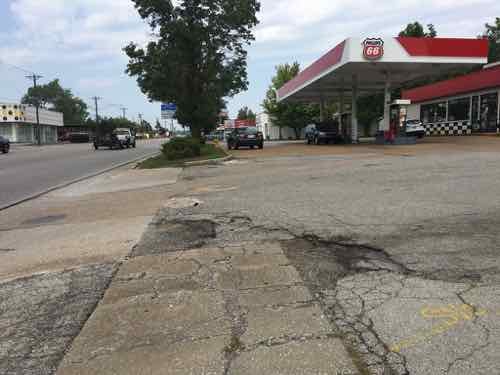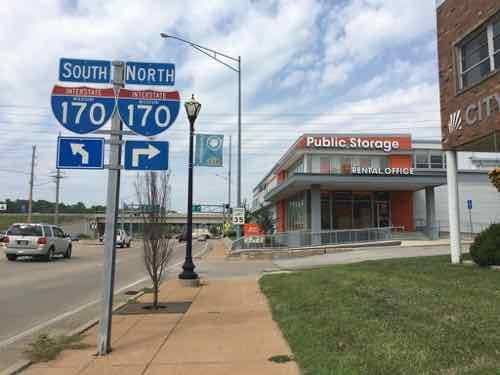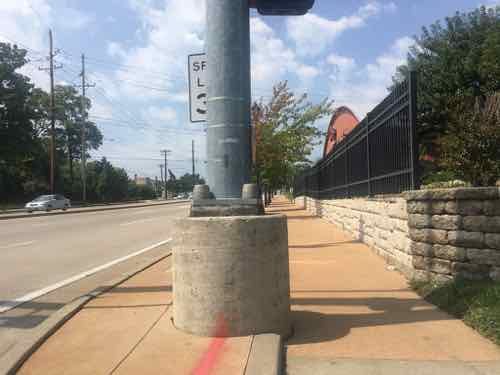 Yesterday as I was finishing up this post I reviewed all nearly 200 photos I took that hot August day. After wishing it wasn't so cold now, I recall all the obstacles I encountered in my wheelchair. I also thought about how horrid the environment is for anyone to experience as a pedestrian.
Now that I've finally gotten this post completed, I can post about plans to redevelop the Western end of Olive Blvd in University City.
— Steve Patterson