My husband and I use the Panera Bread name to describe both St. Louis Bread Co & Panera locations. The Panera Bread locations in the immediate St. Louis area are known as St. Louis Bread Company.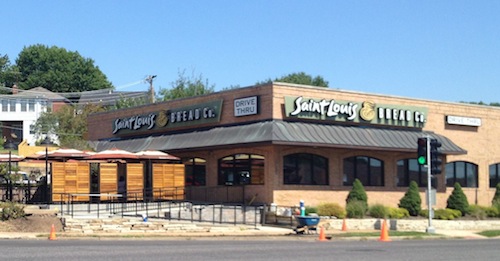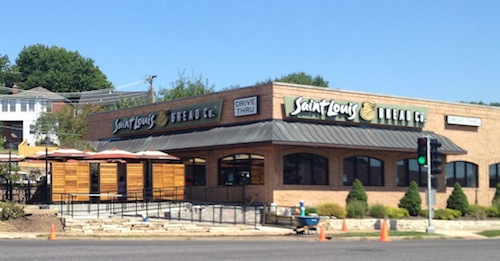 Get an hour from downtown and they become Panera Bread.  As I mentioned in the Sunday Poll, when I worked in Kirkwood (2000-2004) we often got lunch from the original location, but by that point the original founder was ;png out of the picture.
St. Louis Bread was founded by Ken Rosenthal in 1987 when he opened the first location in Kirkwood, Missouri. In 1993, Au Bon Pain Co. purchased the St. Louis Bread Company. In 1997, Au Bon Pain changed the company name to Panera Bread, a made-up name combining the Italian words pane (bread) and era (time)—time of bread. At the same time, the St. Louis Bread Company was renovating its 20 bakery-cafés in the St. Louis area.

In May 1999, to expand Panera Bread into a national restaurant, Au Bon Pain Co. sold its other chains, including Au Bon Pain, which is now owned by Compass Group North America. Panera Bread moved into its new headquarters in Richmond Heights, Missouri in 2000. The company operates or franchises more than 1900 Panera Bread bakery-cafés in 46 states and 20 facilities that deliver fresh dough to the bakery-cafés every day. Panera Bread's CEO is Ron Shaich.
Panera's headquarters are in the St. Louis suburb of Sunset Hills. You might think CEO Shaich lives in a tony St. Louis suburb like Ladue…but you'd only be partially correct. He does live in a wealthy suburb — outside of Boston. To his credit, he's kept the headquarters here for more than two decades. Executives that run the day-to-day business do live here. Panera stock is publicly traded.
More than half of you think the local name should remain St. Louis Bread Company:
Q: Agree or disagree: St. Louis Bread Co locations should go by the name Panera (the name used in the rest of the country?
Strongly agree 2 [3.77%]
Agree 4 [7.55%]
Somewhat agree 3 [5.66%]
Neither agree or disagree 7 [13.21%]
Somewhat disagree 3 [5.66%]
Disagree 10 [18.87%]
Strongly disagree 24 [45.28%]
Unsure/No Answer 0 [0%]
I somewhat think they should just all become Panera Bread. Most of the packaging, cups, etc are already the same. The main different is the name on the outside of the building.  I'm not advocating for a change, I just won't be surprised or upset if they decide to do so in the future.
— Steve Patterson