Five days a week people take public transit to/from St. Louis & St. Charles counties! No, MetroLink light rail wasn't secretly extended over the Missouri River. No, MetroBus doesn't serve St. Charles County either. "How", you ask?
Just the way Madison County Transit enters the City of St. Louis, St. Charles Area Transit (aka SCAT), enters St. Louis County. In late February I took the last morning SCAT bus from the North Hanley Transit Center into St. Charles. Over four hours later, I took the first SCAT bus back.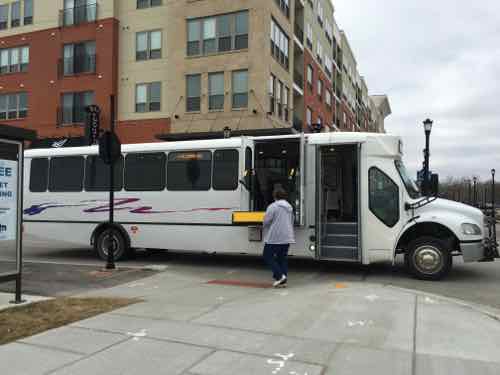 We departed North Hanley on time — here's the official schedule for the last SCAT bus leaving St. Louis County:
8:55am North Hanley
9:19am St. Joseph Health Center/Main St St. Charles
9:24am Ameristar Casino
9:31am Cave Springs Commuter Lot
9:38am Zumbehl Commuter Lot
9:46am Fairgrounds Commuter Lot
9:50am Streets of St. Charles — where I got off
10:16am last morning drop off at North Hanley
The route, logically, is designed to serve St. Charles residents needing to get into St. Louis County for the day. Just 30 minutes to go from the Fairgrounds Commuter Lot to North Hanley four times each weekday morning, starting at 5:44am!  Still, my bus from North Hanley into St. Charles had about 10 other passengers — people I presume were going to work.
In the afternoon the SCAT I-70 bus runs four times, starting at North Hanley at 1:38pm, the last on 5:59pm.
1:38pm North Hanley
1:45pm Fairgrounds Commuter Lot
1:52pm Zumbehl Commuter Lot
2pm Cave Springs Commuter Lot
2:11pm St. Joseph Health Center/Main St St. Charles
2:16pm Ameristar Casino
2:20pm Streets of St. Charles — where I got on
2:42pm arrival at North Hanley — next departure is 2:48pm
I'm so glad to see the City of St. Charles operating transit buses, connecting to the rest of the region — via St. Louis County. However, the webpage and route maps need improvement. Online maps for the four St. Charles routes must be viewed separately. No system map exists, at least not online.  Still, it's a start.
— Steve Patterson