Last month I visited Cleveland to check out the best Bus Rapid Transit (BRT) route in the country, see Cleveland's Healthline Bus Rapid Transit (BRT), Part 4. Earlier this month I was back in Ohio, this time in Cincinnati.
During my 3-day visit for a Streetsblog meeting we checked out the upcoming Cincinnati Streetcar. Expected to be operational by the end of September 2016, the tracks, overhead wires, & platforms are all in place.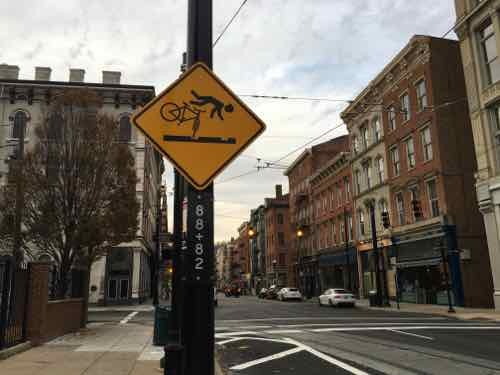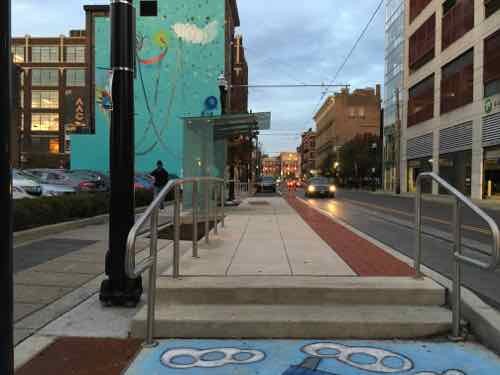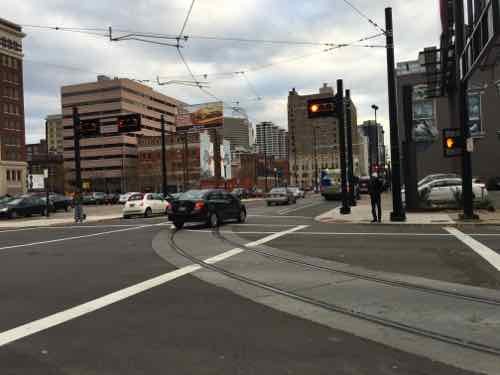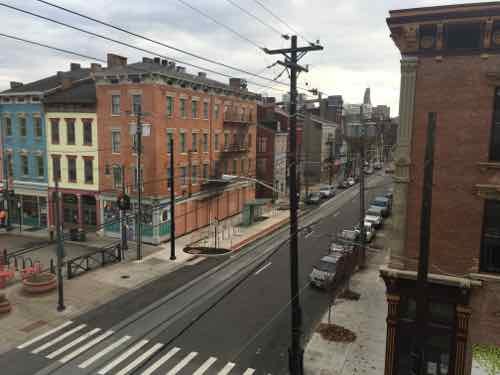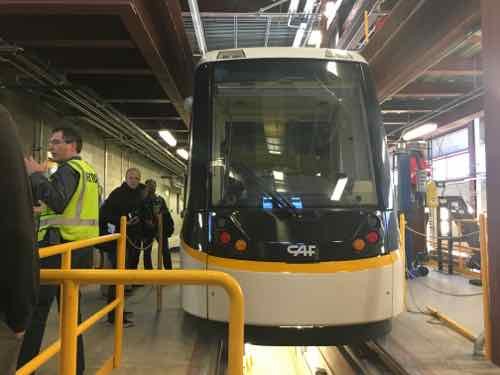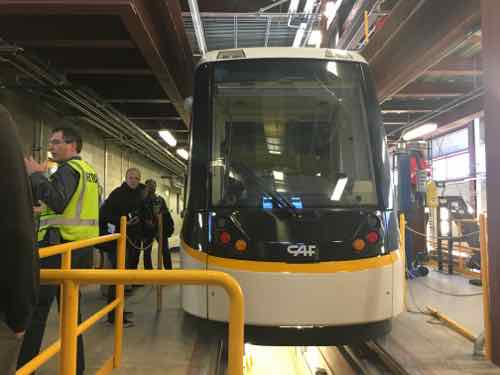 Their streetcar will run north-south on their grid of streets. Where we've butchered our grid, theirs remains largely intact, albeit mostly one-way couplets. I traveled over a mile on each of four parallel streets: Elm, Race, Vine, & Walnut. Their rights-of-way are also much narrower than ours are now — they didn't have someone like our Harland Bartholomew aggressively widening streets by forcibly taking the front bay of buildings.
What we call a trolley or streetcar, Europeans call a tram.  Same thing, different name.
The vehicles are CAF Urbos 3, which are 100% low floor. If Cincinnati decides to do a light rail line out to the suburbs in the future they can use the same vehicles. Yes, modern streetcars use the same vehicles as light rail. The difference comes in how the route is designed. Kansas City is using the same vehicle for their streetcar line, which will also open next Fall.
If we do street-running light rail, or a streetcar, these would be in consideration. To meet requirements for federal projects, they have at least 60% US content.
Like most cities, Cincinnati had streetcars in the 19th century, a subway was started but abandoned. Cincinnati hasn't had rail transit in decades. See their official stteetcar page here.
— Steve Patterson