I'm fascinated by Volkswagen's emissions-rigging scheme — writing software to make diesel cars perform differently while being tested vs. driven. Why would they do this?
To make sense of it we need to go back to 2007 for the planned introduction of new Volkswagen TDI engine for the 2008 model year:
Amid the looming hordes of European luxury automakers planning a North American compression-ignition invasion in the next couple years, humble Volkswagen has announced its plans to return the Jetta TDI to the diesel dogpile in the spring of 2008. Powered by a new 2.0-liter four-cylinder making 140 hp and 236 lb-ft of torque, and either a six-speed manual or DSG automated manual transmission, the 2008 Jetta TDI will be cleared for sale in all fifty states.

Some of the earlier diesels to make it to our shores over the next few years will only be available in 45 states; California, Maine, Massachusetts, New York, and Vermont have all adopted stricter emissions regulations for diesels that bar some vehicles from entry. Using technology developed under the BlueTec cooperative formed by Mercedes-Benz and Volkswagen, the Jetta TDI will slip by these stricter regulations without resorting to a urea-based exhaust treatment, as many BlueTec labeled models will.

Nitrogen oxides (NOx) are, along with particulate emissions (soot), the biggest hurdles facing diesels in the U.S. Most BlueTec vehicles will control NOx by injecting a urea-based solution called AdBlue into the exhaust system upstream of a catalytic converter that specifically targets NOx. In that catalytic converter, the ammonia in the urea reacts with the NOx in the exhaust gas and neutralizes it into nitrogen and water.

Volkswagen's Jetta TDI will manage without a urea injection system by using a NOx-storage catalyst. Like the particulate filters in place on this car as well as other diesels, this catalyst is basically a trap that temporarily holds the offensive emissions. Periodically, the engine will switch to an air-fuel mixture that will burn off the material in the traps.
Delayed a year, this new 2.0 TDI didn't debut until the 2009 model year. The previous 1.9 TDI engine was sluggish and didn't meet newer emissions standards — Volkswagen had no 4-cylindar diesel engine for U.S. models during the 2007 & 2008 model years.
From 2005 to 2006, the Jetta TDI is powered by a 1.9-liter four-cylinder turbodiesel engine (TDI stands for Turbo Direct Injection) good for 100 horsepower, but a healthy 177 pounds-feet of torque. Remember, torque is a rotational force required to get a car moving, so the more torque an engine has, the quicker it can move a car either from a standing stop or when overtaking slower traffic. 2009 and newer Jettas feature an all-new 2.0-liter four-cylinder turbocharged engine with VW's "clean diesel" technology. The clean diesel features particulate filters and other devices for removing diesel soot and order from the exhaust, as well as a system for reducing emissions. The 2.0-liter TDI produces 140 horsepower and whopping 236 pounds-feet of torque. While the 1.9-liter engine can best be described as peppy, the 2.0-liter TDI is down right quick. Rocketing out of a tollbooth or merging onto the freeway is a snap for the 2.0-liter TDI, which feels more like the GTI's 200-horsepower turbocharged gas engine than a powerplant designed for maximum mileage. (AutoTrader August 2011)
The new 2.0 TDI engine was able to meet stricter worldwide emissions standards without using an urea injection to clean the exhaust — brilliant engineering, or so we thought. Every other diesel required urea injection, which had to be refilled about every 10,000 miles. When Mercedes BlueTEC diesels run out of urea you can start it only 20 more times before refilling it (TheCarConnection).
Over the years since the new 2.0 TDI engine was introduced the automotive press raved about it, and consumers bought more and more. After all, the performance was outstanding and the real world MPG exceeded EPA estimates. As we've learned, their urea injection-free diesel didn't meet emissions standards. Their "CleanDiesel" wasn't clean at all.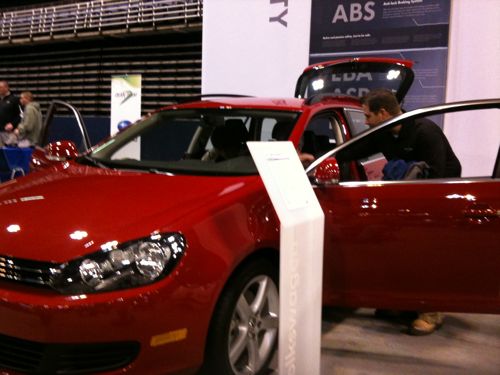 Sales of their diesels broke records:
VW Group of America has had great success with diesels in the US recently. Vee-Dub and Audi sold 105,899 diesel-equipped models in 2013. It was the first time the group ever sold over 100,000 diesels in a year, and they accounted for 24 percent of sales. (AutoBlog)
At the Chicago Auto Show in February we saw the newest SportWagen TDI — now a Golf — with a new TDI engine.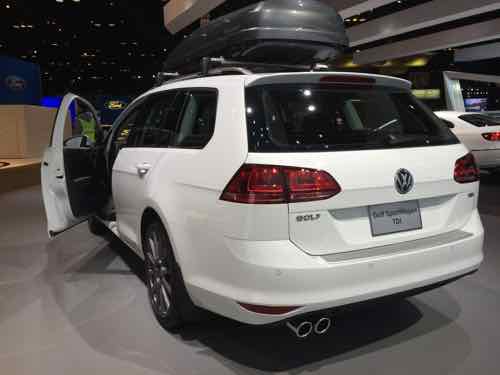 Volkswagen had a stated goal of becoming the biggest car maker in the world, and for the first six months of 2015 they were:
Volkswagen (VLKAF) sold 5.04 million vehicles from January to June, a slight dip from a year earlier. That compares to 5.02 million sold by Toyota (TM) over the same period. Group sales dropped 1.5% due to a weaker performance by its Toyota and Daihatsu brands. (CNN/Money)
Many were expecting a close race between Toyota and the Volkswagen Group for top honors for 2015, now Toyota will locket retain the crown as Volkswagen deals with the fallout. My friends who own these polluting diesels are furious they were deceived. I'm furious millions of these cars have been polluting the environment while billed as eco-friendly clean cars.
— Steve Patterson