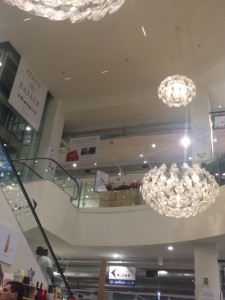 During my nearly week-long visit to Chicago I shopped at three very different grocery stores: local chain Treasure Island, national chain Whole Foods, and Italian-based global chain: Eataly.
The only other Eataly in North America is in NYC. Most are in Italy, other cities with a location include Tokyo , Dubai, and Istanbul.
The Italian businessman Oscar Farinetti opened the first Eataly in an old vermouth factory in Turin, Italy, in 2007. Twenty-six outlets later, the word Eataly has been spoken so many times from Turkey to Tokyo—and now in River North—that you may have forgotten how silly it is. An Italian superstore called Eataly! That would be like an American food bazaar called United Plates. [Chicago Magazine]
Investors such as Mario Batali are looking to expand to cities like Boston, Philadelphia, etc.
i doubt we'll see an Eataly in St  louis, but I also didn't expect us to get an IKEA  The best location for an Eataly in St. Louis would be Ballpark Village because it offers a high concentration of people much of the year. However, Eataly seems to prefer going into existing buildings.
— Steve Patterson