As summer approaches that means vehicle traffic in Forest Park increases, especially on the weekends. Parking is limited, traffic moves slowly, exhaust pollution increases. If only there was a better way to get to the outstanding institutions in the park!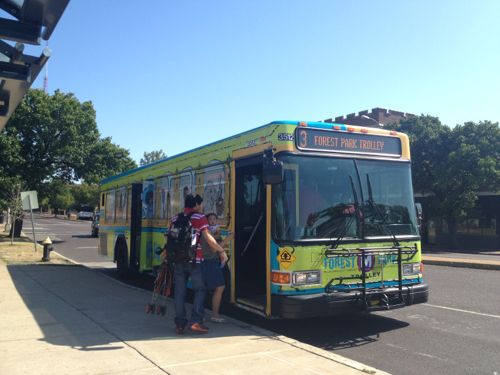 The press release explains the best way to navigate the park other than as a pedestrian or cyclist:
The Metro Forest Park Trolley will return to Forest Park on Saturday, May 3, giving individuals visiting Forest Park a convenient method of navigating the Park, in addition to assisting to alleviate Park congestion.

The Metro Forest Park Trolley Service (MetroBus route #3) will operate daily from 9 a.m. – 5 p.m. from May 3 through September 28 with summer hours of 9 a.m. – 7 p.m., Memorial Day weekend through Labor Day. It will connect all Park attractions, as well as the Forest Park-DeBaliviere MetroLink Station. Adult Trolley fares are $2 per adult. Children 5-12, seniors and disabled passengers ride for $1. A valid Metro Reduced Fare permit is required for the Senior and Disabled discount. Kids 4 and under ride free. Two convenient Park N' Ride options are available for visitors: the Twin Parking Lots across from the Dennis & Judith Jones Visitor and Education Center and the Upper Muny Parking Lot. From these lots, visitors can hop aboard the Forest Park Trolley for a lift to their desired attraction.

The Metro #3 Forest Park Trolley is a partnership between Forest Park Forever, Bi-State Development Agency/Metro, Missouri History Museum, Saint Louis Art Museum, Saint Louis Science Center, Saint Louis Zoo, and the City of St. Louis.

#3 Forest Park Trolley Hours and Timing:
9 a.m. to 5 p.m., daily, May 3 through September 28. Weekday service will be every 20 minutes and every 15 minutes on weekends.
Extended summer hours, 9 a.m. to 7 p.m., daily, Memorial Day weekend through Labor Day (Saturday, May 24 – Monday, September 1.)
During Friday, Saturday and Sunday Trolley operating hours, the #90 Hampton MetroBus will reroute outside the Park. This will improve the on-time performance of the #90 Hampton and reduce the number of MetroBus vehicles in Forest Park. Contact Metro transit regarding the #90 Hampton schedule at 314-231-2345 or 618-271-2345.

Forest Park Trolley Rider Tips:
Fare is purchased on-board the Trolley, exact change required (paper or coin). Each Trolley ticket allows unlimited on & off privileges for the day the fare is purchased.
Metro Day, Weekly and Monthly Passes are acceptable fares for the Forest Park Trolley. Day passes are available for purchase at Metro Ticket Machines located at all MetroLink stations.
Trolley Head Signs – #3 Forest Park Trolley vehicles coming from the Forest Park-DeBaliviere MetroLink station are identified as Southbound – To Science Center. Forest Park Trolley vehicles heading toward MetroLink are identified as Northbound – To Forest Park MetroLink Station.
The #3 Forest Park Trolley is fully accessible to persons with disabilities.

Information on Obtaining Senior Reduced Fare Permits
Seniors (age 65 and older) and the disabled can ride MetroBus and MetroLink at a reduced rate. Qualifying individuals must complete the following:
Apply in person at the MetroStore – 701 Convention Plaza, St. Louis, MO 63101 – or at one of Metro's mobile registration events. MetroStore hours: Monday – Friday, 8:30 a.m. to 5 p.m.
Show a government issued picture identification card verifying age (age 65 and older) Acceptable forms of identification include a state vehicle driver's license, state ID, passport or alien registration card.

Additional Traffic Support for Forest Park
While the #3 Forest Park Trolley will have a meaningful impact on alleviating traffic in the Park this summer, a Traffic Relief Route will again be implemented as an additional measure on especially busy days. When traffic congestion is particularly heavy at Forest Park's popular Hampton entrance, the Park Rangers will put this Relief Route in motion. This effort is done in coordination with MoDOT as a means to reduce backups and closures on Interstate 64 at Hampton Avenue. To prevent traffic back-ups and highway closures, the Traffic Relief Route will direct drivers from Hampton on a circular path through the Park, past many available parking lots at the Upper Muny, the Visitor Center and ultimately along Government Drive and Saint Louis Zoo. After parking, visitors may then hop on the Trolley to reach their destination and navigate Forest Park.

Helpful Websites
www.metrostlouis.org/forestparktrolley
www.forestparkforever.org/navigation
So if you're planning a trip to Forest Park please consider using the #3 Forest Park Trolley, or #90 Hampton. You can view the Forest Park Trolley map here (PDF).
— Steve Patterson