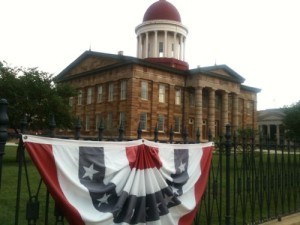 Monday night on KDHX I announced that my boyfriend and I got engaged last month. We didn't plan to go to any of the 14 states, or Washington D.C., to get married. We wanted to get married in Missouri (where we live) or Illinois (his state of residence until this past February). We knew that meant a possible long engagement but we also knew there had been talk of the Illinois General Assembly approving a same-sex marriage bill most of this year. As late as a week or two ago it didn't look like a vote would happen this year but 2014 looked promising.
Then suddenly, Tuesday morning, we hear the vote will happen. By the end of the day both the chambers passed the bill, sending it to the governor! To pass the measure the sponsor removed the paragraph making the law effective in 30 days. The law becomes effective on June 1, 2014.
Gov. Pat Quinn (D) said in a statement Tuesday that he would sign the bill into law, although he did not specify a date. The House, which had adjourned in May without passing a Senate bill legalizing same-sex marriage, approved the measure Tuesday by a vote of 61 to 54.

"Today the Illinois House put our state on the right side of history," said Quinn, who campaigned for the measure, which is scheduled to take effect in June. (Washington Post)
So Tuesday night we set a date in June and started a wedding website. Yesterday I began the process of confirming the location. Today we're going to city hall to register as Domestic Partners.
When I came out 30 years ago I didn't think marriage would ever be an option…
— Steve Patterson