It was three years ago today that many gathered on the lawn in front of one of the most historic properties in St. Louis: The Clemens Mansion, located at 1849 Cass Ave.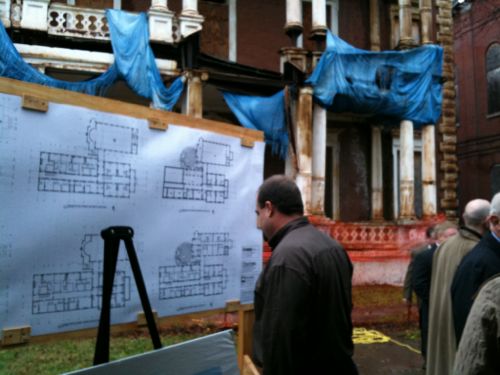 From The Beacon:
Mayor Francis Slay put his ceremonial seal of approval Tuesday on the first step of the $8.1 billion plan to redevelop a large portion of north St. Louis, but he remained noncommittal on what developer Paul McKee considers a key part of the project.

The signing ceremony for two bills passed by the Board of Aldermen — the bills were actually signed into law by the mayor on Friday — took place under a tent on the front lawn of the Clemens House, one of the most visible properties in the McKee project area. (St. Louis Beacon)
Initial work had begun on the renovation but work stopped when part of the financing fell through, I believe a low-income housing tax credit. Soon much of McKee's project will have a final airing in court.
The state Supreme Court has set Nov. 28 as the date for oral arguments in the lawsuit that has blocked McKee's massive NorthSide Regeneration project for more than two years. There's no telling how long after that a ruling might come down, but that ruling will help the project advance, McKee said. (stltoday.com)
Disclosure: I was a very minor consultant on the Clemen's Mansion project, assisting with accessibility and starting to look at traffic calming and walkability along a larger stretch of Cass Ave. Hopefully the project can be completed in the future.
— Steve Patterson