For it's first 64 years Jefferson Bank & Trust was located a couple of blocks north of Delmar:
"Jefferson Bank was organized and incorporated in Missouri on July 20, 1892 and was one of the earliest neighborhood banks in the City of Saint Louis. The bank's first location was at the Northwest corner of Jefferson and Franklin (now known as Martin Luther King Drive). Over the last century Jefferson Bank and Trust has earned an enviable reputation for providing excellent service to small businesses throughout the Saint Louis Metropolitan area. The foundation of prudent fiscal policy has served the bank well and provided for sound growth."
Today the St. Louis Police Central Patrol Division is located on the corner where the original Jefferson Bank stood.
When Jefferson Bank needed a new building they simply moved east across Jefferson:
"In January of 1922, ground was broken for Jefferson Bank's first new banking house at the Northeast corner of Jefferson and Franklin. This new building featured a Safe Deposit Department inside a modern vault with a capacity of 4000 safety deposit boxes."
The building was quite handsome!
But 30 years later they would feel the need to move again, the neighborhood & banking were changing.
"On April 2, 1956, Jefferson Bank and Trust Company celebrated the opening of the first new bank building constructed in the City of Saint Louis since 1928. This modern building was located at 2600 Washington on the corner of Washington, Jefferson, and Locust featuring four drive-in banking windows and walk-up and drive-up night depositories. During 1956 the bank grew to $22,000,000 in assets and exceeded $52,000,000 during 1963."
Part of what likely prompted Jefferson Bank to move south of Delmar was the massive Pruitt-Igoe public housing complex just two blocks north of the prior location.
Pruitt-Igoe was "first occupied in 1954 and completed in 1956." Was the timing a coincidence? Perhaps, but they may have been unable to find a site to build the new bank with drive-thru lanes close to their 1922 bank. Â It should be noted that Jefferson Bank had African American tellers at the prior location, and many African American customers.
But when the new bank opened in April 1956 the bank no longer had any African American tellers. Another coincidence? Local civil rights groups tried for years to get Jefferson Bank, other banks, and other businesses, to hire black workers. Years passed with no real progress.
Here is a 5-minute video from the Nine Network with vintage footage of the Jefferson Bank protests:
httpv://www.youtube.com/watch?v=awYGQpnh2Bk
Wednesday, August 28, 1963 thousands converged in Washington D.C. for the one-day March on Washington for Jobs and Freedom event. The next day, Thursday August 29, 1963 (48 years ago today) some who didn't go to Washington D.C. decided to picket outside Jefferson Bank.
Friday August 30, 1963 the protest moved into the bank's lobby. Nine protestors were arrested for interfering with bank business (shown with sentences):
Marion Oldham – 60 days – $500*
Rev. Charles Perkins -180 days – $500
Raymond Howard -60 days -$500*
William Clay – 270 days – $1,000
Norman Seay – 90 days – $500
Herman Thompson -60 days -$500
Robert Curtis – 270 days – $1,000
Charles Oldham – 90 days – $1,000
Lucian Richards -90 days -$500
* indicates conviction reversed on January 15, 1964.
The city's conservative daily paper, the St. Louis Globe-Democrat, ran the following editorial on Tuesday September 3, 1963:
The decision by the St. Louis NAACP to attempt to boycott of public schools when they open Thursday was a sensible abandonment of amost unwise scheme.

Keeping children out of school to whomp up a demonstration would be illegal, useless and make helpless victims of youngsters.

Whatever the reason in foregoing the boycott for school integration at all costs, itwas a sound change of heart. We hope it was because parents set their children's education above every other consideration.

***

The congress of Racial Equality leaders, who brazenly violated the law and the court Friday by their "demonstrations, " Â harassing business of the Jefferson Bank and Trust Company, showed a far different and insupportable attitude.

Nine of the CORE'S chief demonstrators were arrested for contempt of the Circuit Court, whose injunction they debauched. Some were released on bond, others stayed in jail, apparently to get more publicity and pose as martyrs.

They are not martyrs. What they wanted was jobs–now–whether any jobs were available or whether Negro applicants were competent to hold the positions. It was intimidation, an extortion tactic in the guise of racial equality. There is no equality in the demands they made, only an attempt at gaining racial discrimination for Negroes. There is no martyrdom in arrest and jail forflagrant flouting of courts and law.

These CORE people should be treated just like any other law-breaker. They deserve no sympathy. If any groups, apart from the race issue, were to do the same thing they would get the book thrown at them…

***

St. Louis is sympathetic toward Negro rights and equal opportunity. But it is, as Mayor Tucker stated, a debasement of such principles to employ tactics of wanton law-breaking.

These CORE principals have divorced themselves from Negro rights and equal opportunity.
Seven protestors were arrested on Friday October 4th and three more on Monday October 7th.
The St. Louis American, an African American newspaper, ran this editorial on Thursday October 17, 1963:
The Jefferson Avenue Bank has been under daily picket-protest for several weeks…

This long protest on the Jefferson Bank led by the CORE group has developed many facets of the present revolution that is going on in this country.

The Negro at large is no longer in a passive state over public jimcrow and lack of jobs because of the jimcrow customs.

The first stages of the Jefferson Bank protests were in the line of the orderly non-violent action. But after the court order prohibiting pickets interfering with the bank's operation, the pickets did interfere with business. This part of the action, it is this corner's opinion, was wrong…

But on the other hand, the criticism from high officials… that the court order must be obeyed: it can be recalled right here in St. Louis less than ten years ago the same high authority both winked at and openly condoned the disregard of the unanimous Supreme Court opinion against jimcrow graduate schools…

The Jefferson Bank's lawyer gave open offense by using his court-appointed position to brow-beat and intimidate persons not even charged with court contempt. This, with the quick night arrests of early pickets without first giving them a hearing,contribute greatly to subsequent demonstrations.

… this newspaper does not agree with the application of a quota system in setting out the precise number of jobs a business must offer Negroes. We think thatMartin Luther King was wrong in demanding exactly 25 Negro policemen in Birmingham-and that is an extreme situation. What Dr. King intends is that a mere token of 2 or 3 would not suffice. But this is far from the situation at the Jefferson Bank, where Negroes have previously been as clerks and tellers.

Most of all, this newspaper disagrees with the final type of protest demonstrations at the Jefferson Bank-not the persistence of picketing, for that shows determination; but the 'jazzed-up' handclapping, laughing, aimless singing of youngsters who made it look like a jitter-bug contest. This whole business of gaining full civil rights may need the enthusiasm of the young people, but it should not be regarded merely as an exposition of enthusiasm with a touch of fun-time added. It is all a very serious matter, and the dedication would be genuine…

But that, too, must not be a too severe criticism on the youngsters, for there are some of the old leaders who are belatedly appearing in picket lines and giving directives who only a few years back were neutrals…

For the many years of positive good done by the CORE group here in St. Louis and elsewhere it alone should not be judged by this one Jefferson Bank affair…

Let the solemn picketing continue where and where necessary within the bounds of the law. Let the exhibitionists and face-spitters desist in the name of human dignity, that status we all have been so loudly demanding.
Clearly the older leadership split with the youth of the day. Â Â Apparently the courts moved faster in 1963. The St. Louis Post-Dispatch ran the following slightly more supportive editorial on October 25, 1963:
For the sake of both the public peace and progress toward equality in employment, we hope that all concerned in the Jefferson Bank contempt cases will now resolve to face forward.

There will be no gain for anybody in trying to reopen a closed chapter, to fight all over again a battle of the past. The community at large and the Negro community in particular should fix its sights on the paramount issue, which is how St. Louis can peacefully establish, not just in one small firm but throughout themetropolitan economy true equality of opportunity.

Leaders of various demonstrations at the bank have been sentenced and fined for violating a court order against interference with the bank's business. We think Judge Scott's decision should be reviewed by another court, not only to confirm the legality of the convictions but to determine whether the severe penalties imposed are commensurate with the offense. But there is no question that violations of a court order must be punished. Those who deliberately violate the law should expect to pay the proper penalty…

It is regrettable that the Jefferson Bank management evidently chooses tomake only aminimal response to Mayor Tucker's request that during the two-week truce it began to work with the St. Louis Council on Human Relations to put into effect the ten-point program for equal employment opportunity. But a beginning, small as it may seem, has been made. It should be accepted forwhat it is, in the hope that both the orderly processes of the law and a sense of employer responsibility to the community will bring about a steady widening of employment op portunities. After all, 18Negroes have been hired by five downtown banks since August. The record as a whole is a favorable one. A new test of strength at Jefferson Avenue and Washington will accomplish nothing.

For the future, two obligations are inescapable. Leaders of theNegro community have an obligation to press their case by lawful means and only by lawful means. St. Louis employers and labor unions, for their part, have an obligation to break down the bars of discrimination rapidly and unreservedly without waiting to be pushed.
The St. Louis Argus, another African American newspaper, ran the following editorial on Friday November 1, 1963:
If we are to return this community to a state of reason, some cool and calm heads are going to have to move and do so quickly.

Today, the Negro community is riled and properly so, over what many consider excessive fines and jail sentences meted out by the Jefferson Bank demonstrations. And while we have called for law and order before, we view the sentencing by Judge Scott as severe in the light of the circumstance.

The Jefferson Bank with its one "promotable" Negro messenger did little to stem the tide of rising hostility. Couple this with the St. Louis Council on Human Relations report that the bank had hired five white persons during the past few weeks and you trigger further anger and frustration. The bank has denied discrimination.

It is also apparent that the bank has gotten its back up and CORE has retaliated by throwing down the gauntlet again. Demonstrations have been carried into City Hall as a protest of city funds at the Bank. Citizens have their right of protest to their government, regardless of the form it takes. They have been peaceful…

The St. Louis Post-Dispatch said… leaders of the Negro community have an obligation to pursue their goals "in ways that do not deepen social cleavage." We could not agree more, but… we would have to give priority to the P-D's admonishing note to those who hold the decisions of housing and employment in their hands…

Call the situations that exist at the bank, the public agencies, et al, what you will. They are neither Red nor subversive. There may be other considerations, but the followers of this movement are a part of the social ferment sweeping the country. The Negro is caught up in this ferment and sporadically, here and elsewhere, is reacting to it…

What is needed now is an immediate expansion of those jobs at the banks. And we would urge that this kind of a program be extended, at once, to the total industrial areas. What is needed now is a crash program designed to produce tangible results. A series of meaningful specifics is needed. Lines of communication must be re established between the two communities…

Someone, and someone fast, must start picking up the pieces.
Jefferson Bank remained at 2600 Washington until 1977 when a new location opened one block east of Jefferson on Market. Â They remain there today.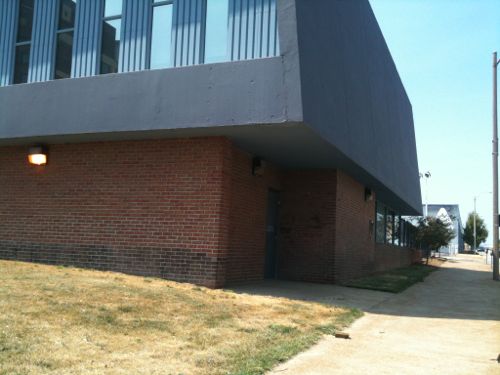 President John F. Kennedy was assassinated in Dallas TX on November 22, 1963.
Every year, on the last Friday of August, the Jefferson Bank and Trust Commemorative Committee holds a protest outside the current Jefferson Bank. I couldn't make the 48th anniversary event last Friday but I will be there next year and especially in 2013.
Material for this post came from sources cited above, with additional insight and the editorials were from the scholarly article A Strong Seed Planted the Civil Rights Movement in St. Louis, 1954-1968 published in the Organization of American Historians Vol 4, No. 3 1989.  Thanks to again to Kristen Gassel of the St. Louis Curio Shoppe for permission to use her lobby photograph.
I can't help but think where we would be today had the youth of 1963 not gone into the bank lobby that day and had similar tactics not been used around the country to force change to come quicker. I'm thankful to all who were in the struggle back then. Â We must never forget!
– Steve Patterson