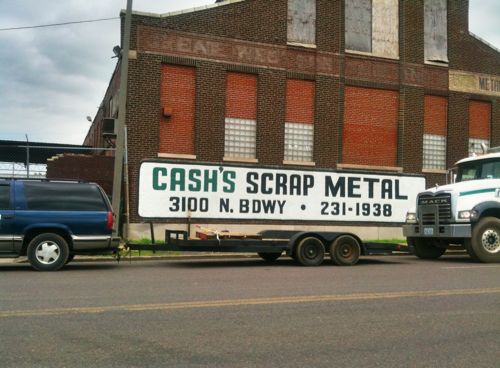 The poll this week relates to a bill at the Board of Aldermen:
The ordinance would force scrap yards to stop dealing in cash and to computerize records of what they buy and from whom. They could only accept air-conditioner coils from certified technicians and could lose their business license if they violate the ordinance.

It is the first item — requiring scrap dealers to pay their customers by a mailed check — that is causing the most consternation. But that's the one element police say is a must if the city wants to curb scrap metal thefts that are costing property owners thousands in repairs and driving rehabbers out of St. Louis.

Since 2010, the city has seen more than $6 million in scrap metal thefts, $1.5 million of that since March. Police say drug addicts who steal scrap and sell it to support their daily habits would lose interest without the immediate payout of cash. (STLtoday.com)
Board Bill #86 sponsored by  16th ward Ald Donna Baringer on June 3, 2011. Co-sponsors listed are Troupe, Arnowitz, Wessels, Boyd, and Cohn:
An ordinance pertaining to the purchase or resale of scrap metal; repealing Ordinance 67424, presently codified as Section 15.159 of the Revised Code of the City of St. Louis, pertaining to electronic database requirements, purchasing HVAC scrap metal, establishing licensing requirements and rules and regulations for persons doing business in the City of St. Louis as scrap metal merchants; containing definitions; a penalty clause, a severability clause and an emergency clause.
I've read opposition on Facebook, saying this bill, if passed, will hurt legit guys who collect metal for a living. The argument is they depend on cash to buy food and pay rent.
I don't have a strong opinion, but I'd like to see how readers feel about this issue so this is the poll topic this week. As always, the poll is in the upper right corner of the blog.
– Steve Patterson