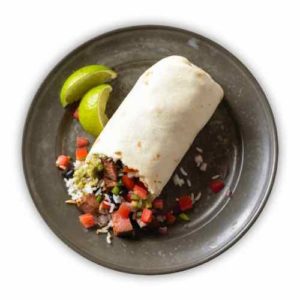 A century ago retailers could lease or buy a storefront where they pleased, but with shopping centers/malls leases began to include clauses to exclude potential competition.A Boston-area franchisee of St. Louis-based Panera sued their landlord when it leased a space to a burrito place. The lease prohibited another sandwich place.
The burrito brouhaha began when Panera, one of the country's biggest bakery cafes, argued that owners of the White City Shopping Center in Shrewsbury violated a 2001 lease agreement that restricted the mall from renting to another sandwich shop. When the center signed a lease this year with Qdoba, Panera balked, saying the Mexican chain's burritos violate its sandwich exclusivity clause. 

Not so, Qdoba countered, submitting affidavits from high-profile experts in the restaurant and food industry. (Denver Post)
Interestingly, the White City Shopping Center directory lists Panera, but not Qdoba. So that settles it, right? Not quite.
From 5 Ways to Define a Sandwich, According to the Law:
CALIFORNIA: HOT DOGS ARE SANDWICHES
MASSACHUSETTS COURT: A BURRITO IS NOT A SANDWICH
USDA: A SANDWICH IS MEAT BETWEEN TWO SLICES OF BREAD
ALSO THE USDA: A BURRITO IS A "SANDWICH-LIKE PRODUCT"
NEW YORK: IF IT'S SERVED ON SOMETHING REMOTELY BREAD-LIKE, IT'S A SANDWICH
Sandwich-like?
The recent non-scientiofic Sunday Poll was one I've had ready for a while, saving it for the right time. Slow recovery from wrist surgery was the perfect time.
Q: Agree or disagree: a burrito is a sandwich
Strongly agree 0 [0%]
Agree 5 [14.29%]
Somewhat agree 0 [0%]
Neither agree or disagree 2 [5.71%]
Somewhat disagree 0 [0%]
Disagree 13 [37.14%]
Strongly disagree 15 [42.86%]
Unsure/No Answer 0 [0%]
Most of those who voted agree with the Massachusetts judge — a burrito is not a sandwich. Next Sunday the poll will be more serious and St. Louis specific.
— Steve Patterson