The following is a guest post by Clarissa Hayward:
"In Missouri, Race Complicates a Transfer to Better Schools." That's how the headline read last summer when the New York Times ran an article on the Missouri school transfer law that's been in the news again these past few weeks.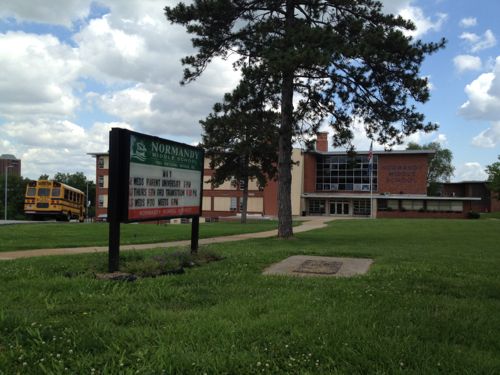 State legislators have tried to amend the law, which allows students in disaccredited districts—this past year, Normandy, Riverview Gardens, and Kansas City—to transfer to public schools in accredited districts. Sending districts must pay tuition costs for the transfer, an expenditure that severely taxes these already-struggling systems. Last month the state Board of Education voted to lapse the Normandy District, which after a year of financing transfers, was near bankruptcy.
Of course, as the Times headline suggests, racial inequalities play an important role in the controversy. All three sending districts are majority African-American, as is St. Louis, which was at the center of the Turner v. Clayton case that first brought the transfer law to the State Supreme Court. Receiving districts are (as is Clayton) majority white.
Hence news coverage of the school transfer issues typically features comments from angry and anxious parents, white and black alike. Are white parents racists, one common worry is, who want to exclude transfer students because they're African-American? In short, these stories suggest that race "complicates" the law because of what people believe, think, and say about race.
In a city with a long and storied history of racial segregation and racial inequality, the suggestion is that misguided ideas are the root of the problem. If only people would change their beliefs and their attitudes about race, the hope seems to be, racial justice will follow.
But it isn't that easy. New beliefs alone cannot overcome practices that are deeply embedded in the institutions and the physical spaces in which St. Louisans live their daily lives.
I came to this conclusion while conducting research for my most recent book, How Americans Make Race. Let me explain with an example that is not from the last few weeks, but from the early part of the last century.
In the 1940s, dominant beliefs about race in this country changed radically. This was partly because scientists at the time came to reject the nineteenth century understanding of race as a biological fact. It was also because racial hierarchy came to seem repugnant to many white Americans, as they began to associate racism with Naziism.
But these new racial attitudes and beliefs didn't obliterate racial inequality. They didn't radically alter how we practice and live race in the United States. Why not?
Because when people construct identities—including racial identities—they don't just use language and ideas. They also use institutions, like laws and rules and policies. And they use material forms, like the urban and suburban spaces that were built in and around St. Louis and other American metropolitan areas over the course of the twentieth century.
Here's a concrete example of an institution that helped to construct race in St. Louis and other American cities: the underwriting guidelines created by the Federal Housing Administration starting in the 1930s. As many readers will recall, the FHA was established during the New Deal era—so in other words before mid-century changes in dominant racial beliefs—in order to help homebuyers by providing government-backed mortgages.
These underwriting standards were supposed to help the government identify which buyers and which properties would make good investments. But in fact, they did much more. They institutionalized pre-1940 racial beliefs by defining African-American buyers as an investment risk, and by identifying the exclusion of blacks from a neighborhood as a sign of its economic health and stability.
The historian Kenneth Jackson illustrates with an example from St. Louis. Government studies conducted by the Homeowners Loan Corporation in 1937 and 1940 gave the very highest ratings in the metro area to Ladue. Appraisers emphasized that Ladue was "highly restricted"—in other words, that racial deed restrictions prevented African-Americans and other minority groups from buying or owning houses there. They emphasized, in their words, that Ladue was not home to "a single foreigner or negro."
The very few parts of St. Louis County that received the lowest ratings—signaling the highest investment risk, and prompting the FHA to avoid backing mortgages—were African-American.
In St. Louis city, the same racial patterns prevailed. Colin Gordon, in his masterful Mapping Decline: St. Louis and the Fate of the American City, notes that the only two areas in St. Louis to receive the highest rating in 1940 were "a few blocks on the County border west of Forest Park and a horseshoe of homes in the City's still lightly and recently developed… southwest corner—both of which enjoyed the protection of restrictive deed covenants far removed from the contested neighborhoods of north St. Louis."
Between 1934 and 1960 the federal government pumped more than $550 million in state-backed mortgages into homes in St. Louis County, investing almost $800 per capita. It spent just $94 million, or about $125 per capita, in St. Louis city.
The example makes clear why a change in beliefs is never enough. Imagine a white St. Louisan in the 1950s. Imagine that this particular individual is persuaded by the moral and scientific critiques of old racial ideas, but that she also wants to buy a house and needs an FHA mortgage to do so.
This would-be home buyer has to act as if she believes the old racial stories if she wants to qualify for an FHA mortgage. If she wants a government-backed loan, in other words, she needs to buy in a racially exclusive white neighborhood. She needs to do so even if she does not prefer or endorse racial residential segregation.
Of course, after the civil rights victories of the late 1960s, the U.S. government no longer participates in or condones racial residential segregation. So what does this example have to do with St. Louis today?
The larger point is that real racial justice, today like in 1950,  requires more than new racial attitudes and new racial beliefs. It requires new institutions, and it requires new ways of organizing urban and suburban space.
Think of the many local jurisdictions that are at the heart of the school transfer case. These are institutions that have a tremendous power to shape racial inequality. They do at least as much work in maintaining racial hierarchy in metropolitan St. Louis as do racist ideas and racist attitudes.
That's why many political experts recommend centralizing important aspects of urban governance, such as schooling, to the metropolitan or even to the regional level. Others emphasize changing tax policies or the way we organize local elections.
Some recommend changing the physical spaces of our cities and suburbs, for example by encouraging the construction of affordable housing alongside market-rate units.
These are hotly contested proposals, which may or may not work for St. Louis and the St. Louis suburbs. But they have the virtue of raising important questions about how best to organize our urban institutions and spaces.
These are the kinds of questions we must grapple with, since changing racial beliefs and attitudes, by itself, won't change racial injustice.
—
Clarissa Hayward is a political scientist on the faculty at Washington University in St. Louis. Her most recent book, How Americans Make Race, is in stock at Subterranean Books on the Delmar Loop and can be purchased from the publisher, Left Bank Books, Powell's, and other online booksellers. You can follow her on Twitter @ClarissaHayward.