Last Sunday St. Louis' new Shriner's Hospital for Children was dedicated, it'll open for patients on June 1st. In March another hospital opened in Missouri. I didn't get a tour but I did drive by the day after it opened.
Almost four years after the Joplin tornado destroyed St. Johns Medical Center, Mercy Hospital Joplin is opening its doors.
Early Sunday morning, personnel began transferring dozens of patients from its temporary facilities. 

Mercy Hospital moved dozens of patients more than two miles, from the old temporary facility to the new facility. They say it was an incredible undertaking, but one that means so much to this Joplin community"
For the last three years, Mercy has operated out of a smaller temporary hospital after St. John's Medical Center was destroyed by the Joplin Tornado in 2011.
Dozens of volunteers, doctors and nurses who had the day off, and the Joplin Police Department all pitched in to help get the hospital ready and move all of the patients. (Source)
The tornado was on May 22, 2011 — four years ago today. Here are a few photos I took on November 8, 2011.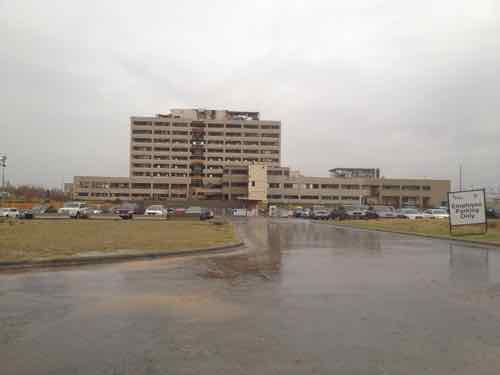 In the years since I didn't have to even exit I-44 to see the new hospital being built — they picked a new site on the opposite side of the highway. I think this was an unfortunate decision — it'll make Joplin sprawl out even more — making public transit, walking, & bicycling more difficult.
I'm glad Joplin has a new hospital, I just feel for the low-wage workers who need a car to get to their jobs.
— Steve Patterson