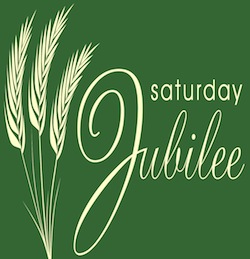 Many events taking place this weekend in and around St. Louis, here are  few I want to share with you:
Saturday July 28th — Saturday Jubilee:
More of our neighbors are experiencing something many never thought possible – hunger.

More than 120,000 individuals in our area rely on food pantries, nearly half are children. Many are seeking help for the first time.

Our local food pantries are struggling to keep up with the increased demand. Saturday Jubilee mobilizes local churches, businesses, civic groups and individuals to participate in a large scale food drive to end hunger.

On Saturday, July 30th more than 1000 volunteers organized into 88 teams will position themselves outside area grocery stores encouraging shoppers to donate non-perishable items. The donated food will be delivered to the Operation Food Search warehouses for distribution to our local food pantries.
Like last year, I'll be at Culinaria (315 N. 9th Street) for the 9am-11am shift collecting food items to help those in need. Stop by to say hello and to drop a few items into the donation cart.
Saturday July 28th —  Vegetapolooza
On Saturday, July 28 from 9 am to Noon, the North City Farmers' Market will host Vegetapalooza, a celebration of local produce and healthy habits in the community. Activities will include a salsa-making contest, a strangest vegetable contest, a pie walk, sustainability demos by Gateway Greening, face-painting, and local produce, meats, cheeses, and artisan vendors.
For more info click here.
Saturday & Sunday July 28th-29th — City-Wide Open Studio:
Join us for all of the events at CAM and map out your City-Wide Open Studios itinerary, or take a guided tour. Studios located south of I-44 will be open on Saturday, July 28  (includes Cherokee Street, Tower Grove, The Hill, Soulard, Southampton, Bevo Mill, Southwest Garden, Carondelet, Compton Heights, Benton Park, Fox Park, and McKinley Heights). Studios located north of I-44 will be open on Sunday, July 29  (includes Grand Center, Central West End, Downtown, Old North St. Louis, Lafayette Square, Midtown, Fountain Park, Dogtown, University City, Wydown/Skinker, and Maplewood). (see camstl.org/cwos for more info)
Meet local artists, visit their studios. This is a great annual event where you get to see creative spaces and meet those who work in them.
Have a great weekend!
— Steve Patterson