Sure, you can walk at Collinsville's Eastport Plaza, but it isn't easy. Â I navigated the area in my wheelchair, but it wasn't pleasant or even ADA-compliant. Â Planned as a Metro East version of Westport Plaza in St. Louis County.
Based on my research, Eastport Plaza was platted in the early 1980s. Â This is a decade before the ADA but walkable environments have been built for centuries. Â This was an auto-centric development with token sidewalks. Â The post is a follow up to my post from a week ago.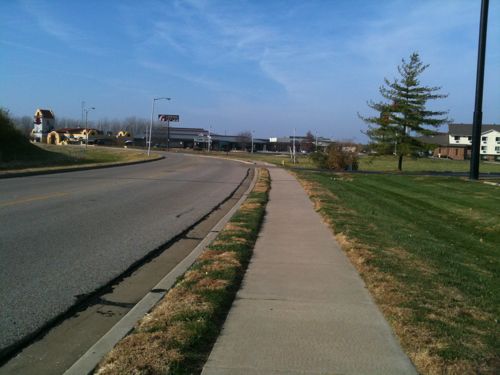 The width of the roads are excessive for two lanes. Â This, along with a lack of street trees, diminish the pedestrian experience.
Gateway Center, in the middle of Eastport Plaza, talks about the area:
"The only hospitality district in Collinsville accommodates events at Gateway Center with more than 900 hotel rooms in a variety of hotel properties, and 60 restaurants ranging from casual family dining to fine dining. Another 2,100 hotel rooms are conveniently located within a 20-minute driving radius of the convention center for overflow accommodations.
Most of Collinsville's lodging is within walking distance of the convention center."
Walking distance, but not walkable.
What I don't yet know is: the developer, the engineer responsible, or the level of involvement from Collinsville. Â I do know the area has boomed since Illinois changed it's TIF law, from the St. Louis Post-Dispatch Monday, March 28, 1988:
"East St. Louis, Belleville and Collinsville are among cities whose tax increment finance (TIF) districts are criticized in a recent report by the Taxpayers Federation of Illinois. [The ]Â report shows illustrations of TIF districts under headings of "The Good, The Bad and The Ugly."

Collinsville's TIF district is listed under "The Ugly. " The report says a 500-acre tract of mostly undeveloped land at the city's northwest edge was hooked to its central business district by a strip one block wide and several miles long.


Mayor Brombolich said the federation's labeling his city's TIF district ugly because of its shape illustrates what happens when someone tries to generalize without adequate knowledge. Â The city's rapidly developing Eastport Plaza area was linked to its comparatively stagnant downtown area to obtain money to help revive the central business district, Brombolich said.


Collinsville's TIF ordinance does not allow sale of bonds, but requires a pay-as-you-go policy, he added. "We have not spent a penny of TIF money up to this date."
About $100,000 has been accumulated through growth in sales and real estate taxes at Eastport, and three downtown projects are planned, he said.
They are new curbs and sidewalks around a block where Home Federal Savings & Loan Co. plans a new building, a sprinkling system and other improvements to allow the old Miners Theater to reopen its upper level, and re-paving of part of Clay and Church streets."
By February 2007 the area was booming; from the Post-Dispatch:
"City leaders are overseeing development on more than half a million square feet of office and warehouse space on the city's west side that is expected to create at least 1,000 jobs.
Fourteen businesses are opening in the area known as Eastport Plaza, which is mostly east of Interstate 255 and north of Interstate 55-70. The businesses include Floors Inc., a commercial and residential floor company, and Tetra Tech, an engineering firm. Officials expect more businesses to move there by the end of the year."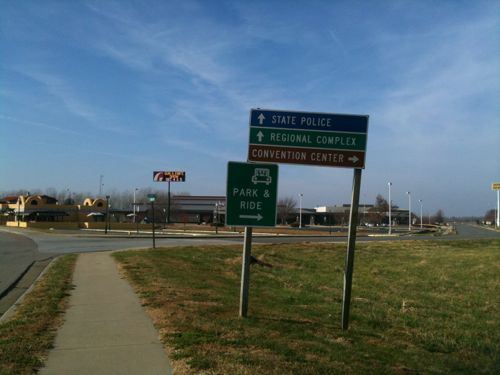 The vast majority of those who come to Eastport Plaza do so in a private vehicle. Â But the area is served by a Madison County bus (#15 Collinsville Shuttle), which was how I arrived on a recent visit. Â No matter how someone arrives in the area I have an expectation that within the relatively small area that walking would be encouraged as an alternative to driving short distances.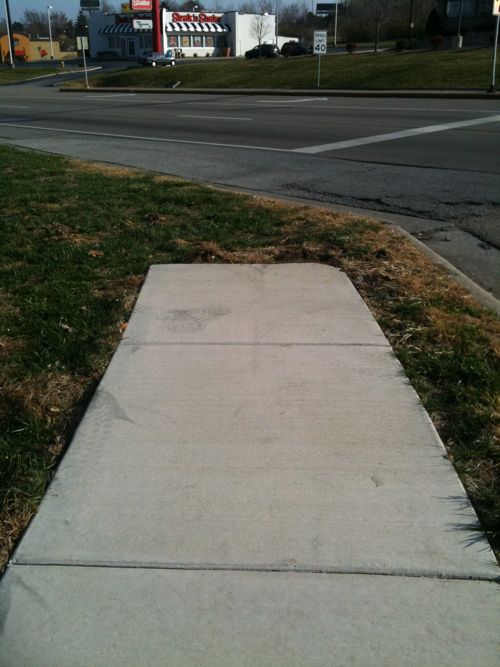 These 300 acres were flat farm land before being developed. Â The developer had a complete blank slate to work with but clearly making a walkable environment wasn't a priority. Â The sidewalk is just there to create a passing appearance of walkability. Â Say what you will about New Urbanism but those principles would have created a far more satisfying environment.
– Steve Patterson
– Steve Patterson