Last week we finally saw the proposed site plan for the new Major League Soccer (MLS) stadium. It'll be exactly where I suggested in February 2016, where I said it would be a month ago —  northwest corner of 20th & Market.
As I said last month, I thought of a smaller structure stopping at Pine on the north. But I see how more space is needed so it will go another block north, to Olive. This means razing a few buildings and relocating businesses. Understandably, one is refusing.
Many, including myself, thought they'd build south of Market Street like the prior MLS group proposed. However, the site I proposed in February 2016 makes much more sense. The MLS prefers urban settings and the location north of Market gives them instant urbanism on all sides — plus two blocks of frontage along Market. South of Market there is no urbanism. None.
Ok, for a brief moment on 20th Street you've got Union Station's train shed with new Farris wheel on one side with the old railway YMCA, now a hotel & restaurant, on the other. But a new stadium south of Market couldn't be close to this single spot.  Granted, if done right urbanism could build up around a new stadium south of Market.
Wisely, they've opted to fill the hole in the middle of existing buildings north of Market. The new stadium will be surrounded on all sides by multi-story structures. There's enough surface parking that it isn't ideal urbanism, but it's significantly better than south of Market.
Today I want to begin to critically examine their site plan, discuss street grid changes, parking, and look at future development potential of the surroundings. The new stadium is square but one can argue the south side, facing Market, is the primary facade. The east side, facing 20th is a close second. Due to the amount of land area, we'll start with the area south of the stadium.
I'll admit in February 2016 I hadn't considered practice fields. I saw the area south of Market being filled with offices, housing, etc.  The area devoted to practice fields is largely dead space, perhaps school groups could use them. This keeps the team owners from having practice fields and team offices elsewhere in the region  — as was the case with the Rams NFL team.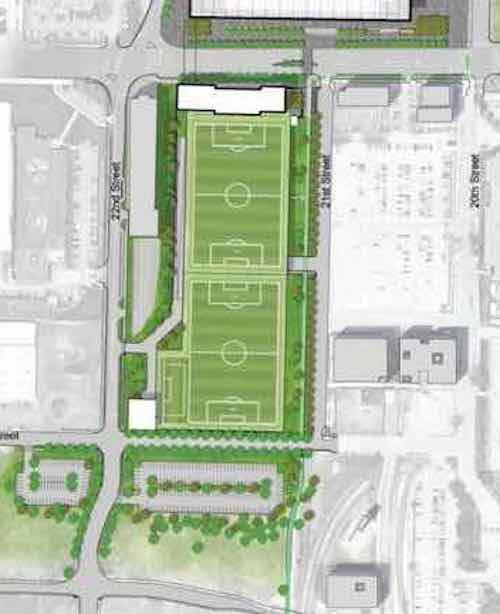 I like a number of things about this design. As I thought in 2016, the stadium will be an excellent terminus to the Gateway Mall. The site plan shows a new building facing Market across from the stadium, north of the practice fields. I assume this will hold a team store, offices, etc. If this is more than a single story in height it and the stadium will give this stretch of Market a feeling of urbanism — enclosure. Combined with the new hotel finishing up at 22nd Street this will do wonders for the area.
Replacing the two buildings and filling in the surface parking lots in the block bounded by Market, 20th, 21st, and Eugenia Street will not happen overnight — but I do think it will over time. It should at least.
As mentioned above, Clark Street will connect between 21st and 22nd — something it hasn't done in decades. The site plan shows surface parking right now, a placeholder for future development. Hopefully this new Clark will be designed to permit on-street parking on both sides. Not sure what will get developed on the land between Clark and 40/64 — hopefully multi-story.
You'll also notice 22nd street continuing south to the interstate. Changes have been in the works since Paul McKee first named the 22nd Interchange site as one of his four jobs centers. MoDot has been planning major changes to interstate entry exit points.
I love the new 22nd Street connection over the interstate! Hopefully it'll also include pedestrian accommodations. It's unclear from MoDot's materials what will become of the state-owned land south of 40/64.
One of the benefits of developing the 22nd interchange site is the current hole makes underground parking significantly cheaper compared to excavating an area filled with dirt, foundations, utilities, etc. The MLS team plans to use the area under the two practice fields for team/staff parking. Just guessing before the first match we'll learn that luxury box ticket holders will also get access to underground parking.
I suspect they'll also have locker rooms, kitchens, etc under the MLS stadium itself. I also expect the area under the stadium will be connected to the parking under the practice fields. Given the area is totally open now this is a very easy proposition.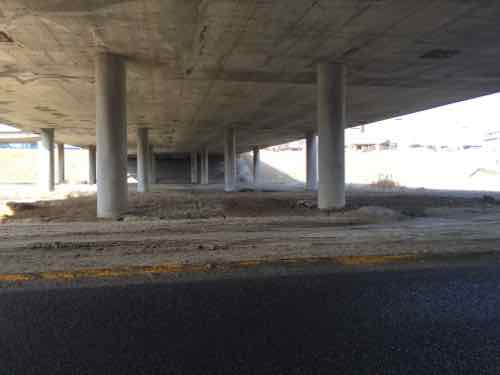 The connection won't be the full width of what has existed for decades, perhaps a nice hallway for players, owners, and staff. A second service connection is likely for food service, rubbish removal, etc.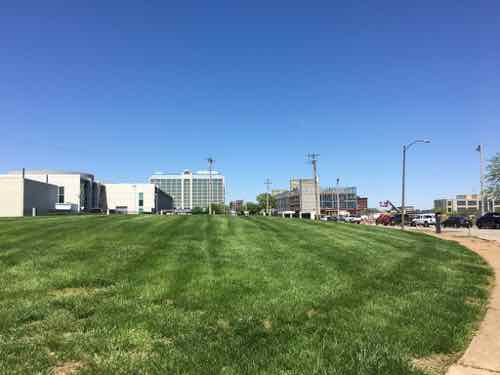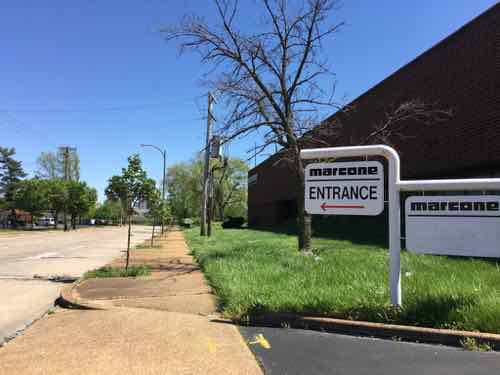 Part 2 of this series will explore another direction around the proposed MLS stadium.
— Steve Patterson