In 2015 St. Louis officials were proposing razing historic buildings/districts in the North Riverfront area, between Laclede's Landing and the Stan Musial Veterans Memorial Bridge, to build a new NFL stadium to keep the Rams in St. Louis.  It never happened, in early January 2016 the Rams officially applied to relocate to Los Angeles.
The next month it was announced a group had formed to attempt to get a Major League Soccer (MLS) team in St. Louis — they were scouting for sites. I'd opposed the North Riverfront as a site for an NFL stadium, I also felt it wasn't the best site for a smaller MLS stadium.
I weighed in:
The site they shouldn't consider is the North riverfront one previously targeted for a significantly larger NFL stadium — we shouldn't tear down buildings when we have vacant land available. We have land, mostly state owned, without any buildings and a target for redevelopment for years already. I'm talking about the 22nd Street Interchange area — an area on the West side of downtown I've written about numerous times over the 11+ years.
In that February 8, 2016 post I imagined fitting a stadium in between Pine, 20th, Market, and the hotel to the west. Busch Stadium fits in a space 2 blocks x 3 blocks, so a MLS stadium with less seating should fit in a smaller footprint. I emailed my post to a contact at St. Louis Development Corporation (SLDC)
That first group proposed a stadium in the 22nd Street Interchange area, but south of Market Street, not north. I don't know if they were already looking at this location prior to my post & email, but the entire year before development officials were so focused on the North riverfront I can't help but think they wanted to stick with what they knew and had so much time invested in.
When the state & city residents opposed public funding a of soccer stadium the ownership group was out.  When the current ownership group entered the picture in October 2018 they'd privately finance a stadium in the 22nd Street Interchange area many, including myself, assumed it'd also locate south of Market St.  In April 2019 they showed some renderings, but no site plan. Again, many of us assumed the larger area south of Market St.
We were wrong, it will be the area I'd proposed in February 2016! However, instead of stopping at Pine the site will go one more block north to Olive. A few buildings would be razed, businesses are already being forced to relocate on short notice.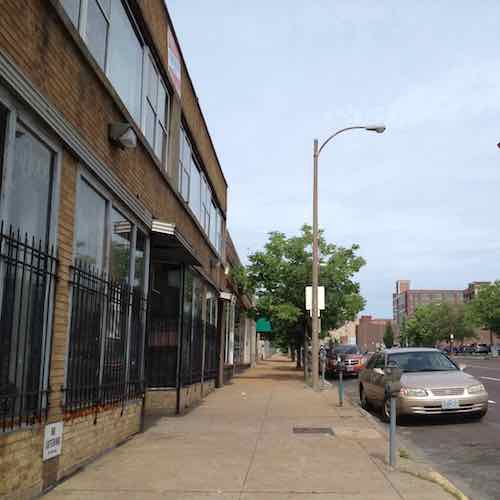 I reviewed the ownership records for these and the remaining buildings to the west, none showed a recorded change of ownership — yet. I don't like seeing businesses and/or residents forced to move. Hopefully they'll be offered a financial package to compensate for their time, trouble, and loss of business.
I'm also not a fan of closing streets, though Pine has been an awful one-way street for decades. Hopefully the one-way couplet (opposite directions) of Chestnut & Pine will both be returned to two-way traffic as a result of the existing on/off ramps going away.
I still want to see an official proposed site plan. Despite holes from parking lots, Olive has clung to a urban feel with multi-story buildings on both sides. I also wonder if we'll see a revised I-64 on/off ramp that ends at Market Street — I'd be disappointed, but not surprised.  Even if that happens, a lot less land could be devoted to highway on/off so the area would support additional development and tax revenue.
— Steve Patterson