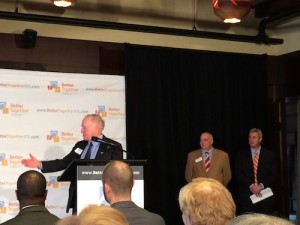 I moved to St. Louis in 1990, at age 23.  I was born & raised in Oklahoma City, OK.
As a child OKC was the largest U.S. city. Better put, it was the biggest in terms of land area. It had annexed itself into this position. As of 2016 it had fallen to the 8th largest — still capable of holding 7 major cities within its boundaries.
For most U.S. cities, annexation was the norm. Between 1764 and 1876 St. Louis grew in physical size through annexation. But after The Great Divorce the boundaries of the City of St. Louis were locked into place. At the time they thought it would be many decades before development pushed up against the rural city limits. They were very wrong.
Had the divorce not happened, allowing St. Louis city to exist outside of St. Louis County, the city would've annexed small towns, villages, and unincorporated areas. Cites that could annex — did. This enabled them to grow physically and keep outward moving population within the tax base.
Without the ability to annex, it has suffered greatly. Population loss, topping crime rankings, etc. By extension, the region has also suffered greatly. For the region to attract investment, employers, etc we must take action. A unified city is the only answer.
By creating one big St. Louis we change the outside perception of St. Louis as a dying core city that lost most of its population and is among the most dangerous places. The new St. Louis, the size of the city & county, would become the 10th largest U.S. city, by land area — still smaller than OKC (8th) and Houston (9th).
Let that sink in. If we combined St. Louis city & county the total land area (588 square miles) would still be smaller than Houston and 8 other U.S. cities.  Total population would move us up as well.
It will cause problems too. There will be less elected officials, including minorities. However, I think having more investment, jobs, opportunities, etc is worth eliminating fiefdoms.
At this point I've only browsed Better Together's 160 page report, but I'm disappointed by the fragmentation it would leave in place. Zoning & trash hauling, are two examples.
Here are the non-scientific results from the recent Sunday Poll:
Q: Which "merger" plan for St. Louis do you prefer?
Consolidate St. Louis City and all St. Louis County municipalities into one: 23 [53.49%]
Add St. Louis City back into St. Louis County, along with all the existing municipalities: 13 [30.23%]
Other: 4 [9.3%]

Merge and include the schools the city schools need the funding.
Require any "city" to have its own fire department, otherwise disincorporate.
incremental cooperation
merge city and 4 counties

Unsure: 2 [4.65%]
None, leave things exactly as they are: 1 [2.33%]
No doubt this topic will consume a lot of attention over the next year plus.  The Great Divorce was a huge mistake, with huge negative consequences — it's going to take a huge solution. My gut feeling is it needs to be bigger than proposed.
— Steve Patterson