When it comes to economic impact estimates I'm largely a skeptic. Such was the case with last week's PGA Championship:
The 100th PGA Championship Aug. 9-12 is expected to have an economic impact felt well beyond Bellerive Country Club's picturesque course, up to $100 million, according to some estimates. Hotels are filling up downtown, nearly 20 miles from the course that's situated in a mostly residential area with few hotels nearby. (Post-Dispatch)
Two key words: "Up to…" OK, so $100 million is the estimated maximum impact. What's the very minimum? $10 million? $25 million? $50 million?   And "bel beyond?" I seriously doubt it'll be felt in the region's poorest zip codes.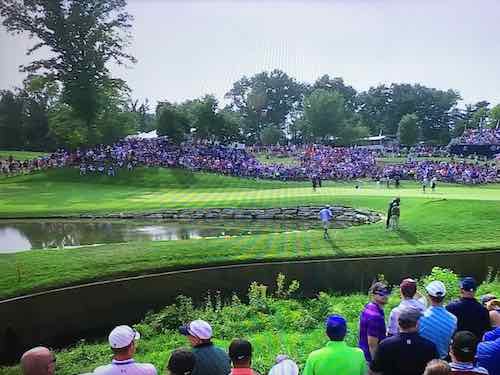 I'm not the only one questioning these estimates.
This month's PGA Championship in St. Louis will generate $102 million in economic benefits for the state of Missouri.

Actually, it won't. But inevitably, many fans watching or reading about the PGA Championship will hear or see that figure thrown about.

As in every sport these days, big events bring big claims of economic windfalls for the host cities. Tourism officials on Long Island projected the U.S. Open at Shinnecock Hills would generate $120 million in economic benefit. (Or maybe it was $130 million. Who's counting?) A similar number was floated by the Angus (Scotland) Council this year with regard to the British Open at Carnoustie. Over the years, the Masters has been said to bring in a comparable nine-figure haul to Augusta, Ga. (GolfWeek)
The reasons are numerous. A lot of the fans that crowded into Bellerive Country Club were local. The money they spent on tickets, merchandise, food, etc would've likely been spent within the region anyway. Much of what they spent will leave the region, Visitors to St. Louis did spend money, hotels corporations will enjoy the profits. Some local businesses, such as those near parking venues, saw an uptick in business.
The 47,000 square-foot Championship Shops merchandise venue is located at the Main Entrance along the spectator walkway. This merchandise shopping experience offers men's, women's, and children's apparel and headwear from major brands including Ralph Lauren, Nike, Adidas, Cutter and Buck, Under Armour, FootJoy, Travis Mathew, Forty Seven Brand, New Era, and many more! The Championship Shops also offers a major selection of exclusive accessories, gifts, and memorabilia. (PGA)
Hopefully the new money added to our economy meets or exceeds the money leaving our economy. Though I view televised golf as an event that too often delayed the news or 60 Minutes, I know championship events likely never benefit low income areas. How would they?  Golf and say North St. Louis have no connection. Oh wait…
Bellerive Country Club began in 1897 in north St. Louis as a nine-hole course with 166 members. In 1910, the membership incorporated as Bellerive Country Club, naming the club after Louis St. Ange De Bellerive, the last French commander in North America.

That same year, Scotsman Robert Foulis designed the "new Bellerive" in Normandy where the club remained for 50 years.

Led by Hord Hardin and Clark Gamble, the membership decided to move west in 1955, and allowed renowned architect Robert Trent Jones, Sr. to pick a prime farm location for the new site.

The "Green Monster of Ladue" opened on Memorial Day, 1960. (Bellerive Country Club)
I wanted to know more, so I dug deeper:
The club opened 121 years ago in 1897 as The Field Club, founded by several St. Louis sportsmen who wanted a place for golf and other leisure activities. Northwest of St. Louis, the course featured nine holes until another nine were added some years later. It was built on land leased from the estate of War of 1812 war hero Daniel Bissell.

In 1910, the club moved to nearby Normandy and renamed the Bellerive Country Club after Louis Groston de Saint-Ange de Bellerive, the last French governor of Illinois Country in 1765. With a Georgian-style clubhouse, Bellerive's first notable event was the 1949 Western Amateur Championship. Four years later, it hosted the PGA Tour's Western Open, won by E.J. "Dutch" Harrison.

In 1957, Bellerive put its 125-acre (0.5 km2) Normandy site on the market for $1.3 million. At the same time, the Normandy School District began discussing the need for establishing a junior college as an affordable alternative to the privately-owned Washington University and Saint Louis University. The club lowered the price to $600,000 and the Normandy Residence Center opened in a renovated clubhouse in 1960 with classes taught by the University of Missouri; the campus became the University of Missouri–St. Louisin 1963 and the nearby village is Bellerive. (Wikipedia)
A local site offers a little more specifics:
1897 St. Louis Field Club builds a 9 hole course near the Bissell Mansion. Triple A Club is organized. The First City Championship is held and E.E. Steedman of The Country Club is the winner. (STLGolfHistory)
I did find one more document with some great info:
ST. LOUIS FIELD CLUB.—On the Burlington Railroad, near St. Louis; a Field Club station is on the links. Organized and incorporated, 1897. Entrance fee, $25. Annual dues, $25. Membership, 127. The course consists of nine holes, which were laid out in October, 1897, by D. O. Ives and A. L. Kenneth.

President, D. O. Ives; vice-president, Harry S. Cullin; secretary, F. R. Bissell, 306 Wainwright Building, St. Louis; treasurer, Jno. S. Carter; governing committee, above officers and A. T. Perkins; greenkeeper, Ed. McNamara. (Official Golf Guide 1899)
At first I thought perhaps it became O'Fallon Park, but it opened in 1908.  I'd love to know a specific location for the course and train station. If anyone knows please comment oj this post on Twitter or Facebook.
Back to the recent PGA Championship — the television ratings, thanks to Tiger Woods, were impressive:
PGA Championship TV ratings are in and you won't be surprised to learn that CBS is extremely happy with how they turned out. The network is the latest to reap the benefit of Tiger Woods' latest comeback, announcing a 6.1 rating for Sunday's final round, up 69 percent from 2017. Woods finished runner-up, but stole the show with a 64 that included a dizzying three-under par front nine in which he failed to hit a single fairway.

The final round peaked between 7:00-7:15 p.m. ET with an 8.3 rating. And St. Louis, where Bellerive Country Club is located, was the No. 1 market during the broadcast with an 11.5. The 6.1 also tied for the highest non-Masters TV rating since the final round of the 2012 U.S. Open. (GolfDigest)
I was one of those who tuned in (briefly) on Sunday.
While I'll like to see more realistic numbers and an attempt to share the wealth through the region, I cannot stress enough how valuable it was for golf fans worldwide to see St. Louis in a positive context. Not sure if that'll lead to anything, but can't hurt how we're perceived by those outside the region.
— Steve Patterson