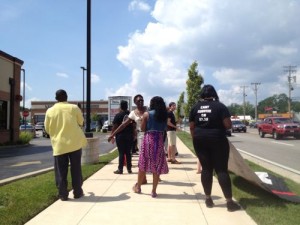 Poverty is a major problem in the region — especially in the City of St. Louis, from January 2014:
The Missourians to End Poverty coalition released a report Wednesday showing that poverty was up in the St. Louis area and statewide. In St. Louis County, 12.1 percent of the population was impoverished in 2012, up from 11.9 percent the previous year, according to the report. In the city of St. Louis, 29.3 percent of residents were impoverished, an increase from the 2011 figure of 27.2 percent.

Poverty in the state increased in 2012 to 16.2 percent — or nearly 948,000 people — from 15.8 percent in 2011. (Post-Dispatch)
It's true that poor people spend nearly every dime they get — budgets just aren't big enough for saving.  Low-wage workers who get a few bucks extra per week will put that money back into the local economy. Granted, some short-sighted employers will scale back employee's hours to keep them impoverished. Reduced employees can lead to lower service and customer dissatisfaction.  Still other employers will accept reduced profit margins because their revenue & profits depend on billable hours.
Crime is often a result of poverty conditions, so reducing poverty is a way to reduce crime. I know many of you see this increase in the minimum wage as a disaster. I think it'll actually not be a significant of a shift either way, though I do think the long-term prospects are good provided wages increase beyond 2018's $11/hour.
Readers who voted in the Sunday Poll were split, with the agree/disagree trading places throughout the day:
Q: Agree or disagree: The increase in St. Louis' minimum wage will be a long-term net positive for the city.
Strongly agree 12 [25%]
Agree 12 [25%]
Somewhat agree 5 [10.42%]
Neither agree or disagree 2 4.17%]Somewhat disagree 5 [10.42%]
Disagree 5 [10.42%]
Strongly disagree 6 [12.5%]
Unsure/No Answer 1 [2.08%]
I refuse to buy into the widespread job loss fear-mongering from those who want to keep people impoverished.
— Steve Patterson