I love seeing new mixed-use buildings going up in the Central West End neighborhood, along Euclid Ave. Unfortunately, I'm not excited about the aesthetic of the nearly finished 7-story CityWalk.  When construction began in late 2013 it was expected to be completed by last Summer:
Bruce Mills, whose Mills Properties is developing City Walk, said construction will begin in early November. He said construction will take 22 months, meaning that City Walk, with 177 apartments, will be completed in late summer 2015. (Post-Dispatch)
Let's take a look…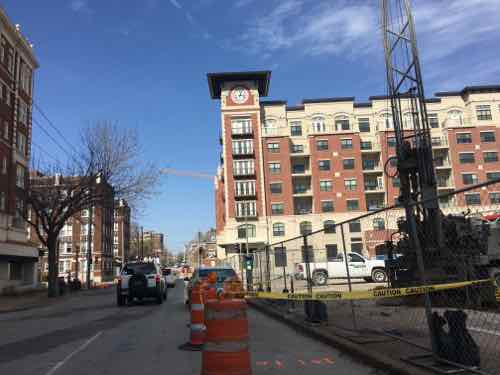 The facades are a hodgepodge of elements, the window are proportionally too small & horizontal.  However, the building is large and the mass has been well-maslked. The parking garage is hidden.
I look forward to taking the #10 MetroBus from downtown to shop occasionally at the Whole Foods after it opens.
— Steve Patterson