In November I posted about the first Lucky's Market in our region — occupying a space in Ellisville built by Straub's just a few years before. If you haven't heard of Luckty's Market before:
The Lucky's Market chain was started by a husband-and-wife team 12 years ago in Colorado. As two chefs, the couple wanted a grocery store for food lovers like themselves, so they opened their first store in 2003 to sell specialty foods at affordable prices.

"We really work to meet people on their personal food journey by simply making natural foods more accessible, and doing so in a comfortable and welcoming store environment," said Krista Torvik, a representative of Lucky's Market.

Lucky's sells "never ever" meats, which have never been treated with antibiotics or artificial growth hormones. In addition, customers will be able to find local produce, fresh seafood and baked goods (like maple bacon doughnuts!), alongside bacon that's been cured and smoked in-house and homemade sausage.

The market also offers ready-to-eat meats, salads and sides that are made in-store daily, plus fresh juices and smoothies at its juice bar.

For shoppers' convenience, Lucky's Market still sells consumer favorites like Coca-Cola and Campbell's soup, and the store has a bulk items section. (Ft. Lauderdale Daily)
The new location is at 9530 Manchester Rd, in Rock Hill, much later than originally planned:
The company originally planned to open the Rock Hill store in the first quarter of 2014, but was delayed while the developer, Webster Groves-based Novus Development Co., worked out a funding agreement including a community improvement district with the city.

In the year of delay, the store added over 12,000 square feet to the building plans, Chief Growth Officer Mike Phillips said. Though the company would not disclose construction costs, Vice President of Marketing Ben Friedland said it kept costs as low as possible by using refurbished and used equipment and materials in order to give customers the low prices the grocer advertises. (St. Louis Business Journal)
This is their 13th location nationwide.
For 5 years in the early 1990s I worked for a general contractor out of his house located exactly where this store is now! The Schnucks at Manchester & Brentwood is a mile to the East, a Dierbergs Market is a mile to the West — it opened when I worked in the area.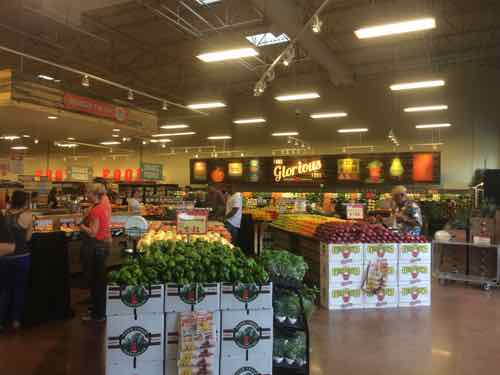 With this Rock Hill location Lucky's Markets operates 13 stores in 10 states. Five more locations are "coming soon" including one in an 11th state.
By comparison, Trader Joe's has 457 locations in 39 states and Washington D.C., Whole Foods has 408 locations in 42 U.S. states.  In February 2013 Whole Foods announced a 3rd St. Louis area location, in the Central West End. It was supposed to open by this Fall — but will now open in 2016.
On the other end of the scale, we have local stores like Local Harvest & Fields Foods in the City of St. Louis. It would be interesting to compare the selection & prices at these local stores to places like Lucky's Market & Whole Foods.
— Steve Patterson