Our busiest MetroLink light rail station is the Central West End (CWE) station, but it's also one of the worst when it comes to connecting to a public street. If you head up the stairs/elevator at the west end of the platform you'll get to a plaza where Euclid Ave used to be, now part of the Washington University Medical School/BJC campus that's decimated the street grid. Head east and the grid remains mostly intact, but getting to it isn't easy.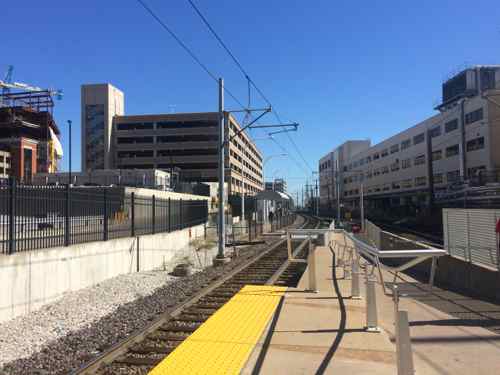 The connection is narrow & winding, designed to get MetroBus rides to/from light rail. It isn't designed for pedestrians to reach Taylor Ave. Why might someone want to go to Taylor Ave?  For one, various hospital related buildings are within a few blocks. The CWE is to the north, but one can use the former Euclid Ave to connect with Euclid Ave. To the south, however, is the Forest Park Southeast (FPSE neighborhood) and The Grove, accessed via Taylor Ave.
Expensive investments in mass transit infrastructure, such as light rail, needs to be designed to maximize use and thus, return on investment. If you didn't see the train occasionally or the crossing gates, you'd never know a station as been just off Taylor Ave for more than two decades.
— Steve Patterson