Over the last decade the midtown area known as Grand Center has physically changed; new construction of buildings with rehabs of many others, bonds issued, etc. Most outside observers would say the changes have been positive.  What's largely unknown to many is the behind the scene dealings of the many players & legal entities involved, it wasn't always pretty.
Before getting into those issues, let's take a look at a current project. The Public Media Commons ground was broken on October 30, 2012:
The one-of-a-kind Public Media Commons will give the Grand Center district a focal point for art, culture and public dialogue in an open environment featuring interactive technology, large-screen projections on the entire east wall of the Nine Network building, performance stages for small groups, multiple seating areas, green space and a window into Nine's studio. It represents the first section of a pedestrian corridor that will extend through the middle of Grand Center linking the district from Grandel Square on the north to Lindell Boulevard on the south. (Oct 30, 2012 ground breaking press release)
The commons will serve as a focal point for art, culture and public dialogue. It will feature interactive te3chnology, large-screen projects on the entire east wall of the Nine Network building, performance stages for small groups, multiple seating areas, green space and a window into Nine's studio.

Construction is expected to take a year. (KSDK w/video)
Construction was expected to be finished around October 2013. You can see a promotional video here.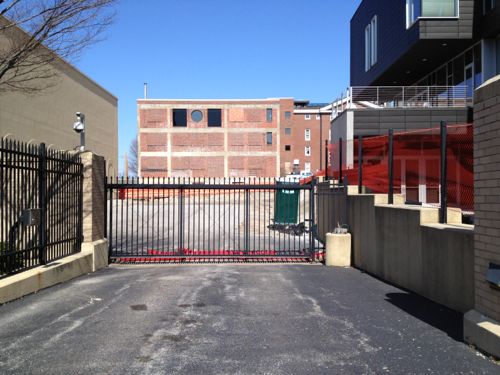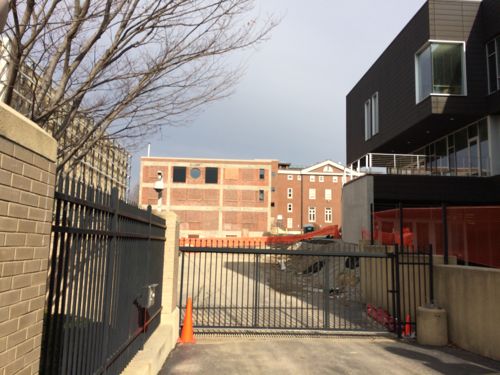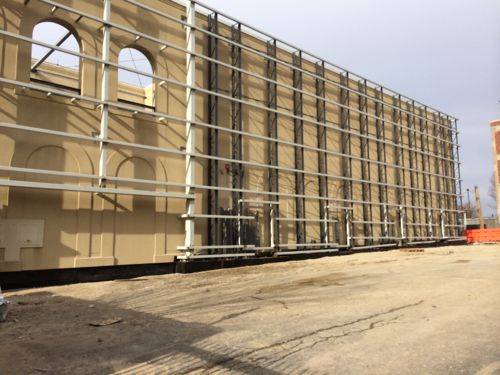 I inquired about the delay and received the following from Terri Gates, Public Relations Manager at the Nine Network of Public Media:
Since construction began on the Public Media Commons, there has been considerable ongoing work – some of it visible from the street, including foundation work and the recent installation of grids covering the east exterior wall of the Nine Network building. But much of the ongoing work has been behind-the-scenes infrastructure, programming and electrical work not visible from the street. It is a complex project that has required intricate integration of the technology.

As you probably know we're planning for the Public Media Commons to be an innovative focal point for art, culture and public dialogue with large-screen projections, a performance stage, and digital interaction. The Commons will also include a view of the Nine Network studios in action.

We had planned to complete the project sooner, but we can say with a high level of confidence that the Public Media Commons will open this summer of 2014.
I remain skeptical, but we'll see.
Ok, let's dive into the dirty laundry! Over the years I've touched on some aspects, like in February 2007 when I wrote St. Louis University is a Secular Institution, Not a Catholic or Jesuit University. SLU prevailed in court but by then Grand Center's plan to use eminent-domain to take a property from a business owner was dead.
The redevelopment in the area is done through Grand Center, Inc., the Vandeventer-Spring Redevelopment Corporation (VSRC), and City Center Redevelopment Corporation CCRC).  CCRC was created in February 1980, VSRC in March 1998.  Grand Center, Inc in March 1987.  Over the years members have come and gone for all three, currently Grand Center's President Vincent C. Schoemehl, Jr. is the primary member of all three.
These organizations have the ability to issue municipal bonds to fund projects.
I reviewed the board members for both the CCRC and VSRC for the last decade.   All of the following were board members had been in place since at least 2005, but were last listed as board members in 2010:
Marguerite "Peg" Weathers (SLU)
Douglas L. Kelly (Wells Fargo Advisors)
Reginald Dickson (Buford, Dickson, Harper & Sparrow)
Peter Bunce
Don Lents (Bryan Cave)
Michael Neidorff (Centene Corporation)
Emily Rauh Pulitzer (Pulitzer Foundation)
W. Thomas Reeves (Pulaski Bank)
After 2010 the boards of both were Schoemehl, his administrative assistant, and Grand Center's COO. I inquired to find out why these esteemed members of the St. Louis community were no longer on the boards of CCRC & VSRC, here's the communications:
Patterson: I'm curious why community leaders like Tom Reeves, Peg Weathers, Emily Pulitzer, etc were directors of two redevelopment corporations for many years but not 2011 and later. A disagreement?
Schoemehl: The state required social security numbers after 2010 and lawyers advised against our limiting the sharing of such info to the smallest number of people possible; liability issues. Thus I am a sole direct.
Patterson: Thanks for the quick reply, but I'm confused. I've never had to submit my social security number to the SoS. It seems everything submitted by corporations is public record — no ss #s. Also many of these people are still on the Grand Center board. Can you clarify so that I can understand?
Schoemehl: Let me check with Will Zorn, our lawyer.
I've not yet heard back on a more logical reason why these individuals are no longer serving as directors of the two redevelopment corporations, many are still directors on Grand Center's board.
Because of a 2009 lawsuit we can learn more from documents, including deposition transcripts. In a June 2013 deposition Emily Rauh Pulitzer didn't recall being a director of the organizations.
In this 5 minute video from the deposition, Pulitzer starts off saying she wasn't on the board of either at a prior date but when shown documents she says at 4:30 "well, I guess this indicates I was a member."   For the complete context, the above clip starts at 1:12:15 in the full two hour video deposition. The transcript is here.
As a director of the redevelopment corporations, Pulitzer moved to borrow funds to stabilize the Spring Ave Church so it could be used in conjunction with The Light Project exhibition the Pulitzer Foundation for the Arts was hosting. This would appear to be a conflict of interest.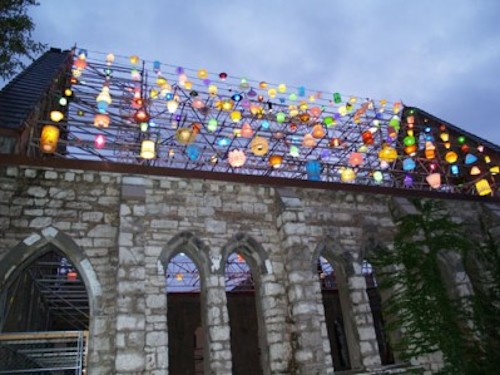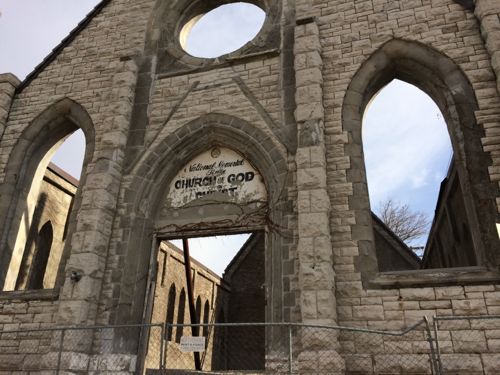 The church and lot to the north are owned by Grand Center, Inc. Case 0922-CC01036 – PAUL GUZZARDO V GRAND CENTER INC ETAL was voluntarily dismissed last year, Plaintiff Paul Guzzardo has indicated he plans to refile the case within the next 90 days. I intend to go through the transcripts of the five depositions in this case, looking for more information on how these quasi-governmental boards conduct their business.
Major media, the St. Louis Post-Dispatch, in particular, declined to report the information presented here. The Post-Dispatch was previously owned by the Pulitzer family.
— Steve Patterson