Competition is heating up as retailers try to add locations in an effort to avoid stagnant sales growth. Having saturated suburban markets with their standard formula, they've been trying to do the same as they move into the urban core. Cities, more dense and often filled with vacant historic buildings, present new challenges to big retailers with one-size-fits-all formulas.
More than a dozen years ago a small group of citizens, myself among them, helped block Walgreens from razing the South Side National Bank (SSNB) at Grand & Gravois. "Put a Walgreens in the old bank", we said to Walgreens officials. Unwilling to listen, they built a typical store across Gravois, but not on the corner.
The Lawrence Group bought the SSNB, putting residential condos in the tower. Much of the retail space, including the magnificent lobby, remains vacant today.
A few years after attempting to raze the SSNB, Walgreens tried to raze the Gold Dome in Oklahoma City, located at NW 23rd & Classen.
Walgreens was again met with citizen opposition:
Efforts to save the Gold Dome included picketing and marches, but in September 2001, a couple extended the efforts by writing a song. Also, an Oklahoma based company, Sonic Drive-In restaurants, offered up a billboard, located across the street from the Gold Dome, to the Citizens for the Golden Dome group. On the billboard was written "Stop the demolition of our historic landmark," as well as the phone numbers for Bank One and Walgreens. (Wikipedia)
Today the Gold Dome is a central part of the neighborhood, now heavily inhabited by Chinese and other Asian nationalities, housing numerous businesses. Across one street is a typical CVS and across the other is a typical Walgreens, on the site of a former Beverly's "Chicken in the Rough" restaurant.
In both cases a historic structure was saved, but the neighborhood was degraded by a standard suburban box(s). Both St. Louis & Oklahoma City didn't care about anything besides the historic structure, or they were afraid to require something other than the standard prototype.
Fast forward a decade and we can look to a new Walgreens in Chicago that shows the retailer is willing to rethink their store design rather than forcing their standard box into a neighborhood. On a recent trip to Chicago this Walgreens was our first stop.
In the 45 minutes we were on site I took 70 pictures, my boyfriend quickly understood why a Walgreens was the first place I wanted to visit on our first trip to Chicago together:
The uber-fancy flagship is part of a plan by Walgreens–now the nation's largest drugstore–to cater to a higher tax bracket while giving its more than 100-year-old brand a dose of modern edge.

Walgreens has recently launched several "upscale" stores, including a multi-level flagship in downtown Chicago and a massive concept store on L.A.'s Sunset Blvd.

According to Crain's Chicago Business, the opening of the latest flagship, nestled between the Windy City's trendy Wicker Park/Bucktown neighborhoods, will be followed by roughly 10 more upscale stores stores in locations ranging from Hawaii to the Empire State Building in New York. (Huffington Post)
Now you might be thinking sure, in Chicago…developers are so much more enlightened in Chicago. Not so:
Many many years ago what is the Nobel Bank Building located at 1601 N. Milwaukee Avenue was, in fact, a bank. And more recently the building was the home of Midwest Bank; a full-service library quiet bank filled with friendly staff.

Several years ago, the building was bought by an investor with plans to add retail to that corner. His plans, however, were also contingent upon adding a massive parking garage right at the corner of North/Damen/Milwaukee. You can only imagine what that would have done to the traffic and congestion already filling the area. The end result would have been gridlock. Alderman Waguespak, thankfully, would not approve of the garage. So the investor abandoned the project.

The building sat vacant bordering on foreclosure. (source)
Developers, even those in Chicago, think massive parking garages are necessary in dense urban neighborhoods served by transit. True, even this Walgreens has an off-street parking lot.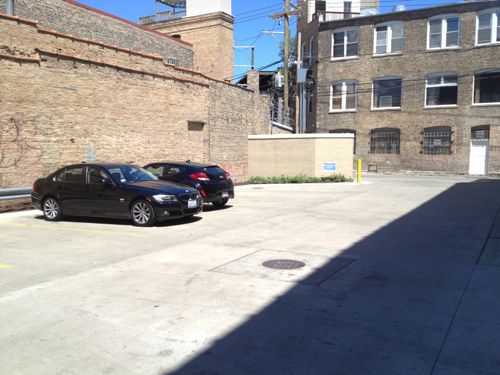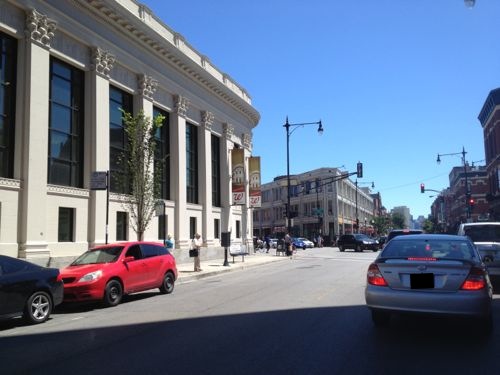 Chicago knows to not let auto-centric developers gut their neighborhoods, thereby achieving a balance among users. We've had decades of gutting our neighborhoods for parking, we must now reverse course.
Kudos to Walgreens on this store!
— Steve Patterson